Life
The Bindaas Bride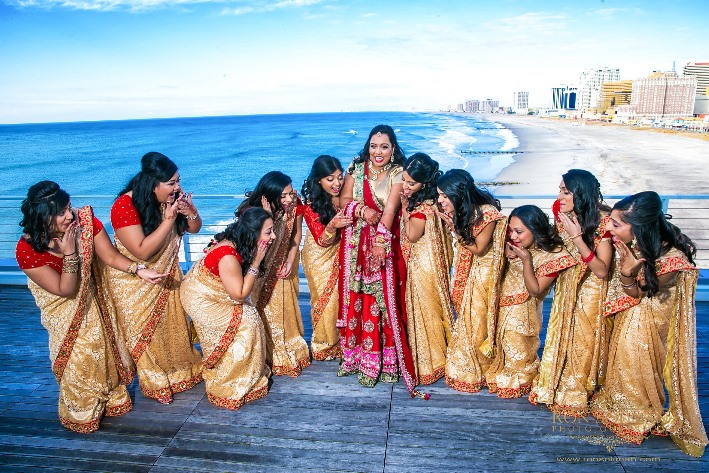 Big, bold Indian weddings are a norm across the globe.
While little girls may have doodled wedding dresses or dreamt of Swarovskis and shehnais at their weddings, a new generation of spunky young brides are decidedly claiming all this and a lot more on their wedding day.
In what can be called an eye-popping new trend, a growing number of brides in urban India and Indians abroad are bending traditions to reflect their true personality on their wedding day. For many the concept of a coy bride who nods and smiles with extreme precision is a relic of the past. Today, self-confident young women are looking at honest modes of expression to reflect their moods and emotions as brides.

Far from a coy bride, Anjali Chatrath shook a leg with the groom during her wedding.Take the case of 25-year-old Anjali Chatrath who made a filmy entry at her Gurgaon, India, wedding in December last year. Chatrath arrived at the mandap not only jiving to music, but also blowing kisses to the groom. Chatrath says, "My wedding day was hugely emotional, but I also had to be truthful about how I felt. I was elated and wanted to express my happiness instead of bowing down and walking with eyes perched on the ground."
New Jersey based, wedding planner, Meghna Trivedi of Bells N Rings Events that specializes in organizing Indian weddings in the tri-state area says, "The Indian bride is embracing traditions, but is also bringing in a lot of cultural variances. For instance, the new bride doesn't want to make a typical entry to the mandap. Today many brides are opting to have large bridal party consisting of bridesmaids, groomsmen, ring bearers and flower girls."
As adhering to a stereotypical image seems unnecessary for the new crop, some are ready to let go of religious ceremonies too, if they clash with their ideologies. Namrata Ahuja, 30, who studied and worked in the United States, returned to India to get married amongst her family and friends, but on one condition. Ahuja ensured that her marriage was a civil ceremony, sans any pheras or customs.
Katrina Majkut, founder of The Feminist Bride, on her wedding day.She says: "I do not believe in a form of religion that purports any rules or guidelines so it would have been unconvincing for me to sit and perform all the rituals…. Yes, it did take a bit of cajoling for my parents to agree to my viewpoint, especially because my fiancé is a fairly religious guy. But I am glad that not only he, but his family too were accommodating to understand my opinion."
Ahuja says she may have skipped the ceremony, but gained something more important — the policy to be honest in a new relationship.
According to pop psychologists what Indian brides are reflecting now is part of a larger world phenomenon in which women want to articulate who they really are and of course have fun, especially on their big day.
While some may view it as a new form of wedding feminism, it's not that the brides are launching a suffragette movement or are swapping lehengas for combat gear; for most it is simply about a desire to feel at home and powerful on one of the most important occasions of their lifetime.

Far from a coy bride, Anjali Chatrath shook a leg with the groom during her wedding.The trend is being expressed in varied forms. Some women in Europe and Australia are preferring to say their vows in a bridal pant suit, or women in America are choosing to eschew the celebrations until their LGBT friends too can celebrate weddings, Solange Knowles, popstar Beyonce's sister, wore a jumpsuit for her ceremony in New Orleans recently. Actress Keira Knightly has been repeating her simple wedding dress at various public events.
More than ever before, there is no preset image for a bride, as increasingly everyone wants to do their thing. New York based Katrina Majkut, who runs www.thefeministbride.com, a wedding site inspiring couples to walk down the aisle as equals, says that brides asserting themselves is a sign of times: "Unlike in previous generations, women have more time and opportunity to curate their own autonomous life between leaving their parents' home and their married one. Brides simply want to honor that, more than have it absorbed and erased into homogenized wedding traditions and culture." The fact that only 20 per cent of Americans aged 18-29 are married enables many more brides to make their own mature choices.
Washington DC, based events planner Preeti Vasudeva, who runs Preeti Exclusive Event Planning and organizes South Asian weddings all across the world, says: "Till a few years ago, the entire focus during a wedding function was on the guests. Today while guests continue to be important, the focus has shifted to how the bride and groom want their personality to reflect in the celebrations."
Wedding planners say that new trends are not limited to just cross cultural weddings. Vasudeva recalls, "Recently for a wedding between two Punjabi Indian American families in Miami, the bride asked for a Cuban sangeet. So there was paella and biryani for food and dhol players and salsa dancers for music."
Interestingly, while new approaches are being introduced in Indian weddings, one thing has not altered — the celebrations continue to be grand. Trivedi says: "While financially an average American wedding costs about $25,000-$30,000, for an Indian wedding in America the average spend easily runs into $70,000, only for the main wedding day function…. And that's not all, as no Indian wedding is complete without the other accompanying functions like mehendi, sangeet, garba night and after parties."

Good Times Concept has a rickshaw on call for couples.Big, bold Indian weddings are a norm across the globe as Ashu Garg, founder, Good Times Concept Events, says: "We organize for dozens of NRI weddings in India every season, but in what may seem like a reverse trend, we see that while a lot of educated India based couples try to bear the costs of their weddings. The NRI couples coming from abroad continue relying on their parents to sponsor their weddings."
Vasudeva says, "Who bears the cost also depends on the size of the celebrations. I have seen that most Indian American couples, if they are marrying late, try to pitch in, but often it is a healthy mix of those taking responsibility and those sharing it with parents."
What remains constant across continents is the emergence of a strong-headed bride. Garg says: "I have had brides requesting a white décor, a color otherwise considered taboo during Indian auspicious events. Another NRI bride rode into a rickshaw with her groom for her wedding, much to the amusement of the guests."

Bhavisha Patel striking a fun pose at her Princeton, NJ wedding.Vasudeva echoes the sentiment: "The biggest change I notice is that today grooms are much more involved. I get more calls from men who are not shy to say that their fiancé is busy at work, hence they are checking on arrangements."
Weddings trends are shifting in other ways as well. Majkut related her experience with a different twist on the wedding registry: "I knew two newlyweds who were professionally established and therefore financially secure. They also already owned everything they needed to outfit a kitchen and a home, so a traditional wedding registry would be superfluous and indulgent. Instead they set up a KIVA account. They'd rather invest moneyed wedding gifts to those in need. They decided that when they needed it for something legitimate, they'd withdraw the money. Until then they just kept reinvesting it in microloans, where it would hopefully change someone's life."
Trivedi says, "I have met girls who want to write their own vows instead of the pundit just reading it to them."
Majkut recalls her experience with an Indian bride who tweaked the language of the religious ceremony: "I know one bride was really concerned about finding ways to leave out submissive language in the wedding ceremony. There was also some discussion of how modernizing who paid for the wedding would really help fiancés infuse more modernity and cultural equilibrium to the whole wedding planning process."

Ekta Patel and Amar Patel's wedding was a complete reflection of their personality. Majkut believes that that brides should be empowered with the right tools to either respectfully modernize or skip certain traditions. For instance, she says, "Most people don't know the white wedding cake is one big fertility superstition; couples, who don't want kids, might want to opt for the neutral ice cream bar then."
The new brides are seeking deeper understanding understanding of the wedding traditions, instead of just performing them as a banal formality. In the process they are adding their own signature style to a lifetime of memories.