Life
Sari State of Affairs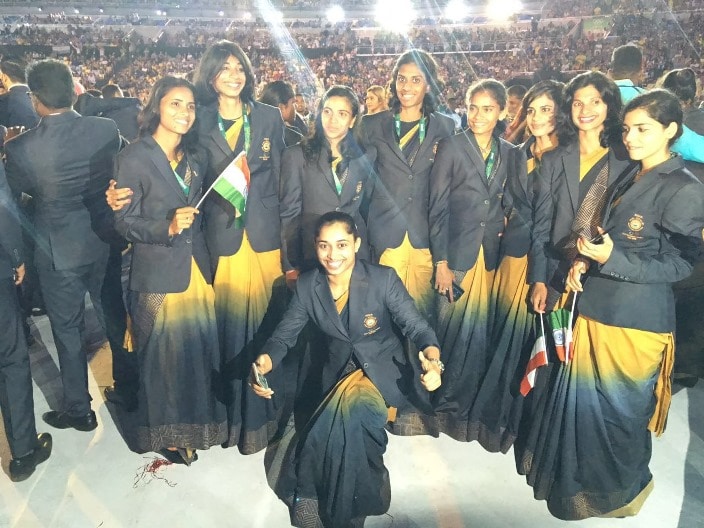 Even though designers are constantly churning out both newer and classical representations of saris on runways and in Bollywood, in the pace of our everyday lives, saris are increasingly taking a back seat.
As long as our collective memories can remember, when Indian women represent the country on the world podium, the sari is their most obvious and emblematic choice. The opening ceremony of the Summer Olympics at Rio De Janeiro was no different. As contingents of enthusiastic athletes from across the world took that famous stroll on the global stage, dressed nattily in outfits designed exclusively by the best designers of their countries, the sight of Indian athletes in sari was neither unusual nor unceremonious.
However, what didn't escape the notice of observant Indians was the fact that some women athletes visibly vetoed the dress code of stockpiling their saris with a stuffy blazer. Athletes Jwala Gutta, Ashwini Ponappa and PV Sindhu chose to carry their blazers in their hands. That the agile athletes wanted to show off their demure side was quite apparent, but it lent a rather slipshod appeal to a look that was already mismatched. In so doing, the players followed the tradition of

Designer Varija Bajaj modernized a sari with French lace paneling.The Internet vigilantes were quick to deliberate on Twitter the need to bog the national attire with an unnecessary blazer; many even wondered if the national outfit of the country is so obsolete that we need a newer modernized version of it.
Although most athletes welcomed the idea of wearing a sari for the special occasion, many admitted that they didn't even know how to tie one. The public attention rekindles a debate on the relevance of saris in the life of not just athletes, but as casual attire for the woman of today.
The sentiment of athletes, who spend their lives in shorts and slacks, and look at the sari as occasional festive wear, is equally true for a whole generation of young Indian Americans.
Designer Preeti S Kapoor, who is based in Delhi but caters saris regularly to NRI clients in the United States, says: "The issue here is not about saris. It's about how badly were they presented. Somewhere it showed that we were less confident of our national attire being accepted as formal wear and hence the need to add a blazer to it."
The Indian sports authorities unwittingly confirmed the growing notion, common especially amongst Indians settled abroad, that a sari is festive wear and not professional, hence the need to pair it with a western blazer.
Even though designers are constantly churning out both newer and classical representations of saris on runways and in Bollywood, in the pace of our everyday lives, saris are increasingly taking a back seat. According to data from the Ministry of Textiles, between 1998 to 2006 the market share of saris in India grew at a rate of 8.8 percent to $12 billion. However, it has been downhill since. A recent study by Technopak Advisors, a retail consultancy group, found that the market for lingerie, denim and t-shirts will grow fastest in women's apparel at 15 percent over the next decade, while saris will grow at the slowest clip of just 6 percent.
The slope is even steeper among overseas Indians.

India Sari Palace is amongst the oldest surviving sari shops in the USA.Manu Khiantani, owner of India Sari Place in Jackson Heights, N.Y., perhaps the oldest surviving sari shop in the United States, has been a front row witness to the sari's decline. Khiantani rues: "If Bangladeshis were not buying saris now we would have closed down our stores."
He recalls: "When we opened back in 1971, there were no specialized stores in the U.S. selling just the saris. It was a novelty and there was huge demand amongst Indian Americans for Japanese synthetic saris that they took home as gifts for their relatives. Slowly India started manufacturing the synthetic saris and Japanese stopped making them. Indian women took to western wear more readily than any other community and the sari got pushed back as a day wear."
The decline of the sari in the United States is reflected in number of sari shops that have shuttered in the past decade. India Sari Place has shrunk from 17 shops spread all over the USA in 1995 to just four today in major metro areas — New York, Washington, DC, Chicago and Los Angeles.
However, in an interesting twist, when Indian Americans and other NRIs buy a sari for a festive occasion, they are really prepared to splurge. The average cost an Indian American woman is willing to spend on a sari is far higher than a western dress. Says designer Preeti S Kapoor: "Amongst NRI women the craze of a couture sari is on a rise. When they want a sari it has to be elaborate, exclusive and dollars do not matter."

The Indian sari at the Olympics in Rio.That may explain why online sari renting services have limited appeal among Indian Americans. Websites such as Luxemi, Borrow it Bindaas, and Devi's Closet, launched by young Indian American women, targeted women like themselves who may not want to spend a lot for a sari that they wear just once or twice and hence gave them the option of renting one. The prices, inclusive of fitting blouse and shipping, started at $35, and the websites offer tutorials on how to wear a sari. However, more than 60 percent of the women availing the service are non-Indians, usually those attending or serving as bridesmaids at Indian weddings.
Designer Varija Bajaj says that during the wedding season she is flooded with demands from Indian Americans for expensive, custom made saris. However, she says: "We are definitely looking at the next generation, which would have no knowledge of tying the sari. Even today most first generation Indian Americans request for pre-stitched saris as they have no idea how to tie one."
In the United States, some corporates are now encouraging their employees to wear traditional dresses for festivals, such as Diwali. However due to practicality, ease or just to fit-in, most Indian women continue to embrace western wear.
Sari is now de-facto accepted as occasional wear for Indians in the West by sari manufacturers trying to woo the younger generation. The Nalli Group, the oldest known name in silk saris in India, has a store in Mountain View, Calif. Fifth generation scion Lavanya Nalli in a bid to attract young women to wear saris has launched Nalli Next, a modern, cocktail sari range, dramatically different from its heavy silks and kanjeevarams, priced from $30 for cotton saris to $1,600 for wedding attire.
Says Sonya Suri, vice president of Nalli Silks, "Sari in the U.S. is an occasion wear, but we have seen a steep interest amongst Indian Americans who want to wear a sari on festivals and functions. There was a dip in silks in between, but with silks back in fashion, the demand has increased. Also the online sales have bolstered our growth in a big way."
Bollywood's favorite designer Manish Malhotra who sexed up the sari on the silver screen by making it in gossamer thin chiffons and adding a sleek structure, says: "In my new range of saris, called Regal Threads, I have used Western patterns like checks and stripes and have introduced colors like greys and blacks so as to make it modern and appealing to women who relate better to an LBD (little black dress) or a pair of shorts."
He adds, "Unless the sari, our centuries old heritage, is made to look relatable and sexy we can't expect young girls to toss their dresses for unstitched fabrics."
Perhaps then, the Indian Olympic Associations' decision to mar the beauty of the sari by having athletes wear them with a boxy blazer did little to enchant millions of Indian women across the globe to look at their grandma's sari collections with new-found zeal.