Arts
Review: The Spinning Mathematicians of Kathak Dance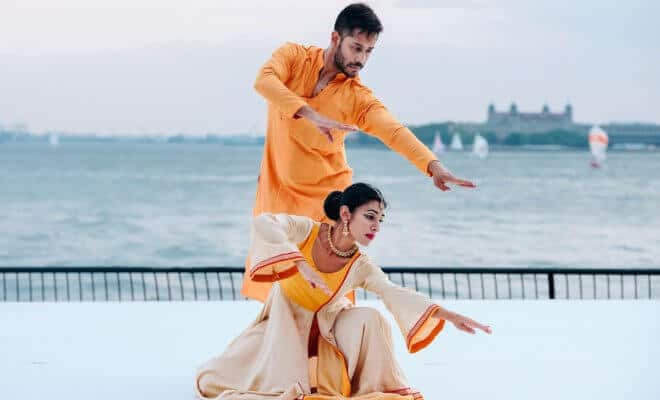 Kathak soloists are mathematicians above all, expert calculators of numbers and time.
One of the strongest attractions of the free Battery Dance Festival is its setting at the bottom tip of Manhattan, with a glorious sunset backdrop of water, sky and the Statue of Liberty. But the sun and moon switching places aren't the only moving objects in the vista at Robert F. Wagner Park. When a tall-masted schooner looms in nearly close enough to board or a Jet Ski races full speed as if to ram the audience, it can be hard for a dancer to command complete attention.
In recent years, programs of Indian dance have met the challenge, the single-region focus encompassing more than enough diversity and beauty to match the background. On Wednesday, Indian Independence Day, the focus narrowed further onto a single form of classical Indian dance: kathak. The idea, as the narrator, Rajika Puri, explained, was to show the range within the form, the different schools and approaches. But the two-hour event proved too much of a good thing. (The same lineup of performers appears in the Drive East festival at La MaMa on Friday night.)
It began with neatness and craft, as New York dancers Parul Shah joined Mohip Joarder in Kumudini Lakhia's 1978 duet "Yugal." Most of the signature elements of kathak, a North Indian form that combines elements of Hindu and Mughal dance, were clear: the rhythmic footwork with bells attached at ankles; the arms and hands spiraling upward like flames; the tornado-like turns. The work arranged these elements with a careful attention to stage space, and the changing distance between the dancers acquired power from the setting; the negative space was far from blank.
Traditionally, kathak is more of a solo form, with a tight interplay between dancer and musicians. Sandip Mallick, from Kolkata, was the only one of the evening's four acts to benefit (immensely) from live music. His performance was a whole show in itself.
Solo kathak artists can be like magicians: They explain what they're going to do, and then when they do it, you can hardly believe it. Mallick gave us a closely observed imitation of a peacock, the Indian national bird. He mimed planting a tree, becoming the tree, chopping it down and becoming its immolation.
But kathak soloists are mathematicians above all, expert calculators of numbers and time. It was characteristic of Mallick's scruffy charm and generosity that before his mouth and feet worked out complex equations of rhythm, he framed them with jokey analogies for the local audience. One was about the stock exchange: numbers that increase slowly but fall fast.
After this feast, the remaining two acts felt superfluous. The main distinction of Piyush Chauhan and Preeti Sharma, from New Delhi, was the teasing way they touched each other, very briefly, from time to time. Otherwise, they and the pedigreed trio of Anuj Mishra, Neha Singh and Kantika Mishra, from Lucknow, did many of the same things but in choreography that largely deadened the art with canned, commercial packaging.
An exception was Mishra's solo section. In an evening devoted exclusively to kathak, long chains of spins get old. (Mallick glossed the turns philosophically, as wandering in search of enlightenment; this concert wandered a lot as it grew long.) But Mishra's spins are special; he can put a ballerina's 32 fouettés to shame, sequentially shifting the focus of his eyes to the four directions of a compass.
Watching Mishra spin is like witnessing the apotheosis of a many-faced god. No Jet Ski can distract from that.
Event Information:
Battery Dance Festival
Through Saturday at Robert F. Wagner Park, Manhattan; batterydance.org.
© New York Times 2018