Arts
Retouch Of Curry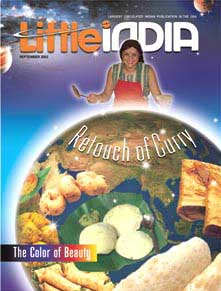 Indian immigrants rediscover the lost language of food.
A hundred years hence if American civilization had to be defined by what it left behind, would we be judged solely by the profusion of McDonalds wrappers, frozen diet dinner cartons and empty Starbucks cups? With the growing popularity of Indian food, surely there would be takeout containers of generic one-taste fits all palak paneer and tandoori chicken too!
But what about "real" food – that authentic home cuisine, those heavenly delights which each Indian American family hands down, those wonderful pots of comfort food that taste like no other food in the world?
What about Punjabi seera poori and Parsi dhansak and Sindhi besan kadhi? What about those flavorful South Indian rasams and simmering pots of Chettinad chicken? Rajasthani Gatta curry like your grandmother used to make? The layered, perfumed Hyderabadi biryani that has been made for generations in your family?
Are all these an endangered species in the frenetic hustle bustle of America where time and attention spans are short and where for many cooking means simply pressing the microwave button? For the young, brought up on MTV and quickie meals and express lines, will spending hours and hours lovingly simmering a pot of degchi mutton be something futile and unimaginable? Will the cooking of authentic regional home food become a lost language?
Civilizations have, of course, always thrived on change. Tastes change and as we get more knowledgeable often our cooking habits change too. Today's Indian cuisine is certainly not exactly what it was thousands of years ago as invasions, migrations and travel have left their mark on the sub-continent. Indian traders have also been plying the seas since 1000 B.C. carrying the fragrance of Indian spices and this cross-pollination can be seen across the world even today.
Jeeti Gandhi carries on the food tradition.
Julie Sahni, noted cookbook writer and teacher, has been traveling across continents for the past eight years, documenting the spread of curry which has become a part of so many cultures from South America to Europe to the Middle East. She is also researching the food habits of the Indians who migrated to the Caribbean and those who settled in California a 100 years ago. She says, "It's a fascinating subject because we can see how adventurous Indians are and how well they've adapted and yet held on to their own traditions and culture."
As she points out, change is inevitable – even within India. To her, something as prosaic as the South Indian idli or dumpling, which is fast catching on in America, is a metaphor for the change: "The idli itself has undergone revolutionary changes in the past hundred years." Originally the idli was made with two parts lentils and one part rice, but later it was found to be too dense and the rice proportion was increased to make it easier to digest.
Over the years, as idli became a restaurant food, it was found that it kept better longer and looked better – almost like puffy foam pillows – if the rice portion was further increased. So gradually, ordinary white rice instead of parboiled rice was used and now four parts of rice are used to only one of lentil. Great grand-amma certainly wouldn't have approved!
Now even within India this is the standard recipe for idli and in migration, the recipe often uses chopped cilantro and green chilies to make it more fragrant, especially in the frozen version. Says Sahni, "So it's completely modifying a village food and the present version, as it has changed, is very light and fluffy. You can even freeze it for six months and in 30 seconds it's as fresh as if you just took it out of the steamer. This is the simplest form of modifying traditional dishes to suit today's needs."
While things change in India, those who left its shores three or four decades back are frozen in time. They remember the authentic foods of their childhood and want to preserve them behind glass, a snapshot of bygone times.
Indeed, for immigrants, losing their food culture is almost like losing a piece of themselves. Having left beloved family homes and the wooden swings in the overrun, rambunctious gardens of their youth, they can only warm themselves before the remembered tastes of home: The burnished carrot halwa and the succulent sabzi of sweet Simla peas eaten with hot rotis fresh from the charcoal oven on winter evenings in Delhi or perhaps the unmatchable taste of a Wazwan wedding feast in Kashmir.
Are these tastes in danger of vanishing with the passing breeze?
Sheela Katara's (left) recipes have been passed down three generations to grand-daughter Manisha (right).
Immigrants, when they leave home, pack their icons, their beliefs and often a bottle of homemade masala into their suitcases. The recipes sent back and forth from mother to daughter are almost like a love poem, as remembered tastes are recreated in a foreign land.
Yes, immigrants have to give up so much – loved ones, friends, familiar surroundings – don't ask them to give up their food too! Little wonder then that when immigrants leave home, they carry practically the entire kitchen and the kitchen sink with them! There are jars of the salted lime pickles that aunt makes so well, the fried snacks and the pista barfi that are grandmother's specialty.
And yes, the family cook stays up all night to make up mountains of parathas. These keep really well on cross-continental flights and although they will not last forever, they are a taste of home and can be relished a piece at a time, from the freezer in America.
Immigrants have been known to tuck in a wooden chakla-velan, the rolling pin and board, or a metal tawa or griddle for making homemade chapattis, into their luggage. Yes, these contraptions are all available now at the Indian stores, but the well-used ones that your mother packs into your suitcase work like a magic talisman, or so you – and she – believe.
For an immigrant at the airport, the worst nightmare is having a cherished carton of Alphonso mangoes, carried like precious jewels across borders, discovered by customs officials, confiscated and destroyed. Don't the hard-hearted customs officials realize that these are so much more than mere fruits, fragrant reminders of a lost homeland?
The immigrants who came in the 60's, fueled by the American Dream, had to really work hard to get their Indian food. Sheela Katara, now 75, first landed in Seattle with her businessman husband Shiv and children. Having a retinue of servants in Bombay, she had never had to cook and in fact had never even made a chapatti. Now, not only did she have to create full Indian meal,s but had to create them out of nothing, since there were no Indian spices or groceries. Gradually she remembered the dishes of her youth and managed to make them for her family, substituting items. They had to use supermarket flour to make chapattis and for months they ate bread or American rice, coupled with chicken and meats cooked the Indian way, using the precious few spices she had brought along. A seasoned cook today, her Sindhi specialties like Sindhi curry, sail thevan, vadi bhajji, saibhaji and sail mani have avid fans.
Today the recipes have been passed on to her daughters Kavita Lund and Neelam Katara, and to her granddaughter Manisha. At that time Kavita was a college student and she picked up Indian cuisine only after marriage. "To tell the truth, I didn't even know how to cook rice! It was all by trial and error and after I came to New York I used to call mom up all the time in Seattle. Between tips from her and my friends, I survived. And you get better and better with age, after all, you have to feed your family." She recalls the big parties they used to have 20 years ago where everything had to be cooked from scratch as there were no catering services or Indian restaurants.
Now the third generation, Manisha, often asks her grandmother to show her some of the authentic recipes. A graduate of Stern School of Business, Manisha has been in international marketing in the music industry and says: "Eventually when I'm married, I'm going to want to be able to cook, even though maybe I'll have a maid! I love Indian food and I'm trying to learn the traditional dishes. There is nothing like your mom's home cooking and I basically want to hold on to that."
If there is an abundance of Indian products in America today, the credit has to go largely to the Gujarati community, which has brought their food and spices with them, and also woven it into a multimillion dollar business. Most of them being vegetarians, they created the market for these foods and also supplied them to their fellow Indians.
Today, of course, there are literally hundreds of Indian grocery stores and mithai shops across America and UPS service takes care of even out-of-the-way small towns. Indian restaurants are booming as are catering places, take-out joints and even traveling chefs who can come to your home and cook up a regional feast.
How do kids growing up in America relate to this home food? Where do parathas and puris fit into school lunches? "Each generation goes through its resistance to holding on to the food and the culture of the parents," says Sahni. "They have this dilemma as they figure out how to be an American and how far they should go to assimilate."
Prithvi Gandhi's repertoire includes methi paneer, rogan josh and kali mahe ke daal. She points out that all kids go through this and if the parents don't give up, the children, as they mature, do come back to their roots: "The roots meaning something that is in their souls – something which the parents have been feeding them since the beginning. Although the younger generation may develop a taste for fusion flavors, but the love for the original food just comes right back."
It has also helped that America's adventurous new palate for spices has made Indian food the flavor of the moment and the mainstream media is replete with articles about everything from paan to idli steamers. So the second generation is much more comfortable with their own foods now and once they start settling down and having families of their own, they try to recreate the foods they grew up on.
It is here that the immigrant's role as keeper of the past becomes vital in passing the culinary culture to the next generation. Cookbooks are almost a written history of the foods we are eating at any given time, and Indian cuisine has extensively researched books by culinary experts like Madhur Jaffrey and Julie Sahni.
Go into the cooking section of any Barnes and Noble, and you will see the vast array of Indian cookbooks, many by people who simply love to cook and are passing on their own regional or home specialties. It is history through food by people who want to document the special tastes of home.
Indian Flavors: Curry Leaves, Cumin Seeds and the Spice of Healthy Cooking is a book of home recipes by Jeeti Gandhi, who just turned 70 and has lived in many countries. Her family fled from Lahore to the newly created India in 1947, so she's been hrefugee, citizen, and expatriate as her husband's work took her to South Africa for several years. Now she's part immigrant too, as she spends several months in the United States with her two sons who have emigrated and made a life here. Her younger son Prithvi Gandhi, an investment banker in New York, cooks perfectly the dishes he grew up on.
Jeeti Gandhi, who is a dietician and a lecturer at the Institute of Hotel Management, Catering Technology and Applied Nutrition in Mumbai, has presented a series on low-fat, low cholesterol cuisine on Indian television. Last year her book won the Gourmand Cookbook Award 2002 in France in the Asian cuisine category.
An avid home cook, her experience has spanned the entire spectrum from joint families and ovens fired by coal in Lahore to the pulsating, fast beats of New York City. Her grandmother used to make special masalas by hand at home and Jeeti has passed on these recipes to Prithvi, who never uses commercial masalas.
"Masalas are what give taste to the food," she says. "So although the dishes are more or less the same when they come from the same region, every family has their own mixtures of spices; that is what makes the difference. I make my food very low on fat and the spices are just so you can taste the food."
Prithvi's repertoire includes such elaborate dishes as methi paneer, rogan josh and seekh kebabs and also comfort foods like kali mahe ke daal. He's quite famous as a chef with all his American friends because his cooking is light on creams and oils, unlike many restaurants. He says, "I don't like eating out all the time so it's either you do it yourself or eat out all the time. Once I moved here, I used to call mom and ask her how to make a particular sabzi or meat and she'd walk me through it on the phone and I'd try it out."
Ask Prithvi if the high-powered young professionals like him, who are in their 30's, are cooking or eating out, and he says it's a mixed bag: "In my experience there's definitely an interest to cook. My cousins didn't have a clue before they got married and now they cook really nice meals. It's hard, of course, because our lifestyles are so busy and Indian food requires a lot of preparation and chopping." The solution, he says, is to find shortcuts, such as blending and freezing, making large quantities of chopped and fried onion, ginger and garlic to have on hand.
He adds: "Some things I completely cheat on, like desserts. I'm not going to sit there for four hours and cook kheer! I just go out and buy it. I think what goes away in this American life in these big cities is the dishes that take forever to cook – people just aren't going to do it. I don't have Ramu, the cook's helper, at home to do the stuff for me, so I'm not going to do it!"
Yasmin Ghadiali, a busy dentist in Baldwin, Long Island, would agree with that. She migrated from Bombay in 1978 and she and her husband have reared a daughter here, who is now 23. Ghadiali belongs to the Parsi community, which is fast dwindling in India, and so it's a special challenge to keep the religion, culture and food alive for the next generation.
Julie Sahni: "It may take 10 or 15 years, but I believe Indian food will become the major flavor, the eloquent food of America."
In the Zoroastrian faith, there are many special days and often these are linked to special foods. On days of celebration there are foods such as dhansak, patrani macchi, sali murghi and meat pullao, which have been handed down since generations.
Ghadiali, who grew up on Lamington Road, a Parsi stronghold, laughs: "My mother had a philosophy that you can't be a woman – even if you're a professional person –until you know how to cook!" So learn to cook she did and can whip up a Parsi feast for 100 people when the occasion demands it, such as the celebration to mark the first time her daughter wore a saree, an important occasion for Parsis.
But don't ask her to cook that way every day. Although she grew up eating only Parsi food, America has changed the way she cooks: "Now I've become more health conscious and there are time constraints. Forty percent of the time it's Parsi meals, but we now go more for grilled meats and fish, so that's the norm now." However, weekends are always Parsi meals and once a month she and her husband Jamshed meet with Parsi friends for a potluck dinner where everyone brings Parsi food.
Ghadiali doesn't think her daughter will cook Parsi food: "She likes it, but she says its too complicated to cook and you finish eating it in ten minutes, so why bother if you can get it readymade from somewhere? The younger ones go for something that can easily be prepared and they don't want to go through all this time and effort. But I'm sure if someone else does it, they'd love to eat it!"
"We are blending into the American way and the American dress code and the American eating habits so much," says Ghadiali and points out that it is to win back the second generation to the home foods that many first generationers are writing cookbooks that are easy to follow and are innovative, substituting easily available American ingredients. An Adventure In Exotic Parsi Indian Cooking by Nergish Karanjia and Nergis Unwalla, both based in Pennsylvania, makes complicated foods easy to prepare for neophytes.
Young adults are turning back to the cuisine of their parents and Sahni has seen that in her cooking classes. "I have these young students who can barely speak Indian words – some of them have never been to India – and these are young Indian couples, born and brought up here. They want to learn how to make biryani, pasandas and kadhi, they want to learn not restaurant food, but the kind of food their grandmother would have cooked."
Of course, some change is good and Indians do become more adventurous here, and also more aware about healthy, fat-free cooking. Those emigrating from India now are even more open to new techniques and new cuisines than earlier immigrants, because the food scene in India is also very exciting and evolving.
"Young Indians are getting not only their own revival in this country with what their parents fed them," says Sahni, "but also all the new foods with the visits of aunts and uncles and grandparents and friends who come and cook these dishes for them here. These classic dishes are here to stay."
So what will the sixth generation of Indians be eating?
The Indians who settled in Guyana or Trinidad 150 years ago do have a very different cuisine today, but the basics are there: the rotis, the curries and the spices. Most of them had little or no contact with the home country, but in today's new, open world of jet travel, Internet and email, no man can be an island anymore. In this exciting new world everyone is borrowing from everyone else's culture, but you can also keep totally current with your own culture.
The truth is that Indian cuisine is not static, it's been evolving wonderfully over thousands of years, absorbing the influences of migrants, invaders and travelers and getting all the more enriched. Sahni says desis are experimenting with Indian spices and western ingredients. You can cook angel hair pasta in the upma style or make halwa out of Japanese udon noodles or try making kichri out of buckwheat noodles.
In fact, though she teaches very classical dishes in her classes, she says, "I also tell my students where they can go with these dishes, how far they can go because the sky's the limit. I tell them ultimately it's not a food thesis that you are writing, it's for your home and for the pleasure of your family and friends. So you serve your food the way you like it."
So a 100 years from now will the face of Indian food in America be quite different? Indian cuisine already has an incredible amount of variety in its rice, bread, legumes and vegetables, a virtual cornucopia, which America is just beginning to discover. With the ever-burgeoning Indian restaurants, we are sure to keep our traditional treasures, especially as restaurateurs get savvier and present the real regional cuisine to American diners. So just as Chinese restaurants still serve hundred year old dishes like dimsum and roast duck, some Indian restaurants too will specialize in traditional, regional cuisine.
The new breed of immigrants has the best of both worlds: they leave home and they go back again and again. As Indians traverse the globe, they are redefining their own cuisine, with Indian cooking at different levels across the Diaspora, absorbing local influences. Indian Americans are incorporating non-Indian vegetables like asparagus, broccoli, artichokes and Brussels sprouts into their own cuisine and are already combining Indian spices with Mediterranean herbs or Latin American vegetables, among other innovations.
As in the old days, travelers are taking back these influences to the home country. It is indeed a time of creativity and change.
"Whatever tastes good has to be good," says Sahni. "There are no hard and fast rules, somebody didn't just fall out of the sky and decide that this is how Indian food is going to be. The Indians here are a savvy lot and I think we are going to take Indian cuisine to a new level. It may take 10 or 15 years but I believe Indian food will become the major flavor, the eloquent food of America."