Arts
Priyanka's Quantum Leap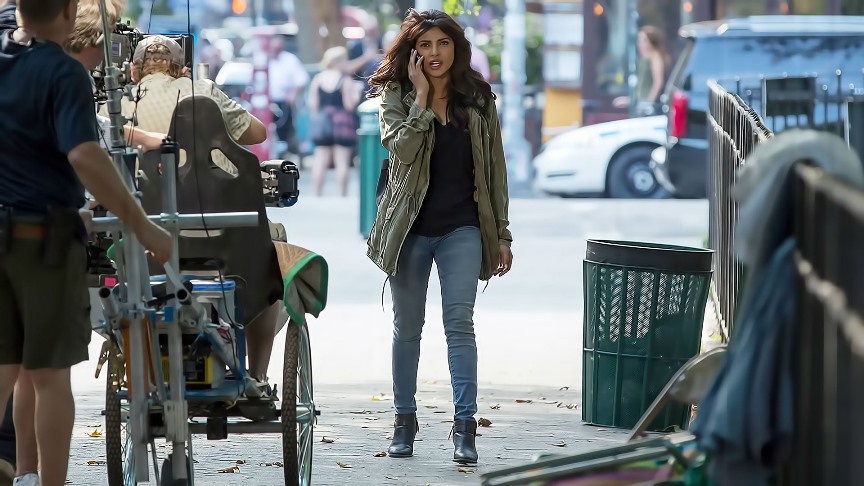 It's been a long haul from Bareilly to Montreal, but baby, Priyanka Chopra has cracked it! Along the way, she has also cleared two solid roadblocks. One, beauty queens are nothing more than glam, cardboard cut-outs meant only to be ogled at as sexy props by male-viewers and never taken seriously by either critics or picky viewers. Two, despite the Indian presence in Western cinema — from Tabu to Irfaan — no Asian actress has really lived the American dream by making waves on the American screen,big or small.
Peecee's Quantico seems to have crashed through this glass ceiling. Touted as "among the biggest Sunday shows for ABC, amongst the most popular on the tough 10 PM slot, grabbing big numbers on DVR playbacks and licensed to 196 territories in 44 languages with dubbed versions rolling out in record speed across Europe," it has zonked the know-alls who now believe it signifies a whole new cultural shift, reference point and revelation since it clearly bypasses the earlier typecast template of taxi-driver, shopkeeper, doctor engineer, scientist stereotype.
Perceived as performers who are at best solid and efficient and light miles away from anything connected with machismo, heroism or chutzpah, Chopra's role as FBI Field Agent Alex Parrish — sensuous, promiscuous, street-smart, kick-ass — is a bit of a shock to the trad consumers of mainstream American pop culture fans and a super wow to passionate Make-in-India loyalists.
However, Quantico didn't come easy and nor has the journey been a cake-walk for this resilient, ambitious, can-do, will-do gorgeous small-town kudi for whom every finishing line is only a new starting point for the next quantum leap.
After the high of being the fifth Indian woman to lift the Miss World crown in year 2000, she predictably got lassoed into the B-town circus, debuting with Abbas Mastaan's 2002 film Humraaz. However, it was only two years later in 2004 that she struck. Replaying the audacious Demi Moore role in Disclosure, her bold and brazen Sonia Roy in Aitraaz with all cylinders firing, consumed by her uninhibited obsession to get her guy come what may, zonked viewers and earned her the Best Actor in a Negative Role Filmfare award.
Then for four years, she sashayed through the typical glam, sexy, arm-candy roles until, once again, she moved away to do a "rise and fall of a super model's life" role in Fashion. Her excellent turn, blending conviction with passion, stunned cynics and viewers alike, winning her the prestigious Best Actor award at the National Film Award, 2008. Two other milestones along the way were Barfi, in which she plays an autistic young woman, and Mary Kom, a biopic on India's only female Olympic medallist, before the most challenging role of her life knocked with Quantico!
Here the challenges were even more daunting, but the army-beti viewed them as opportunities and pulled out the stops to slam the target. Quantico really came about as both a financial and creative experiment. Kelly Lee, ABC's visionary vice president, believed that "a star from one region could be transplanted to America and be made a star there, assuring the channel and network their large demographic following moving with them. Clearly Quantico's early success has shown that it seems to be working." From 6 to 13, to 19, to 22, the episodes stretched as popular response soared with each episode budgeted at $6 million, far exceeding the cost of a B-town movie.
Peecee's entry into her part was interesting. Despite being a veteran of a decade in Bollywood and an acknowledged star, she had to audition for the role. Joshua Safran, the show's creator, admitted that Chopra's reading and interpretation of the part were amazingly inventive and exciting, adding new layers. "She made the dark, brooding, unlikeable Alex Parish cool and playful." That seemed to have swung it in her favor It also helped that Quantico was the perfect fit for Chopra.
A typical, network pot-boiler — not artsy and deep like Breaking Bad, intricate and intense like House of Cards or detailed and tormented like Homeland — it conformed perfectly to Chopra's idea, passion and view that "entertainment must be commercial to be popular. It must have energy and frenzy. Good commercial fare can showcase art."
The fact that there weren't any South-Asian role-models in mainstream pop culture was another hook that attracted her to the role, as also its edgy, non-stereotypical slant.
Today, Priyanka Chopra rides high and proud in the pecking order, brilliantly balancing desi with phoren. Bajirao Mastani, the Sanjay Leela Bhansali opus, has released as a smash hit with Chopra earning super reviews, and Prakash Jha's Gangajal is rolling fast. She's also turned producer and her first film under her banner Purple Pebble Pictures will be called Madameji.
Once mocked and ridiculed while schooling in America, Chopra is today wowing the same viewers and winning accolades and applause along the way. To analysts, she is a true game-changer because she is a blazing symbol of inspiration to South Asian women demonstrating that the human spirit, when resolute, determined, committed and passionate, brooks no barriers and turns challenges into magical quantum leaps.