Business
Polo Ball Makers of Deulpur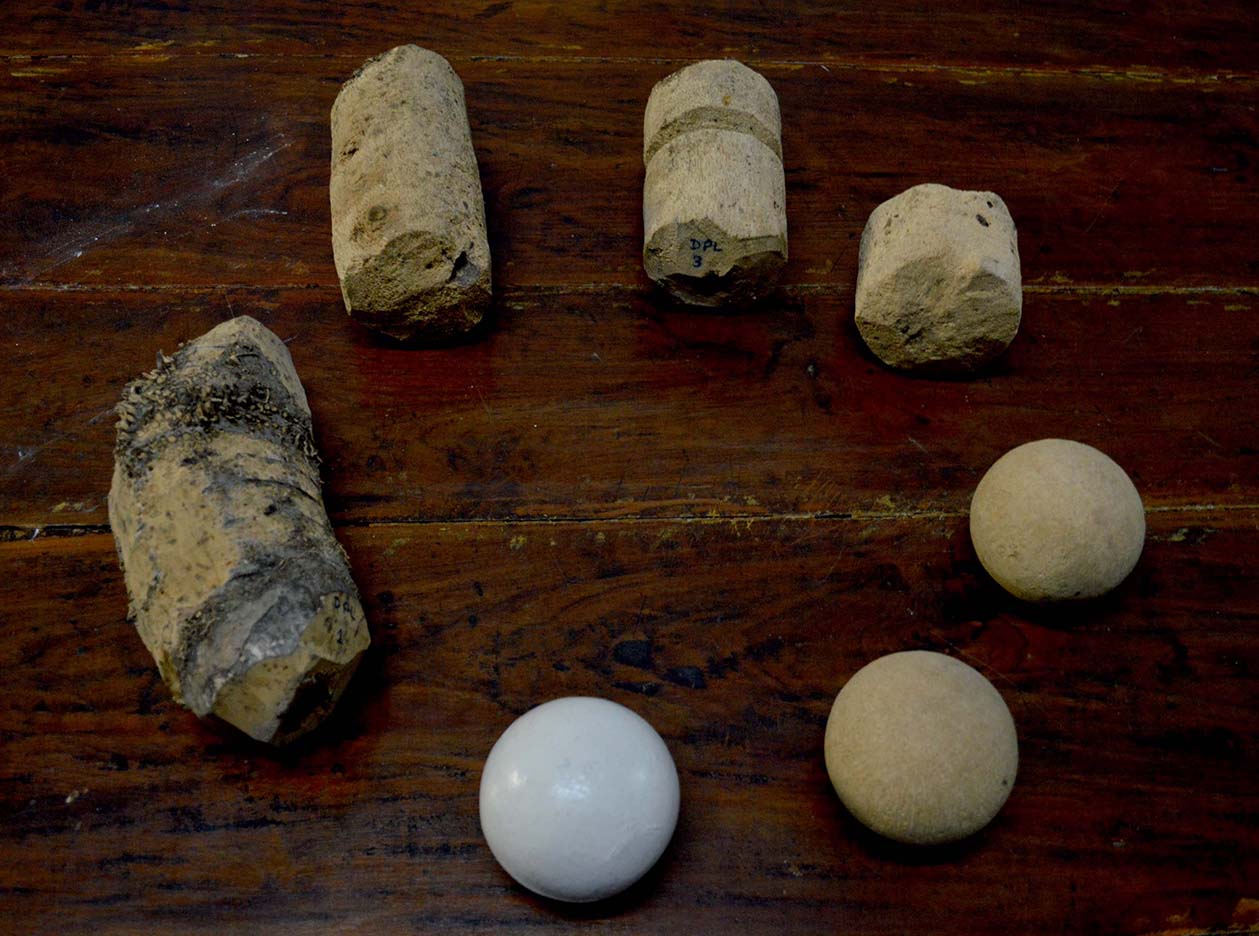 Ranjit Mal takes pride in calling himself the last man on earth who can shape polo balls from a bamboo strip.
Ranjit Mal takes pride in calling himself the last man on earth who can shape polo balls from a bamboo strip. Over the past four decades, his skillful hands have shaped several thousand polo balls that have been struck by long-handled mallets on polo grounds across the globe.
The sixty-year-old hails from the non-descript village of Deulpur in the Howrah district of West Bengal, 25 kilometers from the state capital of Kolkata. The village surrounded with lush greenery and ponds was once the hub of bamboo polo ball manufacturing, exporting to the United Kingdom, United States and other countries. But fiber-glass polo balls, commonly known as Argentinean balls, have dealt a deadly blow to the bamboo polo ball industry.
Mal, who fiddles around at his tinned-roof spartan home in the village, recollects that he barely had time to grab food during the heydays of the business. "I used to work for several hours at a stretch. The work load made it difficult to take a break as the orders were huge, forcing the laborers to run against time to meet the deadlines," he says, taking a trip down memory lane.
The septuagenarian, who still makes balls for a local trader, says that the process of ball making has remained unchanged since its inception over a century ago: "It has historically been a labor-intensive industry and the entire work is done manually."
The village was particularly well suited for the polo balls because of the availability of bamboo roots. Mal says: "The massive, solid bamboo rhizome, which is the underground part of the stem, are from tropical bamboo species such as Guadua. The giant bamboo rhizomes are dug as they are all interconnected. The rhizomes are then soaked in a pond for 18-20 days. The balls carved out of these jads (roots) must be exactly three-and-a-half inches in diameter and weigh 0.15 kg or else they are rejected. The balls are done after a double coat of white Asian wall paint."
He laments that days are not far off when bamboo ball making will find a place in the folklore and pages of history. This cradle of wooden polo balls has virtually nobody left to take its rich legacy forward.
Subhas Chandra Baug, who has switched from manufacturing polo balls to mallets, claims his great grandfather, Bipin Bihari Baug had started the business in 1860 in the village. "Though my grandfather was not much educated, he had a friend who spoke smattering English. It helped him to forge good relations with the sahibs (Englishmen) who used to play polo.  He smelled an opportunity and advised my great grandfather to make wooden balls, which would be in demand as the game grows. My grandfather was reluctant, but acquiesced," he says, recalling anecdotes shared with him by his father.
The risk eventually paid off when two British soldiers, Captain Robert Stewart and Joe Sherer, established the Calcutta Polo Club in 1862. The demand of the polo balls grew manifold.
The polo clubs depended on Deulpur for their balls needs. The business got a major boost with the formation of the Indian Polo Association in 1892. The country boasted of 100 clubs by 1900. Bamboo balls were supplied by Deulpur craftsmen across the country.
Baug says that the trade remained largely restricted to India until 1945 when his father and uncle stepped into the business and established Baug Brothers: "During the days of my great grandfather, the export was done indirectly through a woman named Eromm. She ran a company by her name and purchased balls from Deulpur and exported them to European countries. My father and uncle realized a huge potential in the business and decided to export directly. Moreover, Eromm sold her company and left India in 1947."
Subsequently, Baug Brothers was set up by his father Satish Chandra Baug and his uncle Jugal Kishore Baug in 1950: "They took the correct decision and became a major exporter of wooden balls within a few years as the balls were preferred, because they produced a whistling sound due to friction with the air that helped the player to hear the ball coming and thus avoid getting hit by it."
Among several clients of Baug Brothers, J. Salter and Sons of the United Kingdom was the biggest importer of balls from the village, ordering more than 100,000 of the 250,000 balls exported annually.
J. Salter and Sons, established by James Oliver Salter, an Englishman in 1884, imported bamboo balls from India and Pakistan and gave finishing touches in Aldershot, adding the Salter brand name. The company is now owned by Sean Arnold Sporting Antiques, but has stopped importing wooden balls.
The business brought huge profits and Deulpur boasted four major manufacturers and exporters of polo balls, including Baug Brothers, Kolley Das, Baug Company and Hazra & Sons.  More than 100 families were directly and indirectly involved in the business.
"During the 1970s and 1980s, the balls had huge demand in the United States, England, Australia, Nigeria and even in the Indian states of Jaipur, Manipur and Calcutta (now Kolkata) where the game was mostly played," says Baug.
In 1990 fiber-glass polo balls from Argentina were introduced into the market. Though the Argentinian balls are far more expensive than wooden ones, they are preferred because of their uniform weight and they last much longer, virtually decimating the wood ball industry.
All the four major Deulpur players have stopped manufacturing wooden polo balls and the laborers have switched to other professions. The tin shades that once housed factories have been replaced by residential buildings.
The annual polo ball production, which once stood at 250,000 balls, has dwindled to just 2,000 balls. Mal is the sole laborer still engaged in its manufacture: "I supply balls to Subhas, which he sells to polo clubs for practice sessions, as the ball is no more used in any tournaments. I earn a paltry Rs 3,000 a month and had quit the work, but for my old age and lack of opportunities."
Subhas says, that he had sent his last consignment of around 7,000 balls to UK in 1993.  Since then there have been no orders. He has also changed the name of the company to SC Baug & Sons and deals in manufacturing and selling mallets: "I have started dealing in mallets and have set-up a factory in my home. I want to remain connected with the sport in whichever way I can, because it is an emotional bond that was forged by my forefathers."
He adds with a sense of pride that polo has brought him in close contact with major industrialists, such as Naveen Jindal and Maharani Gayatri Devi of Jaipur, who was a reputed horse rider and polo player.
Rabindranath Baug, whose grandfather launched Baug Company in 1884 after being inspired by the success of Bipin Bihari Baug, says that fiber-glass balls have devoured their business. "Each wooden balls costs between Rs 80-100,  compared to its fiber counterpart that is available for around Rs 350-400. Yet people prefer to buy the Argentina balls because of longevity. Normally, around 2,000 bamboo balls are required for a tournament as the wood cracks after being hit hard regularly. They have to be discarded at regular intervals. The fiber-glass balls don't come with such disadvantage and 500 balls are enough for the tournament."
Samir Suhag, the captain of the Indian Polo team and an Arjuna awardee, is sympathetic to the fate of bamboo balls, but also points to their weaknesses: "The game has become quite fast and fiber balls have succeeded only because of their longer life. The players have moved away from bamboo balls because the industry has failed to make perfect and long lasting balls and keep tab with the changing times. Still, I am ready to offer my best for their revival and want to see the bamboo balls used across the globe."
As the dusk covers the sky, the narrow pathways of Deulpur are teeming with freewheeling children, who will grow up perhaps unaware of the special place their village once had in the history of polo.