Politics
Political Showtime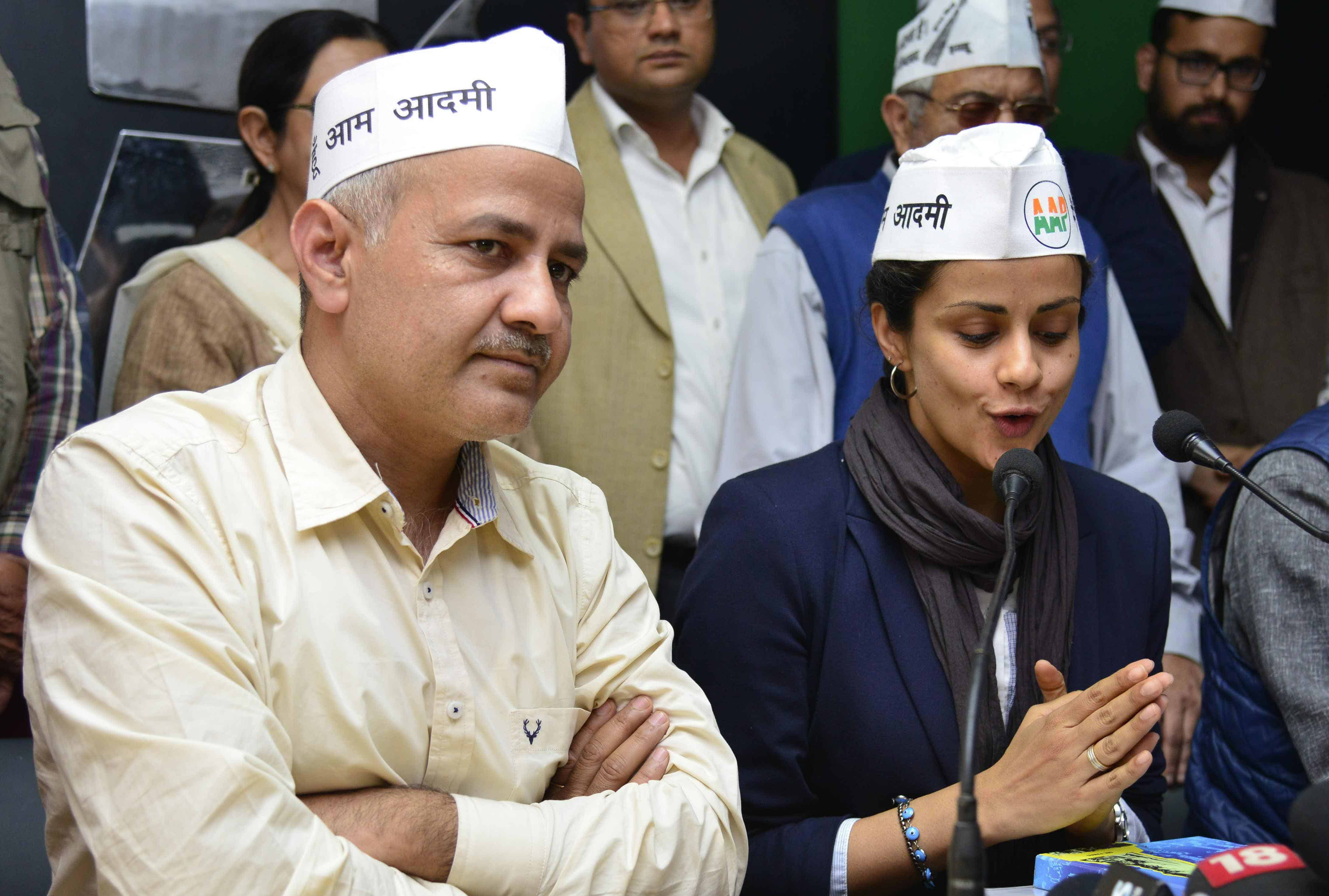 It is both interesting and curious that while the public remain amused about stars entering politics, party leaders continue to energetically woo them hoping that their star-power translates into votes.
Okay, tune into this … "I am not preparing beauty packs for this campaign. Everyone seems to be worried about my skin, but I feel, if I eat right and sleep right, it will get me through. I will take ghee in Horlicks bottles from home. I am sure I'll get rock salt and potatoes along the way to have rice and mashed potatoes. As I travel through the countryside, there will be fresh vegetables. I am not too much into meat or fish consumption. I may take along a little juice-maker. I just have to sleep well, but I guess the excitement will carry me through!"
Wait — there is more. "Regarding clothes, I will be in comfortable saris, mostly tangails and chiffons. I would love to wear chiffons in the evenings when there are big meetings. The crowds, assuredly, want to see well-dressed candidates. My chiffons are light and practical …."
This was the latest entrant into rajneeti — the one n' only Moon Moon Sen, the glamorous daughter of Bengal's late diva, the iconic Suchitra Sen and the mom of stars Raima and Ria Sen.
A rather startling choice, wouldn't you say, considering she has zilch background in politics and her pearls of wisdom hardly reflect serious insight or strategy in her new role as a Trinamool candidate standing from Bankura in West Bengal? Her patron, Chief Minister of West Bengal begs to disagree.
Mamta Banerjee seems to have a nice cozy relationship with Tolly stars (Tapas Pal and Satabdi Roy), with Moon Moon, yesteryear star Biswajit and the biggest catch, Mithun Chakravarty.
Kolkata collegiate Parul Sen is horrified: "What more can you expect, beyond chiffon-power, from someone as totally superficial, cosmetic and light weight in terms of histrionic, cultural or political gravitas as Ms. Sen? Her claim to fame all her life has been based on being her amazing mom's daughter. Agreed, in her younger days she was very beautiful, glamorous and sexy, but nothing beyond that. This reflects in the fact that across her entire career, not one single film — in Kolkata or Mumbai — impacted anyone creating a buzz or residing in memory as something special. She was always this glamorous, Anglicized-Bengali-speaking actress playing a sweet prop. Nothing more. A universe away from her mom who just had to appear on screen to set it ablaze. Now, this creature enters politics. She may even win, considering the track record of some stars around here, allowing us a glimpse of Moon in the daytime! Optical illusion? Scary, yaar!"
The disturbing news for Parul Sen is that this phenomenon of stars entering the political scene is neither new — nor will it disappear anytime soon. A whole star-parade is testimony. Be it Dev Anand, Sunil Dutt, Amitabh Bachchan, Rajesh Khanna, Shatrugan Sinha, Vinod Khanna, Govinda, Raj Babbar, Sanjay Dutt … In the female space, Nargis Dutt, Hema Malini and Jaya Prada come to mind.
It is both interesting and curious that while the public remain amused about stars entering politics, party leaders continue to energetically woo them hoping that their star-power translates into votes.
However, not everyone is aghast. Says political commentator Vishwanath Ghosh: "Fact is, nothing is easier than mocking or ridiculing stars jumping into the fray, but tell me something: What great, life-transforming miracles did the veteran politicians do to redeem themselves? If Tapas and Satabdi are still there in West Bengal, it clearly reflects the party's and people's confidence in them as leaders who translate promise into performance."
South's actress-activist Nagma agrees. "It is grossly unfair to paint all stars entering politics with the same brush. Agreed there may have been lapses of flattering to deceive, over-expectations or mismatch, but doesn't that happen in other fields too? We must overcome this movement with an open mind and not be negative and cynical from day one."
The actress believes that stars are soft targets mainly because they bring with them, their in-built quota of glamor and stardom which many dislike as they don't fit into the realm of public service. "They sarcastically remind the stars that this is terra firma, life without make-up and nakhra/dramabazi starring heat n' dust. Agreed, but give them a chance, a level playing field," says Nagma.
Former beauty queen, activist and actress Gul Panag, who is standing from Chandigarh on a AAP ticket, concurs: "I have immense faith in my leader's vision, mission and political acumen and am here to make that decisive difference. I believe more intelligent, educated, young people should join politics from every field to enrich and empower one and all. As for folks from the film industry, why this bias? I am sure there are lots of talented stars who, like me, would like to make a difference at the grass-root level, beyond the entertainment space. They should be welcomed. Thereafter, their performance will speak for itself."
So what gives? Is it a good idea for party leaders to expect super-hits by inducting stars into the arena? Is it a good move for stars — mostly of the has-been kind — to view this invitation to wield their fading star-power and hope for another good innings in a different space — one invested with a kind of power and influence a zillion times more than the movies?
They could be tempted to believe that like many — Amitabh Bachchan, Shatrugan Sinha, Rajesh Khanna, Dharamendra, Sunil Dutt, Raj Babbar, Jaya Prada — they could enjoy beginners's luck? Thereafter, they are on their own. Will they be able to wade through — what the Big B famously referred to as "cesspool" — without the luxury of an entire team of directors, script/dialogue/lyric writers, cameramen, editors, audio specialists and other trained technicians committed to the sole task of making him look and sound great, always?