Magazine
Political Frontier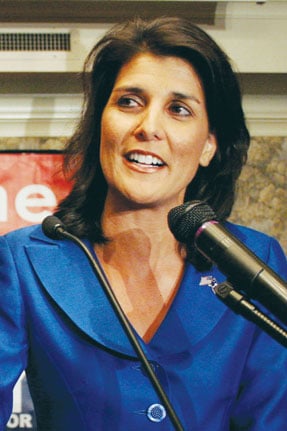 The 2010 elections were a watershed moment for the Indian American community.
The Republican tsunami in November wiped out the Congressional ambitions of five Indian Americans running for the U.S. House of Representatives, but it swept into office an Indian governor — Nikki Haley (Nimrata Randhawa Haley) of South Carolina. Haley, 38, becomes the second Indian governor in the United States, after Bobby Jindal of Louisiana, a truly remarkable feat, not just because Indian Americans constitute under 1 percent of the U.S. population, but also because both are Republicans and won in the South, a party and region considered the least hospitable to minorities and immigrants.
Haley and Jindal positioned themselves in the extreme right wing of the Republican Party; Haley was even a Tea Party favorite and secured the endorsement of former Republican vice presidential nominee Sarah Palin early on in the GOP primaries — an endorsement that was considered crucial to her primary victory in a heavily Republican state. Both Jindal and Haley also converted to Christianity before their political debuts. Jindal is Catholic, while Haley converted at the age of 24 and worships at the Mount Horeb Methodist Church in Lexington.
After her religious beliefs became an issue during the campaign, Haley reaffirmed her Christian allegiance on her website: "My faith in Christ has a profound impact on my daily life and I look to Him for guidance with every decision I make. God has blessed my family in so many ways and my faith in the Lord gives me great strength on a daily basis. Being a Christian is not about words, but about living for Christ every day." Nevertheless, unlike Jindal, Haley did not hide from her ethnicity and her family, including her Sikh father Ajit Randhawa, were visible on the campaign trail.
The next biggest statewide prize won by an Indian American was Democrat Kamala Harris' narrow victory over her Republican opponent for attorney general of California, the largest state in the country. In Maryland, three Indian Americans — Sam Arora, Aruna Miller and Kumar Barve — won state legislative races from Montgomery County, creating the largest Indian American legislative delegation in any state in the country. Two other South Asians were elected as state legislators in the 2010 elections: Dr Janak Joshi from the 14th district in Colorado and Sen. Hansen Clark, whose father was born in the Sylhet region of pre-partition India (now Bangladesh), who won from Michigan's 13th District.
This year a record five Indian Americans ran for the U.S. Congress on the Democratic ticket and atleast two — Dr Manan Trivedi of Pennsylvania's 6th district and Dr Ami Bera of California's 3rd district — were credited with having solid shots at prevailing. However, the Republican Congressional landslide, which crushed 60 Democratic incumbents, saw Trivedi go down 43% to 57% and Bera 43% to 51%. The other three were trounced even more humiliatingly — Rajiv Goyle in Kansas' 4th district by 36% to 59%; Ravi Sangisetty, in Louisiana's 3rd district by 36% to 64% and Surya Yalamanchili, in Ohio's 2nd district by 34% to 59%.
By all accounts, after taking stock of the number of Indian Americans who threw their hats into the ring, tallying their wins and losses, the 2010 elections were a watershed moment for the community. Clearly, American politics is the next Indian American frontier. Boot up!