Arts
Phirangi Bollywood Bimbos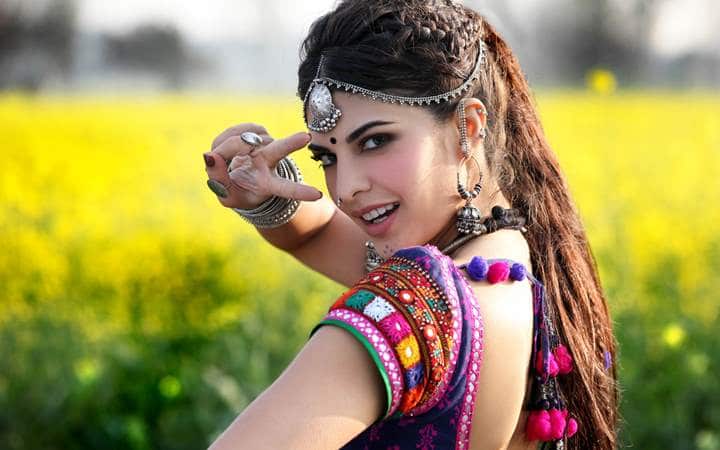 They seem to be "here today, gone today" eye-candy, seductive time-pass distractions for a constituency who, once the movie is over and the phirang bimbos exit, are happy to relapse into contented amnesia.
Being a foreigner in Bollywood is a definite plus," cooed the luscious and comely pin-up Evelyn Sharma recently. The half-Indian, half-German lady is staking her claims at the altar of the world's largest movie industry. As someone who's grown up watching English and German films, Ms. Sharma confesses that Hindi can be quite a handful, but is determinedly trying to overcome it with "two hours training every day." Cute, na?
This hot Indo-German cocktail joins a growing list of phirangs hell-bent to tango into the Bollywood jamboree. It starts with Barbie doll Katrina Kaif (U.K.), Jacqueline Fernandez (Sri Lanka), Nargis Fakhri (USA), Elena Kazan (Russian born German), Sunny Leone (USA), Elli Avram (Sweden), Lauren Gottlieb (USA), Hazel Keech (UK), Kristina Akheeva (Russia), among others.
B-town watchers will observe that apart from Katrina Kaif (and maybe Sunny Leone) none of the others have remotely registered with the howling mobs. They seem to be "here today, gone today" eye-candy, seductive time-pass distractions for a constituency who, once the movie is over and the phirang bimbos exit, are happy to relapse into contented amnesia, secure to slow-dance with the memory of their local, desi favourites. Why? It has largely to do with the way B-town film-makers perceive, use and project these foreign bodies Ñ a world apart from the way Hollywood does …

Elena KazarWhen Hollywood became bored with its own stars and decided to adventurously borrow phoren stars from Europe, it did so with a shrewd eye on audience gaze and the box office. It is their superb understanding and chemistry with both, the imported stars and the audience expectations, that resulted in critical and commercial gains. Film historians and scholars point to 1920 as the curtain-raiser when the passion-drenched, Polish Pola Negri burst upon the screen as Madame Dubairy, Unblushingly direct and tempestuous, this exotic creature took the unguarded pristine American audience by storm, prompting an excited reviewer of the esteemed New Yorker to comment "She actually wins sympathy for a woman who cannot at anytime be admired. It is a major achievement!"
While Negri unleashed fire, animation and abandonment, the find of the time, Swedish sensation Greta Garbo, went one step further. Embracing an impossible gamut of roles Ñ a mawkish sweetheart, a scornful vamp, an embittered lover, a woman-of-the-world toting a cigarette holder, hobnobbing with kings, a fatalist beauty wedded to her destiny Ñ Garbo was hymned, celebrated and valued by her studio, critics and fans alike, because of her genius, which, amazingly, allowed her to commit sin without outraging the moralists.
Reviewing her Flesh & Devil, a reviewer wrote that "She becomes a symbol of sexual appeal rather than any particular kind of immoral woman."
Finally, even in the silent era, Greta Garbo left an indelible mark on the popular imagination simply because she made magical use of the metaphysics of her personality, re-enforced by the dynamics of her journey into each role.
A total counterpoint to this iconic Swedish diva was the German firebrand, Marlene Dietrich. In film after film (Blue Angel, Morocco, The Devil is a Woman, Dishonored), her contrast to Garbo was striking. If Garbo whispered, Marlene surged. Garbo, until her entrapment in a tragic liaison, acted without consciousness of the men around her and mostly according to her whims. Dietrich, for her part, preferred to be the calculating serpent, ever-aware of men's follies and flaws, every ready to spring and strike. Her denial of self to men evolved into an intriguing, dangerous, tantalizing game: who would subjugate whom? Who would finally crack the whip? Whose will and resolve would break first? Dietrich's persona was one that transformed Garbo's passive, wounded image into a subtle but potentially malignant threat.
Beyond these divas, there were tons of other European imports too. There was the Austrian Hedy Lamarr (Ecstasy, Algiers, Samson and Delialah). Considered to be the most beautiful woman in the late 1930s, she was famous more for her collection of millionaire husbands -six -than acting. There was also the French star Jean Gabin and of course, the hugely talented and successful Swedish actress, Ingrid Bergman (For Whom The Bell Tolls, Casablanca) who was adored by American audiences. Since Garbo was such a huge star, studio bosses brought over the Italian beauty Allida Valli to replicate the Garbo magic, but failed. Can an imitation ever be as enchanting as the original? Pier Angeli (Teresa) and Leslie Caron (An American in Paris) also bogeyed in the Hollywood game to good effect. Coming briefly to sizzlers, can one ever dare to forget the French sex kitten Brigitte Bardot or the Italian bombshells, Sophia Loren and Gina Lolobrigida? Bardot and Loren displayed fine histrionics too and in Two Women, the latter also managed to scoop up an Oscar. There was also the pumpkin-breasted Swedish beauty Anita Ekberg (La Dolce Vita, War and Peace, Hollywood or Bust), Claudia Cardinale (The Pink Panther), Silvana Mangano (Death in Venice), Ursula Andress (Dr. No), Simone Signoret (Ship of Fools), German Romy Schneider (Boccacio 70), French Verna Lisi (How To Murder Your Wife), and Jean Seaberg (Paint Your Wagon).

Hazel KeechThe point is that Hollywood, unlike Bollywood, did not import these actresses whimisically or for artistic, intellectual or spiritual reasons, or philanthropy or social responsibility, but to enhance the product value, give their films novelty and freshness that could trigger more footfalls into the theatre. Unlike Bollywood's one-dimensional, corny and cosmetic initiatives, they genuinely attempted to exploit (along with the intrinsic, sensuous, sexy, exotica and mystique of the European actresses) their very special subjective value for objective worth. So while darling Evelyn Sharma can continue being content and secure in the mistaken belief that being a foreigner in Bolywood is a plus, she would be well advised to do a small checkout and evaluate the score. Sure, India is still drawn massively to white flesh and sexy phirangs, but strictly, in professional terms, in the ways the phirangs are perceived and projected by the majority of Bollywood bozos É baby, there is no life beyond Bimbo-wood.