Arts
Paisa Pheko Tamasha Dekho!!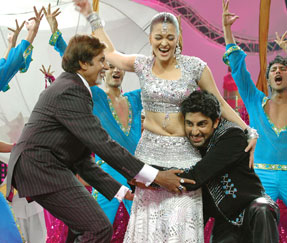 Is the Star-as-Bhand the new trip in B-town? Cheap or cool?
Shocking! Unthinkable! Unbelievable! The older generation is either reaching for the smelling salts, jumping out of its skin or frothing in righteous indignation. The younger generation just can't have enough. The TV channels are freaking out beaming it. The entertainment media are splashing it in color, big time. And the subjects (objects?) under discussion openly confess that they haven't had so much fun — with their clothes on, at least — ever, while bogeying their way to the bank.
Yup, guys, we are talking about the sudden blitz n' boom of A-listers in B-town shakin' it up, big time, at any event or happening anywhere on planet Earth — for the right bag of Big Bucks. King Khan reportedly slung one out when this trend was a toddler with "I am a Bhand (street entertainer). Anyone can hire me for a price!" With that, he led by example to dance away merrily at hi-profile weddings and events across the globe. Very soon others followed and today almost every star is busy dancing away to glory — to the offer of cool moolah — from Borivali to Boston!
Karina Kapoor
It wasn't always like this. Says one veteran Bolly-tracker, Siddeshwar Dayal: "My God, what's going on today would be considered sacrilege, blasphemous and downright cheap by the earlier generation. This sentiment was shared by the stars too and they considered it unthinkable — infra dig — and totally inappropriate to mix art with public entertainment — of the dhin-chak kind." He recalls the interesting case of the diva, Vyjantimala, "the first screen heroine to dance at the Filmfare Awards function — but with the firm condition and proviso that it remains totally classical." Later, when Hema Malini and Asha Parekh came into this scene, he adds, they too insisted on these ground rules, strictly art. Once, in 1970 in the West Indies, when enthusiastic fans urged Vyjantimala to do her racy "Buddha Mil Gaya" number from Sangam on stage, she stormed off in a huff. Ditto Hema, two years later in Trinidad.
Today, the diametrically opposite seems to be true. In a fan-driven, sponsor-led and money-mad universe, stars pretty much dance to the checks. Why? While some point to the recession and believe the quick bucks are comfort when no movies are on the kitty, others are convinced it's a sign of the times when everything — even stars — are up for sale. As always, the candid Mahesh Bhatt has no problem with the dance-for-cash routine whatsoever and says it's a fall-out of the consumerist and brand-driven times we live in. The world is a mall and guys with the money and inclination are free to pick up big-buck brands of their choice, for their own reasons. It has nothing to do with ethics or morality for christ's sake!
Others believe that if a Shah Rukh Khan, Bipasha Basu, Aishwarya Rai, Kareena Kapoor, Akshay Kumar or Salman Khan, by dancing and performing, brings joy and happiness to a set of people, what's wrong? And so what if the clientele comprise Gutka-kings, hot-shot exporters, stinking-rich business tycoons or fat-cat jewellers c'mon guys, they are entitled to their version of fun and exhibitionism, right? As a perceptive trend-watcher, Patha Chatterjee comments: "Earlier you had royal patronage. Today corporates have taken that place with events, fashion shows, product launches, et. al. blitzing the scene. In this totally commercial space, what's wrong if weddings, anniversaries, sangeets, birthdays, engagements or special events join in? It's a personal thing between Mr. Big Shot Industrialist and the Star. Where does Mr. Virtuous with the whole conscience, morality and ethics crap come in, anyway?"
Social Commentator Achal Singh however begs to differ: "We all know how incredibly popular B-town stars are and the impact they have on the collective, popular imagination of one and all. The leading lights bring with them image, persona and brand equity. This suggests that along with the glamour and entertainment quotient, they also have a basic sense of dignity with which they conduct their public life. To dance at the drop of a hat wherever the money is good (birthdays, weddings, parties, events of the super rich) is to devalue and trivialize their 'aura,' downsizing them to nothing more than a performer-on-sale. This cheapens both the star and the profession, completely ruins the mystique and charisma of stardom and eliminates any sense of respect fans have for them."
Malaika Arora Khan
We all have heard of the obscene amounts that Katrina Kaif, Malaika Arora Khan and Priyanka Chopra were offered to do jigs at recent New Year bashes … should they have accepted and done it? Frankly, it's a real tough call. In today's uncertain Showbiz scene where each Friday is a chilling story of the luck of the draw, getting more for less shouldn't be considered a sin, say one section of the crowd. However, the older gen flash big toothless grins when they hear that some of today's hottest golden kids of B-town, Ranbir Kapoor, Imran Khan and Sonakshi Sinha will never ever go that route. As the local wit said, "From cricketers to cattle (thanks to the IPL Auction) is bad enough. From Big Screen Stars to Nautankis and Cabaret Girls is tooooo much yaar!"