Arts
Orphaned in Fantasyland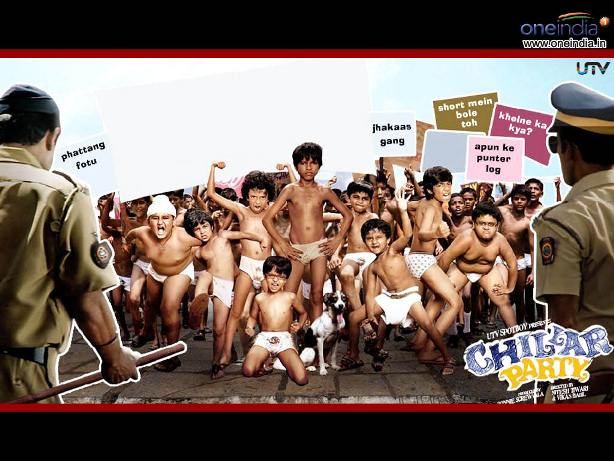 A a nation, we are passionately committed and engaged in the manufacture of children. Nearly a third of India's 1 billion population is under 15. This nation has a gigantic "kiddies club" across all strata of society. We are also the proud manufactures of the largest volume of movies on the planet and of course everyone, everyone, is well aware of our movie-madness and craze for movie stars.
But Bollywood pays little attention to the child film genre. On one end lies a world buried in an embarrassment of riches, while the other lives in the shadows, rejected, neglected, overlooked, ignored, unattended, uncared and frequently dismissed by the merchants of muck as "sideshow."
In India, mass-entertainment is Bollywood, which means stars. In this format, where do children feature, except as props? Like art cinema, there has never been any conscious attempt to promote children's films as a separate and special category that can entertain, enrich and empower. It is an area that is perceived as residing in the "education" slot or "fairy tales/ fantasy" space and dumped in the tray marked "Bachhalog".
In the 1950s, Satyen Bose made the inspirational Jagriti and Raj Kapoor produced Boot Polish, both splendid films that blended children's issues with social commentary, but the follow up wasn't really encouraging. Sure there were the absolutely adorable "Irani sisters" (Daisy & Honey), very popular child stars of their time, and later the wonderful Raju Shrestha the Mehmood — aper, Junior Mehmood & Baby Guddu — all, with a fan-base of their own, but child-based films were few and far between. Critics point to a mixture of "fear and nervousness to tread that area" on the part of film makers convinced that there is "no real market for serious children's films."
That apprehension continues, although when you look westwards to Hollywood, classics like King Kong, Wizard of Oz, Sound of Music, Mary Poppins, Chitty-Chitty Bang-Bang, E.T, Children of Heaven (among others) leap to the mind, enchanting us with their charming narratives. In recent times, the Home Alone series grabbed audiences, across the globe.
The first serious breakthrough in this genre — amidst the hi-decibel, star-studded Bollywood fare — came from the person who truly defines creative courage, Aamir Khan. Totally zapped by Amole Gupte's fantastic script of Taare Zameen Par, he bankrolled the film with a $2.4 million budget and directed, produced and promoted the film like one possessed — and hit the bulls eye. Mesmerizing audiences wherever it played and transforming its bucktooth lead child-star Darsheel Safary into a $160,000 per film and $100,000 per endorsement celeb, Taare Zameen Par pulled in a cool $28 million and showed the clueless B-town gang what passion, conviction and ability can achieve.
Although a creative misunderstanding saw Gupte "let go" TZP, he proved his creative worth as script writer and director in his next venture with Stanley Ka Dabba, which was a critical and commercial success. Gupte is planning his next children film, Sapno ko Ginte Ginte.
Meanwhile, the other two Khans flung their hats into the ring with their respective children- driven projects, King Khan's $30 million Ra. One (the superhero fantasy flick) zoomed out last year, delighting kids, but turning off adults. Salman Khan's much more modest and focused Chillar Party (directed by UTV Spottboy's head honcho Vikas Bahl and Nitesh Tiwary) hit the target bang-on to pick up the National Award as well as loads of appreciation and a healthy return on investment. "Unlike earlier times, new categories, engagingly made, can now exist across genres. The multiplexes have created an audience pool that is forever ready and waiting for new, interesting content covering every type, including children's cinema," says Bahl. With low cost stars and a $1 million budget has ensured that Chillar Party is the new template for directors to power this exciting and rewarding movement.
However, post TZP there have been flops as well. Aladin, Paathshaala and Bum Bum Bole had to be peeled off the ceiling, because "kids as core audiences will not be taken in by anything you chuck their way.
Scripts, not genres, need to be re-scrutinized and reviewed. Story-telling is critical, but without being preachy, consciously childish or talking down to them," says Ravi Chopra, whose kiddie spookie Bhootnath, with Amitabh Bachchan was a big hit. Bahl puts it down to the "delicate balance between entertainment & message with a sense of fun. Most importantly, there needs to be that critical element of innocence, difficult to explain but easy to identify."
So will Chillar Party's award and success mark a new beginning for children of a lesser god? Filmmakers doubt it. Although corporatization has brought in funds for the industry, this category has seldom been lucky, because the mega weekend openings don't feature and the money boys are mostly fixated toward the direction. Tokenism, yes but serious money…unlikely.
Even for a super successful film like I am Kalam, the maker lamented the lack of support from the Children Film Society toward releasing the film. For a film that has scooped up 9 awards across film festivals around the world, "I was forced to take a loan against my house to release Kalam," rues Nila Madhab Panda. Shocking, right?
How long will children's films remain in this orphaned state?