NRI
NRI Voice: Playing by the Rules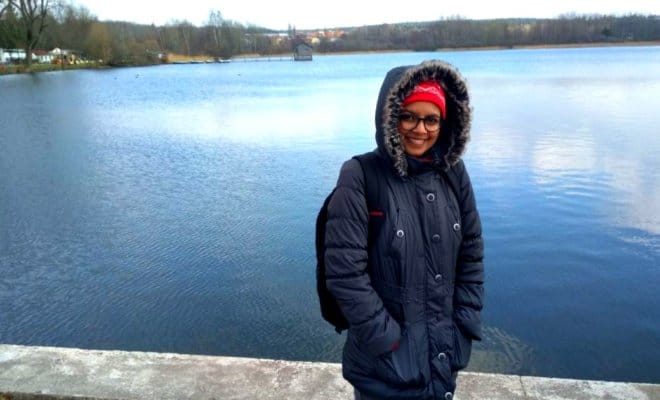 The one piece of advice that Seersha Nambiar, who currently lives in Germany, wants to dole out to those planning to move abroad is, "Bring your masalas." Nambiar, a 26-year-old masters student at the Technische Universität Ilmenau in Thuringia, says that the imported spices that she purchased to prepare Indian food "tasted like mildly flavored chalk dust."
Nambiar, born at Tellicherry in Kerala, found solace in the Middle Eastern food available in the country. "Thanks to the large number of people coming in from the Middle East, there are a lot of Arabic food options. I love the turkey donner and pretty much anything with bacon."
She had, after all, grown up in the Ajman emirate of the UAE. "Like most Keralites, my parents were settled abroad long before I was born," she adds.
Nambiar talks to Little India about her move to Germany:
The Move
A lot of people enjoy the milliard opportunities and thrive in the musical, colorful chaos that India offers. However, being risk-averse and a worrier, I tend to perform better in safer structures, and Germany fits the bill. I did a thorough research before moving to this place, known as the "green heart of Germany." While I did read that locals in small towns tend to be racist, I have not faced anything of that sort here. In fact, people here are extremely helpful, though not in the way you expect.
We Indians expect warmth in conversations with strangers as well, and that is going to be a disappointment here. From what I understand, respect is a governing factor in all German interactions — respect the person, respect his time, respect his choices, respect the law and respect work. It is no surprise to me that Germany is one of the most efficient countries on the planet.
However, if anyone were to move here, I would suggest that they start learning the German language as soon as possible. You will feel like an outsider for as long as you don't speak the language of the land.
University Life
Germany is a brilliant place for a lot of reasons. The quality of student life and education is way better than that in India. Most public universities in Germany don't charge tuition fees. Education is funded by the state. There is a semester fee which is a meager percentage of what one would have to pay at a private university.
However, although there is no tuition fee, the entire affair of studying abroad is expensive. I prefer to cook for myself most of the time though, since eating out is quite expensive when you're a student.
My time is spent in a constant hustle to complete assignments, learn German, and socialize with the diverse student community. The university is an extremely multi-cultural space, my flatmates being from China and Cameroon.
Quirks of Germany
A rule is a rule and nothing is excused here. I applied for accommodation online before receiving my acceptance letter. The process was super easy for me, but it had to be done a couple of months before the semester began. These universities are like government offices in India. It cannot be kept for the last minute. They have their own processes that take time.
The streets are safe. I don't have to pray for my life each time I cross the road nor do I have to worry about getting back indoors before the sun goes down.
I cannot emphasize enough the impact that the comparatively pollution-free air has had on my life — no more allergy attacks, puffed face or headaches. I don't have to carry around my trusted handkerchief on me anymore.
Favorite Haunts
I love to visit this Gothic style cathedral in Erfurt, which is the largest city in Thuringia. The cathedral is apparently the largest and the oldest one in Erfurt. It stands overlooking the main town square, with huge stained glass windows and grand interior furnishings. It gives me goosebumps.