NRI
No Second Chance for NRIs to Deposit Old Notes: Sushma Swaraj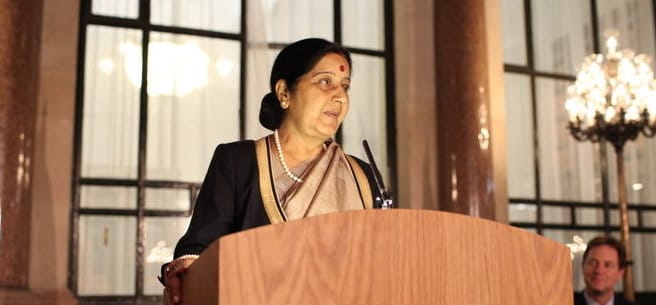 NRIs and people of Indian origin still have demonetized currencies, according to Global Organisation for People of Indian Origin (GOPIO).
By
There is no possibility of the Indian government giving a second chance for NRIs or people of Indian origin to deposit their high value currency that was deemed illegal after demonetization was declared last year, External Affairs Minister Sushma Swaraj said in a statement on Sept. 26.
Swaraj said this in an interaction with a delegation of Global Organisation for People of Indian Origin (GOPIO) during her trip to New York last week, which was also attended by Sandeep Chakravorty, the Consul General of India in New York. The GOPIO, released a statement saying: "Swaraj informed that the government had provided the time window for Non-Resident Indians (NRIs) who are Indian citizens to deposit their currencies earlier. However, that window was not open for Diaspora Indians with foreign citizenship and the government would not be able to provide another such chance."
The BJP government's demonetization policy was announced on Nov. 8, 2016 by Prime Minister Narendra Modi. The policy banned old currency notes of Rs. 500 and Rs. 1,000 denomination in a bid to flush out black money in circulation.
Non-resident Indians and people of Indian origin are still holding the demonetized currencies, according to GOPIO. The Reserve Bank of India, as per the organisation's statement, did not allow them to deposit the notes.
"Diaspora Indians have close to Rs. 7,500 crore still lying with them in small amounts. What should the NRIs do with the old currencies?," GOPIO asked.
In the meeting with Swaraj, the GOPIO delegation told her that overseas citizens of India do not have an Aadhaar card to link with their bank accounts. Swaraj clarified to them that NRIs won't require an Aadhaar card to operate their bank account.
The organization, however, suggested that Indians living anywhere in the world should have an Aadhaar card, like all U.S. citizens have a social security number, whether they stay in America or outside.
The organization has offered to be a facilitator between the returned NRIs and the government.