NRI
Nikki Haley "Opportunist… Ambitious as Lucifer" Trump's "Heir Apparent": Book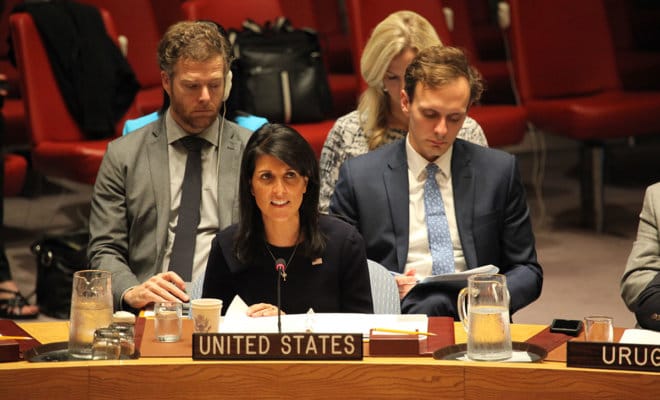 Nikki Haley is portrayed as a wily opportunist striving to position herself as Trump's heir apparent in Michael Wolff's bestselling book "Fire and Fury in the White House."
The U.S. Ambassador to the United Nations Nikki Haley is portrayed as an "opportunist … as ambitious as Lucifer," positioning herself "with requisite submission" to become Pres. Donald Trump's "heir apparent" in a new bestselling book, whose exposes continue to reverberate across the United States.
In his bombshell book, Fire and Fury: Inside the Trump White House, Michael Wolff claims that Haley "courted and befriended" Trump's daughter Ivanka Trump, who "brought her into the family circle, where she had become a particular focus of Trump's attention, and he of hers."
She is viewed as the "family's pick for secretary of state after Rex Tillerson's inevitable resignation," according to Wolff. "The president had been spending a notable amount of private time with Haley on Air Force One and was seen to be grooming her for a national political future," to the distress of one senior Trumper, who was concerned "that she is so much smarter than him."
Former White House Chief Strategist Steve Bannon is especially apprehensive that Haley, "quite an un-Trumpian figure, but by far the closest of any of his cabinet members to him, might, with clever political wiles, entice Trump to hand her the Trumpian revolution." Wolff writes.
Haley, the Indian American governor of South Carolina, was Trump's surprise choice for U.S. Ambassador to the United Nations although she had been exceedingly critical of him during the Republican primaries. Long perceived as someone with a "pronounced moderate streak," she has become something of Trump's whisperer with hardline positions at the United Nations, often scolding and threatening countries. But most members of the United Nations and the Security Council have become immune to her threats and the United States is increasingly isolated at the body.
Haley is the only Indian American to find substantive mention in Wolff's book, which also makes passing references to a Deepak Chopra seminar on meditation attended by Ivanka Trump and her husband Jared Kushner, and Indira Nooyi, a member of the President's Strategic and Policy Council, which disbanded following Trump's widely panned reaction to the white supremacist violence in Charlottsville, Virginia.
Pres. Trump's lawyers sought to block distribution of the book with a cease and desist letter to the publisher, Henry Holt & Company, which responded instead by moving up its publication by five days. The book is flying off the shelves, is sold out in bookstores from coast to coast, as well as online on Barnes and Noble and Amazon, both of which now have a two week backlog of orders.
Trump has severed his relationship with Bannon, believed to be the principal source for the book, deriding "Sloppy Steve" as an insignificant player in his campaign and administration, who had "lost his mind." Increasingly isolated by Trump's supporters and at risk of being marginalized from the Trump revolution that he helped ignite, Bannon issued a mea culpa, backtracking his remarks against Trump's son Donald Trump Jr., whom he had called "treasonous" in the book, describing him instead as a "patriot and a good man."