Food
The New Posh Spread: How Humble Vegetables Became The Stars in American Dining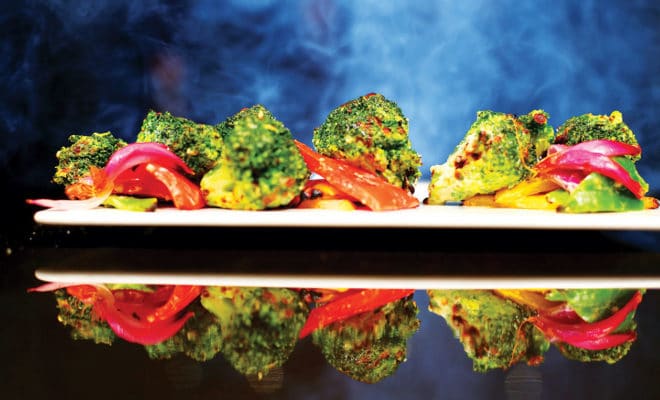 With an increased interest in seasonal produce and flexitarianism, is the new food trend in America a gentle nod toward the ancient principles of Indian eating?
In the small town of Freedom, Maine, population 719, Erin French runs a restaurant called The Lost Kitchen, housed in a refurbished old mill. When the restaurant, which opens eight months a year, began taking reservations in April for the season, it received a whopping 10,000 calls in 24 hours, leaving its small staff scurrying to respond to enquiries. What draws a volley of culinary aficionados from across the country to this cozy little place is the simplicity of its menu, which changes every night depending on what is available locally.
Seasonal ingredients, ranging from elderflowers and sugar peas to blueberries and heirloom tomatoes are brought in by local farmers, who also double up as cooks in the kitchen. A local ceramist makes the bowls and plates and fresh vegetables often dominate the menu. It is this charm of laid back, uncomplicated goodness on a plate that has made this nondescript town a culinary destination.
As food trends across the globe veer toward vegetarianism, flexitarianism, hyper local eating, zero wastage and Meatless Mondays, more and more kitchens across America and around the world are turning to fresh, seasonal food. The neo kitchen emphasis is on plant-based options and food that comes not from the refrigerator, but is prepared hot and fresh incorporating seasonal ingredients.
What we are experiencing in mainstream American dining right now may have certain resonance with the principles of traditional Indian eating.
According to the Global Food & Drink Trend Report 2017 by Mintel, a marketing intelligence company, plant based foods were the foremost food trend in 2017. The report says that a preference for natural, flexible and simple diet will further lead to the expansion of vegetarian, vegan and other plant-based formulations.
Another report by Baum+Whiteman, international food and restaurant consultants, on the hottest food trends for 2017 states: "Vegetables in 2017 will extend their domination of the dinner plate, shoving animal protein to the edges … or off the plate altogether…. We are seeing a surge of serious chefs tilting their menus towards vegetables. And it's no secret that Americans are eating less meat (with 26% confirming this last year) while vegetarian and flexitarian diets are going mainstream."
Vegetable Gardens Bloom
The effects are visible not just at eateries in smaller American cities, where often the family farm overlooks the kitchen, but also metropolises, such as New York and Los Angeles. Many posh Michelin starred Manhattan eateries are promising an abundance of vegetarian dishes on their menu. At the Michelin starred Nix, Chef John Fraser's menu is dominated with vegetables and vegan options. Another restaurant, called Butcher's Daughter, calls itself a vegetable slaughterhouse with extravagant plant based options. At another top Manhattan eatery, ABCV, the V stands tall for vegetables in a 100% vegetarian kitchen. In Los Angeles, at the famous Hugo's restaurant, you can enjoy a dish seasoned with Ayurvedic kapha spices and also choose from a vast selection of plant-based eats. At another popular joint Millie's in Silver Lake, a new pop-up diner called Of Aire, is drawing crowds for its meat free dishes and plates piled with herbs, greens and vegetables in all forms — raw, grilled and pickled.
If that's not all, this season, New York City based Chef Amanda Cohen is experimenting with a tasting menu at her vegetarian only restaurant, Dirt Candy. Diners can choose between a $57, five-course meal called, "The Vegetable Patch," or a $83 meal, called, "The Vegetable Garden."
The trend is picking up among ubiquitous mass food consumption options too. Tyson Foods, the largest meat processor in the United States, has taken a 5 percent interest in Beyond Meat, a company specializing in plant-based hamburgers.
Late last year,an alliance of 40 investors brought together by Farm Animal Investment Risk & Return initiative, urged 16 global food companies, including Walmart, Nestle, Costco, Kraft Heinz, to acknowledge the risks of industrial farming and to diversify into plant based sources of protein.
As sustainability and health concerns force urban consumers to look inwards for their food choices, could we draw parallels between the holistic principles of ancient Indian eating and the contemporary new clean eating trends?
Chef KN Vinod, co-owner of the acclaimed restaurant Indique in Washington D.C., which was featured in the Michelin Dining Guide Bistro, says: "Relative to India or other great nations, America is an extremely young country. Part of what makes America great is all of the diversity in culture, cuisine, and perspective. The challenge that diversity and youth has presented is that the country simply does not have a food culture, or some of the 'grandmother's wisdom' that Indians have benefited from. As a result, the country and its citizens became very susceptible to fad diets, marketing campaigns, and super-sized meals, and led to a number of people literally getting sick due to the food that was meant to nourish them."
Chef Saby Gorai, recipient of the Best Chef Award from the President of India, and owner of leading Indian restaurants Lavash and Mineority, says: "If you look closely, not just India, but all the ancient civilizations, such as China and Japan, had a more clear understanding of effectively harnessing the biodiversity of a place through the food we consume. The Vedic-eating principles do coincide with clean, seasonal eating, which newer civilizations, such as America, are adopting for its myriad benefits."
He adds: "In olden times, food was supposed to serve as medicine too and therefore there were categories of food to be eaten in summer, monsoons or winters to tackle health issues through food. Today what is happening around the world is that return to the same philosophy, whether it is to eat less meat or to include local produce."
Many in the food industry see the new trends as a nod to cultural eating. Atlanta based cookbook author Nandita Godbole (Not For You: Family Narratives of Denial and Comfort Food), says: "Most of Indian cuisine, like cuisines older than 300 years, are rooted in methods when kitchen conveniences were limited and the reliance on small-scale economies. The farm-to-fork, sustainable movements may be nothing but rebranding old-fashioned concepts."
With this new-found food consciousness, things are definitely changing. Chef Vinod says: "Fortunately, people are slowly but surely starting to wake up to this reality, and as a result, we are seeing many of the principles that we have grown up with beginning to enter American culture as well, and not a minute too soon. America's food system has been broken for a long time, and we believe that the local, fresh, and seasonal approach to food that we have all grown up with shall continue to enter the mainstream over the years to come."
So will this big move towards vegetarianism benefit vegetarian Indian Americans who have long suffered from a lack of many mainstream options? Professor Krishnendu Ray, Chair, Department of Nutrition and Food Studies at New York University, says: "Vegetarian food in America has become much more interesting and less a cuisine of deprivation. It has acquired voluptuousness, by mostly borrowing from the various complex carb+bean cuisines of peasants in the Global South. American vegetarian cuisine can free itself further by moving away from its attempts to create fake burgers, hot dogs, or bacon. The point of vegetable foods should not be to taste like meat. That is still the derivative standard of a lot of Western vegetarian diets."
Food
Many restaurateurs believe that the shift will benefit vegetarian Indians as well. Rahul Vinod, who co-owns the Rasa Indian Grill in Washington, says: "For many decades this has definitely been a large challenge, and posed many problems for Indians who do not eat meat and for the vegetarian community more broadly. For years, if you were vegetarian or vegan, it was almost amusingly difficult to even find a restaurant which had any options that were vegetarian at all, and it was not a rare occurrence to be offered a house salad or French fries as the only options for dinner. Fortunately, those days seem to be behind us, particularly in major cities, as the country is rapidly shifting towards understanding the health and environmental benefits of going vegetarian."
India Lost The Plot Too
While the return to the goodness of veggies and simple eating are the ripple effects of farm to fork movement, food experts say that Indians too are returning to the same philosophy,as they too had lost the plot of their own techniques. Chef Gorai says: "India lapped up to processed food in the past few decades for no reason. In big industrial cities around the world, urbanization and commercialization could have been the reasons to look for alternatives to fresh food, but Indians never had a reason to swap their olden eating habits, owing to easy accessibility to farms and villages and manual help to cook food from scratch."
This is also true for Indian Americans, despite the famed Indian sentimentality toward food, says Prof Ray, author of The Migrant's Table, which delves into the psyche of immigrant eating practices: "My studies show that Indian immigrant breakfast becomes American quickly (due to convenience, time constraints and loss of servants) while dinner becomes more conservatively Indian. That is true of many first generation immigrant groups. Incorporation of foods of the new context comes quicker than conversion to a host religion or language, but slower than attire (for men, more than women). So there are different rates of change in different domains of everyday material life for different groups, which need to be studied, compared and theorized."
On the American front though, the movement toward nutrition began some time ago. Chef Sanjeev Ranjan, who cooked for Carnival Cruises in Texas, San Francisco and Miami, and has been observing the food patterns in America, says: "The change began happening a few years ago when the Americans started replacing their staple lunch of hamburgers with salads." On the growing demand of fresh veggies, Ranjan says: "With the coming in vogue of vegetarianism, gluten free, pescatarianism a lot more health consciousness had to seep in. Also, if you notice, those who are practicing the trend are between the age group of 25-40, so it won't be wrong to say it is the new generational food awareness."
The consciousness is reflected in other areas too. According to the Institute of Alcohol Sciences, a 2016 study conducted in the United Kingdom, found that underage drinking is on a long-term decline because of greater health awareness.
Chef Shamsul Wahid, who runs the famous Smoke House Deli in India, recently organized a restaurant pop up in Austria. He says, "Mindful eating is the new food trend everywhere. I noticed that Europeans too, if they are not going for a totally vegetarian fare, they are choosing to split by say substituting their starters with veggies and sticking to meats only in main course."
The Return Was Inevitable
Wahid says, "If you see, all epic dishes on menus across the world have been invented in the 18th century. Whether it is dum biryani or beef Wellington, it's not just the ingredients, but the techniques of olden times too that have proven to be better both for health and palate."
Tired of easy, microwave food, increasing numbers of Americans are also turning to wholesome, elaborate cooking procedures. Rahul Sejwal Chaudhary, head chef at Sanjeev Kapoor's Yellow Chilli restaurant in Orange County, Calif., says: "There is a 50:50 ratio of Indians and non-Indians in our restaurant.
Most Americans and even Europeans prefer vegan and vegetarian dishes in an Indian eatery. Our vegan offering such as lalla mussa is a hot favorite. It is a black lentil dal, which many Americans prefer as they are fascinated by the preparation, which involves boiling the dal in ginger infused water for 15-20 hours. Needless to add, they are most excited about the restorative properties the ginger infusion may have added to the dish."
On the trend of meatless days gaining some momentum in the West, Gorai says: "While in India eliminating meat on certain days has traditionally been a cultural and religious practice, the West is restricting it and moving to substitutes like soy proteins because of animal consciousness and health reasons. The modern day deadly diseases that cause cell mutations and other complications are linked to animal proteins by various studies."
A return to ancient cultural eating practices is reflected not just in an increase in vegetable consumption, but also in adopting ancient cooking techniques. Wahid offers an example: "There is also an interest in Indian tradition of pickling and also fermentation of food like in khombuch, besides inclusion of local beans and lentils in diets."
Chefs say that often the nuances of a certain technique are adapted subtly and not literally. And perhaps that's why, while you may not find Americans sun-drying turmeric smeared mangoes for pickling, you will find delicacies, such as duck confit with fermented wild blueberries, in many celebrated menus.
Wahid believes that modernist techniques can scarcely substitute for the flavor and delicate balance of ingredients that traditional modes of cooking guarantee: "Any cook will tell you that a good braise will always be done on a low flame like our grandmothers used to do. Techniques like sous vide can never bring about the flavor profile in the same way." He gives another example: "Today hollandaise sauce is made by adding emulsifiers, but till today the old age technique of adding clarified butter in its preparation guarantees the real texture. It is return to kitchen traditions that is bringing about the trend."
Chef Ranjan finds an amusing link between the new "it" salad trends and the humble salad he grew up eating in his household in India: "The antipasti today has changed to raw salad. Earlier people preferred boiled or blanched veggies, but today raw radish, cucumber and tomato are considered the healthiest salads. It reminds me of the common Indian staple salad eaten in all Indian homes with dal and rice…. The oh-so-cool wheatgrass shots are made of those tiny yuvar shoots that were kept in home mandirs in India."
An Ignorant Fad?
A lot of new food trends are a cross-cultural amalgamation of dietary practices. But, is there also a reverse ignorant food fad? Just as in the past decade many Indians lapped up every super food that became a rage in the West without understanding its proclivity or suitability to their environments, many Americans may be choosing food fads derived from olden cultures without appreciating the basics. Chef Saby says: "When you see turmeric capsules being sold in American groceries you can't help but wonder that this may not be the only way to consume turmeric in your diet. It can be had as haldi powder, added to the tea, can be had in the form of kachcha turmeric and can even be applied as a paste on body, but perhaps the West is not aware of these nuances."
Author Nandita Godbole offers another example: "A few days ago an American mentioned to me that she was on a khichdi cleanse. I found this rather amusing because in India, we have khichdi once in a week or every now or then when we want to feel lighter, but terming this simple practice as a cleanse pushed it into a fad category."
However the good part of conscious eating in America is the emphasis on real food.
Sahil Rehman, co-owner of Rasa Indian Grill says: "We are witnessing a remarkable bottom up movement, where progressive consumers are demanding more consciously grown food, so restaurants and businesses must be more mindful about where they source from, which is resulting in suppliers changing their practices to stay relevant. As businesses market their shifts towards more positive sourcing practices, this serves to educate and raise awareness about the food ecosystem to other consumers who were less educated on the topic previously, thereby theoretically shifting their eating approach, and continuing the positive cycle towards a healthier food ecosystem. Massive chains such as Chipotle shifting to all non-GMO ingredients and both Panera Bread and Taco Bell taking remarkable leaps to remove artificial ingredients are great examples of the exciting movement we are experiencing today. "
Pumpkin Manti
Recipe courtesy: Lavaash by Saby
Traditional Armenian ravioli, stuffed with pumpkin and baked with yoghurt sauce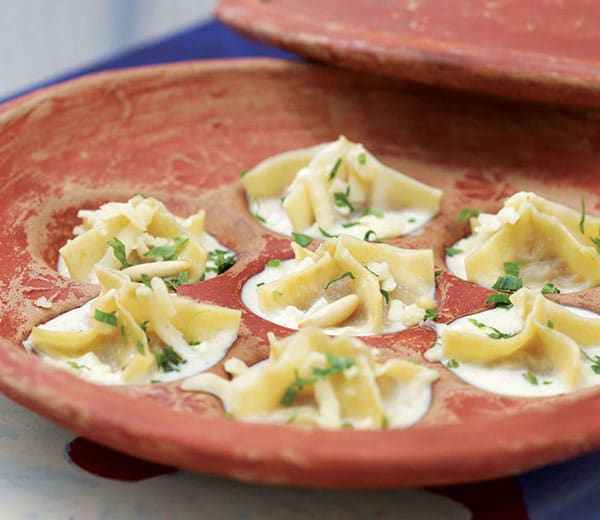 Dough
Refined flour: 1 kg
Eggs: 10 nos
Semolina: 150 gm
Salt: 10 gm
• Mix all the ingredients in the kitchen aid, with the pedal attachment.
• Once done, leave the dough to rest for an hour.
• Make pasta sheets (at No. 8), in the pasta attachment.
Pumpkin: 1 kg
Cinnamon powder: 12 gms
Thyme: 3 sprigs – chopped
Salt: to taste
Walnuts: 50 gms (chopped)
• Cut the pumpkin into large pieces and rub with olive oil, half of the cinnamon powder and thyme and roast in the oven at 200 C
• Scoop out the pumpkin and leave it to strain for 45 minutes.
• Mix the pumpkin, walnuts, cinnamon in the kitchen aid for 2 minutes
• Fill in the filling in the sheets and close the sheets, forming small pouches shape, and seal
Sauce
Curd: 250 gms
Oil: 5 ml
Bay leaf: 2 nos
Green cardamom: 4 nos
Water: 50 ml
Refined flour: 10 gm
Grated cheese: 200 gm
Pinenuts (toasted): 50 gms
Salt: to taste
• Heat oil , bay leaf and cardamom. Add curd and water and leave to simmer
• Once the gravy has thickened add salt and mix in blender.
Pour the sauce in a baking dish and put the manti on it. Garnish the manti with grated cheese and bake for 6-8 minutes.
Serve hot, garnished with pinenuts.
Eggplant Tolma
Recipe courtesy: Lavaash by Saby
Char grilled eggplant topped with beetroot , and crusted with walnuts and baked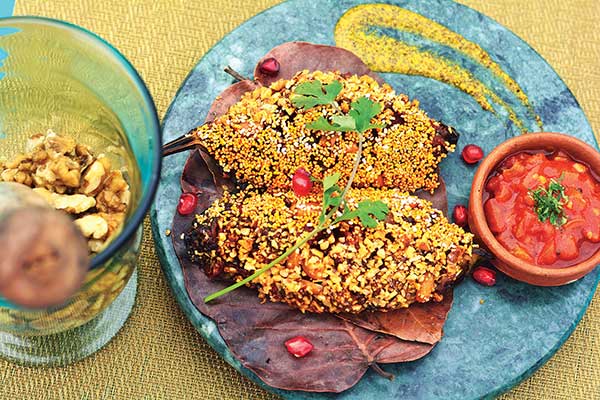 INGREDIENTS
Eggplant : 1
Beetroot mix: 80 gms
Kalimpong cheese: 20 gms
Amaranth: 10 gms
Kasundi mustard for garnish
Corriander sprig: 1
Crushed walnuts: 50 gms
Cut the eggplant lengthwise into 4 pcs.
Fry the eggplant and then drain excess oil
Top eggplant with the beetroot mix
Crust it with walnuts on one side and cheese on one side
Bake in the oven at 200C till the cheese melts
Garnish with kasundi mustard drizzle and coriander sprig
Beetroot: 200 gms
Potato: 500 gms
Walnuts: 100 gms
Tomato ketchup: 75 gms
Degi mirch: 5 gms
Corriander powder: 2 gms
Cumin powder: 2 gms
Ginger paste: 15 gms
Heat oil and add the spices and ginger paste and cook well
Add rest of the ingredients and cook till vegetables are cooked
Leave aside to cool