Bollywood
Naach Meri Bulbul, Paisa Mile Gaa!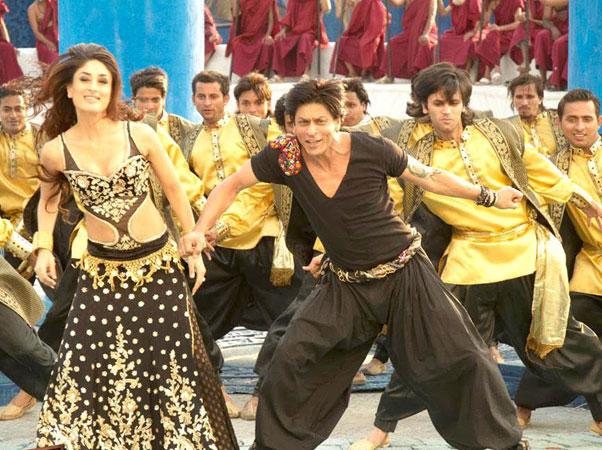 How far are Bollywood stars willing to prostitute themselves?
In recent times, several B-town stars have happily pranced into this space, done their sizzling numbers in front of ecstatic fans, upped the social status and respectability of the hosts, picked up their juicy checks, flashed their best "at your service" smile and vamoosed!
Before we discuss how degrading or glorious this new phenomenon is, why not listen-in to two wildly differing views on the subject.
Mumbai-based MBA student Shraddha Vyas is not amused. The pretty 20-year-old thinks that, "It is really cheap and disgusting the way today's stars agree to do anything for money! Don't they need to have a sense of mystery and aura … some distancing between them and the public? Aren't stars meant for the silver screen? They have reduced themselves to performing monkeys, dancing to the tune of the highest bidder! Can you ever imagine any star of the previous generation doing that? Thank god, at least some of the new stars have put their foot down and said no! As for SRK … the less said the better! Anything for money … and for effect! Real bhaand! Why are they so bhookha for money? What next?"
London-based Parul Khanna violently disagrees. The 17-year-old NRI is thrilled at the increasing "activity bandwidth" of her favorite stars and is delighted at their entry into newer spaces. "It's fantastic that beyond movies, they are there performing in road shows, award shows, reality shows, charities, premieres, product launches … now with weddings, birthdays and functions also in their radar, it's freak-out time for their fans. Don't forget they are everyone's object of envy, admiration and desire, up there in the popularity graph, loved madly by all. Sexy, glamorous and hot, these super-entertainers' rocket any event they perform in, to another level! Spice up the occasion with their charisma and stardom as nothing and no one else does and can! Keep rockin', guys … as for the kill-joys, chill. It's year 2012, loosen up!"
Okay, let's pull back and get the real picture. Fact is that it is a different day and age, and consumerism and materialism rule. Success is equated with excellence and popularity with quality. Market forces do rule and come with their set of compulsions. In this scenario, King [Shahrukh] Khan has always been frank to admit that he is the original, shameless bhaand forever willing to shake a leg at any wedding or function at the right price — reportedly $600,000-$750,000. His rationale: "With the money that I earn at these weddings, I can exercise the choice of refusing films I don't want to associate with. Many actors have done that too, in their own way. Maybe 30 of their 70 films they've done just for the money."
Agrees actress Minisha Lamba. "A performer is a performer, be it for a film or wedding. What's the big deal?" Munni Badnaam Hui, item-bomb, Malaika Arora Khan jigs to the same tune. "I have performed at many hi-profile weddings and don't see anything wrong. Badnaam to nahin hui! Ultimately, each to his/her own."
Not all agree. The one Kapoor who is adored by all the Khans (and getting ready to be hitched to one, as well), Kareena admits "it's always fun, exciting and cool, being and performing on stage in front of my colleagues and the B-town frat … but dancing at private weddings? Never!"
Hunk John Abraham agrees. "Doesn't work for me … besides, don't want to make so much money!" Ditto for Shahid Kapoor. Fashionista Sonam Kapoor is categorical: "When I entered this industry, I made a list of what I would and wouldn't do. Dancing at weddings definitely follows the second list!"
So what's the take-out? It's a tough call, because it's a personal thing. While the purists and conservative lot view it as "cheap, selling-out and degrading," the new age crowd finds it cool and fine. They believe that in a profession that resides in a hugely cut-throat, competitive territory where luck and Friday, not talent, rules, exploring every available revenue-stream is smart thinking. As for dignity and prestige, these are old-fashioned traits that are not given exaggerated importance in today's life.
This entire notion of being overtly sensitive and touchy about anything to do with izzat and aabroo, they believe, is dead and buried. We live in fast-moving, hang-loose times with the all-devoring monster called consumerism running amok. Everything has a price, is bought and sold, manufactured and consumed. Stars dancing at weddings too. So, nach meri bulbul, paisa mile gaa.