Magazine
Mumbai On Heels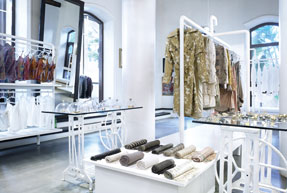 Colaba has become one of Mumbai's trendiest neighborhoods, home to designer boutiques, home decor stores, western-style cafes and hip bars.
I am combing through the racks of Colaba's pristine, white Bombay Electric, checking out an exceptionally expensive and gorgeous supple leather vintage belt, (since when do Indians do vintage?), and wondering how on earth it is that I've never been here before. Where had this store been hiding on all those trips I had made back to India? But then it only opened few years ago.
Growing up, I frequently visited my extended family in India. The trips often involved visiting 400 relatives and being force-fed grandma's homemade samosas. To keep me interested in our trips, my mom would promise me loads of shopping, new custom made outfits, and tons of jewelry. We would go shopping at Chor Bazaar and Fashion Street, where I would pick through the poor knock-offs of Western outfits and wonder what the big deal was. I would try to squeeze too-small hot pink beaded mirrored bangles onto my wrists in the back of some little shop only my mom could find. After selecting the right fabric, she would drag me to the tailor with the latest copy of Stardust in tow, with a picture of some starlet's outfit I wanted copied. Meanwhile, I would try to hide my teenage embarrassment at having an old tailor measure me. Going back to India was always fun, but glamorous it was not.
Bombay Electric, a clean, white, minimalist store, (no neon walls and or old men here), stocks the most cutting edge in Indian design
India may have mastered the art of song-and-dance, delicious, sinus-clearing spicy food, meditation and yoga, but fashion was something that was yet to be — at least for NRIs. Indian fashion has long been influenced by Bollywood; by the Madhuris, the Sridevis, and the Aishwaryas. But Bollywood is a fantasy. Translating rhinestones and sequins into everyday attire hasn't been terribly chic or successful at any major level. Modern, ready-to-wear, off-the-rack clothing was almost unheard of, until recently.
With a bevvy of Indian designers popping up in the past few years, (Manish Malhotra, Payal Singhal, Ashish Soni), I wondered if fashion had changed in Mumbai. Sure I knew all about the rising wealth, the outsourcing, the techies, but like many NRIs, my image of India came in stagnant flashes. A month in 1986. Two weeks in 1999. Three weeks in 2002. In between, my parents kept the memories alive with their stories of a frozen-in-time 1976 India. I had always looked at India through the filter of my parents and their own nostalgia. It was time to rediscover India. And for a fashionista like myself, shopping was as good a reason as any to rediscover the new Mumbai. At least the one that included high heels and handbags.
Which brings me to the neighborhood of Colaba, which has always been a center of affluence in Mumbai, (the Ambanis and Tatas reside here), and it's also home to the Taj Hotel, the Gateway of India, and the famed Café Leopold. In recent years Colaba has become not just a bastion of affluence, but one of Mumbai's trendiest neighborhoods as well. It has become home to designer boutiques, home décor stores, western-style cafes, hip bars, and hotels catering to tourists and locals alike. So, understandably, I decided it was a perfect place to start my exploration of India's new wave of modernity.
I stood in Bombay Electric, the clean, white, minimalist store, (no neon walls and or old men here), stocking the most cutting edge in Indian design and I couldn't help but think that if Carrie Bradshaw, (the protagonist of Sex and the City), was a denizen of Mumbai rather than New York, she would undoubtedly shop here. With nary a salwar kameez or ghagra choli in sight, the store appealed to the modern Mumbaiker, the girl who drinks lattes in the morning, brings home the bacon and hits Bollywood hotspots at night. This definitely isn't your mother's Mumbai. Bombay Electric is the kind of establishment I had always longed for, but never found. My heart was aflutter.
I waltzed around the store in a love-induced fog, wading through designers like Manish Arora, in-house brand Ghee Butter and international finds I had never heard of like United Nude. I even found Ashish Soni, a designer whose fashion show I had attended in New York. His fresh, cotton, breezy creations could be equally at home in New York as in Mumbai. Other than a dash of embroidery, the clothes were not distinctively Indian, nor were they particularly Western. Rather, his collection was the mark of someone who walked between both worlds.
I gazed longingly at the latest Little Shilpa creation, a diaphanous grayish blue tulle hat from her Moonbeams and Daydreams collection. Although, truthfully, I'm not sure if you can even call it a hat; it's more like a work of art. I ran over to examine it, inhaling its lusciousness. I wondered if I could pull it off, but then came to my senses realizing such attire is best left for Lady Gaga and her ilk. Even so, I couldn't help but appreciate her dedication to artistry and creativity. It was the exact opposite of everything I had ever experienced previously while shopping in Mumbai, and yet it was so very India right now. It was in that moment, I made a vow to myself: no more Chor Bazaar.
Priya Kishore, founder and creative director of Bombay Electric (above): The store, which opened in 2006, was among the first of its kind.
Bombay Electric is just one of the stores in SoBo, (South Bombay), catering to India's new yuppies. When owner and style icon, Priya Kishore, opened Bombay Electric back in 2006, the boutique was one of the first of its kind, prompting the New York Times to dub it the "Barney's of Bombay." Now areas like Colaba have seen an explosion of trendy boutiques showcasing the newest and edgiest in Indian design as well as international designers. Everyone from celebs to fashion editors — people in-the-know — are flocking to SoBo for their fashion fix.
After paying for my new striped Ghee Butter dress, I headed over to the recently opened Ogaan down the street. I had heard through the grapevine it was the place to go for up-and-coming designers and for Indo-Western fusion wear. The gigantic warehouse contains one of the most comprehensive collections of Indian designers today. Upon walking in, I was immediately taken with its stark industrial design, something I didn't expect in Mumbai. With the gray walls, wood and metal elements, Ogaan is as much a store as it is a gallery of sorts — an ode to modern Indian design. All the garments are elegantly spaced out so customers can easily appreciate their craftsmanship. Owner Kavita Bhartia stocks her own namesake line of casual, flirty, boho dresses, as well as designers I had never heard of previously, like Gaurav & Ritika, whose minimally colored, but beautifully cut mini dresses had me swooning. Lecoanet Hemant is another unexpected find. Although it has been around since 1984, it has remained relatively under the radar. The line is edgy yet wearable, featuring pieces like high-waisted sequin skirts and hooded tank tops. The store also stocks handbags, scarves and jewelry, making it a one-stop shop for those in a hurry. However, how could I be satisfied with just two shops? I picked up a multicolored scarf and headed to the next store.
I reasoned a day in spent shopping in Mumbai wouldn't be complete without a visit to veteran designer Tarun Tahiliani's boutique. I had heard so much about him, but had never actually seen any of his designs up close and personal. What I ended up loving about Tahliani's confections is that even when he is designing a conventional Indian piece like a sari, he incorporates newer ideas, like pairing a metallic lame tube top with a beige colored sari. Even the draping puts a twist on tradition, with fabric coming from either side and tying in the middle. Unfortunately, I had no formal functions to go to, so visiting Tahliani's store was more for window-shopping than anything else. I needed something for a night on the town.
Tarun Tahilani: Even when he is designing a conventional Indian piece like a sari, he incorporates newer ideas, like pairing a metallic lame tube top with a beige colored sari.
While the previous few stores covered all things flowy and pretty, the clothing lacked sex appeal. Sometimes you just want to wear a tight dress. I hopped over to Ensemble, where I discovered Shrivan Naresh. Some of Naresh's designs are so fitted that you just might need help getting into them. Body-conscious dresses aren't something you see too often in India, so I was pleasantly surprised to see a designer think outside the very traditional box and even more excited to see bright colors like teal paired with simpler hues like tan. Ensemble features fewer emerging designers and more of the heavy hitters of Indian fashion, such as Rohit Bal and Sabyasachi Mukherjee.
Alas, the dress I liked at Ensemble didn't fit me, so I was forced to sadly put it back. Nonetheless, I felt a sense of accomplishment after a full day of shopping in Colaba. Not only did I become reacquainted with Mumbai, (at least shopping wise), but I discovered all kinds of new Indian designers and gained a new appreciation for the homegrown talent.
OK, so Mumbai isn't going to become the next Paris anytime soon, but shopping in India provides a respite from the increasingly homogenized shops of Europe and the United States. Breaking free from the stereotypes of the past, Mumbai now offers a dash of color, a unique Indian take on western wear, or some good old Indian bling bling.