Magazine
When Modi Met Trump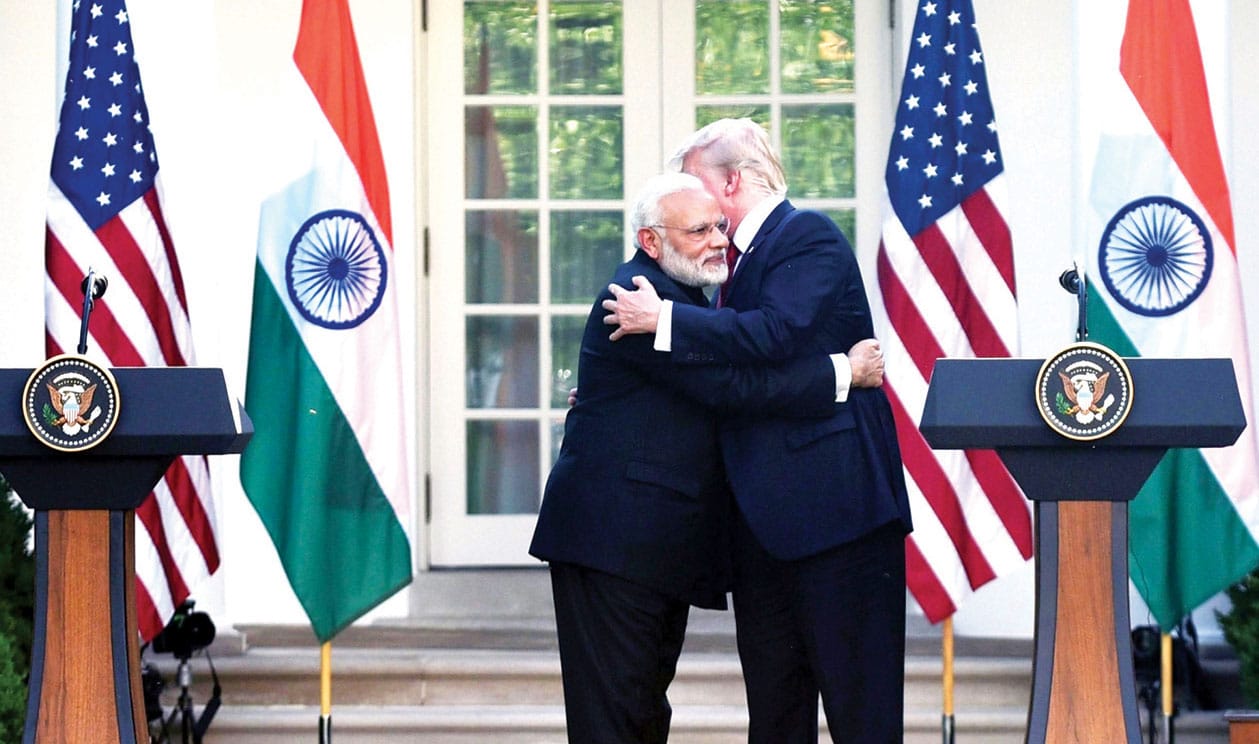 There were bound to be their signature style handshakes and hugs when the two world leaders met. Here's how Narendra Modi took his bromance to another level with Donald Trump.
The signs began showing early on social media — the altar for attention these days. President Donald Trump welcomed Indian Prime Minister Narendra Modi on Twitter as a "true friend," and Modi responded by thanking Trump for his "warm personal welcome."
Unless you had been living in the seven sleepers' den, you would have known that when these two very flamboyant world leaders — one famous for his firm handshakes and the other for his lionized hugs — met, there would be more than just boringly orchestrated moves.
And neither Modi nor Trump disappointed. There were prolonged handshakes, multiple hugs and even a moment when Modi rested his shoulders on Trump's chest. In a way perhaps, no two-world leaders have ever displayed such body contact before. For Indian viewers, it was a perfect Bollywood moment, unbelievable but quirkily real in Modi's world. As for their American counterparts, the move seemed a clever way to evade Trump's infamous handshake.
Both Modi and Trump have in the past left their guests confused and nervous with their unusual body gestures. Trump's power handshake with Japanese Prime Minister Shinzo Abe lasted for 19 long seconds. Modi's vice like grasp on Prince William's hand had left a visible cringe on the Prince's face and a mark on his hand.
Trump walked holding hands with British Prime Minister Theresa May, which she later described as gentlemanly behavior. Modi had left the then French President Francois Hollande bewildered with his swoops, even once almost clutching him from behind.
So, when these two leaders were together on a podium, it took no Einstein to guess that political commentators from both sides would have pre-empted a not-so-normal physicality. K.C. Singh, former secretary in India's external affairs ministry, was quoted in BBC saying: "Given Mr Modi's hugging record, it would have been a very ill-informed U.S. team that would have not known that Mr Modi was going to go for Donald Trump."
It was a moment to watch. How would Pres. Trump, known not just for his eccentricities, but also as germaphobe, react to Modi's record of bear hugs.
Body language experts had noted how Trump evaded a handshake with German Chancellor Angela Merkel during a photo opportunity earlier this year. Trump has himself publicly remarked how he is a germaphobe and there are reports that he avoids touching buttons in the lift.
But surprisingly, when Modi reached out to Trump for his signature warm embrace, Trump was compliant. The entire scenario, albeit funny, also reflected Modi's resolve to seal the meet with multiple hugs to continue the tradition he started with former Pres. Barack Obama.
Call it Modi's now seasoned perfection to embrace the world leaders, a feat perhaps no other prime minister has mastered before, he was able to charmingly disarm Trump and engage in an announced embrace. Modi's hug this time seemed no impulsive attempt to hog the limelight or a childish way to announce his proximity to those who matter, but slow and calculated.
When Modi first reached, hands outstretched, towards President Trump in the Rose Garden, it seemed the two leaders would only settle for a handshake belying the moment many were pre-empting. But one didn't have to wait long before Modi clasped Trump into a firm handshake using both his hands and finally made that sweeping gesture and hugged Trump. There was a moment when Trump looked straight toward Mod's eyes, although the leaders didn't make eye contact. Modi made sure that their post hug handshake lasted long enough for photo opportunities depicting a definite camaraderie.
Those watching intently were treated to another hug and that moment that left Twitter abuzz. The moment when Modi rested his head briefly on Trump, a move so comical that it will resonate for years to come.
Doubtlessly, both the leaders would have been briefed about their body contact with each other, but perhaps Modi decided to go with the flow and chose to make the most of the moment.
It's unlikely that we will be seeing another world leader resting his head on another in the near future, but Modi's continuing tradition and Trump's reciprocity toward it, signals an era of awkward political physicality.