Arts
Made In India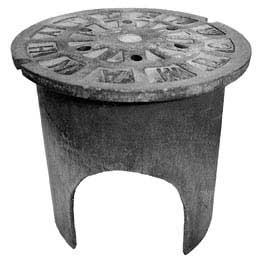 The vast majority of manhole covers in New York City are from India.
You never think about them as you tramp across New York City, but they are always underfoot, a silent gift from India. We're talking, of course, of the manhole covers, a majority of which are manufactured in India. Cheap labor has ensured that the manhole cover needs of cities from New York to Los Angeles are met by foundries in India.
Recently at the International Contemporary Furniture Fair at the Jacobs Javits Center there was a seminar totally devoted to these hardly lovable but essential objects: The World Forum on Manhole Covers. It brought together artists, authors, experts and preservationists to discuss this 200-1b cast iron surface – there are over 600,000 manhole covers in New York.
In fact Diana Stuart, who is known as New York's Manhole Cover Lady, has written a hefty tome with 400 images, titled Designs Underfoot: The Art of Manhole Covers in New York City.
Interestingly, while India has been providing these covers for the past 30 years, many manhole covers are over a hundred years old and come in a variety of designs.
We may not think twice about the unusual designs underfoot, but now a number of artists are making the manhole cover a part of stylish home design. Michele Brody creates a line of lighting that transforms the mundane utility item into an illuminated Mandala. Brody brings a touch of the New York streets into her circular wall scones and ceiling fixtures encased in stainless steel or copper illumine prints and rubbings made from actual NYC manhole covers.
Brody has also created the Manhole Project in which she designs special manhole covers inspired by buildings which have long since disappeared, and has them installed on city streets, in a sense creating the footprint of vanished buildings on the city.
Then there's ParkerWorks of Brooklyn where artist and blacksmith Robert Parker produces industrial tables from a rare collection of genuine NYC manhole covers. The Society for the Preservation of New York City Manhole Covers Furniture Company makes tables from manhole covers from all five boroughs, legally acquired from the city. The tables sell for $2500-$3600, determined by the age of the manhole cover. As Diana Stuart observes, "The array of designs and their cast-iron significance make these tables a priceless part of New York history."