Books
Love in The Times of the (Neo Indian) Literati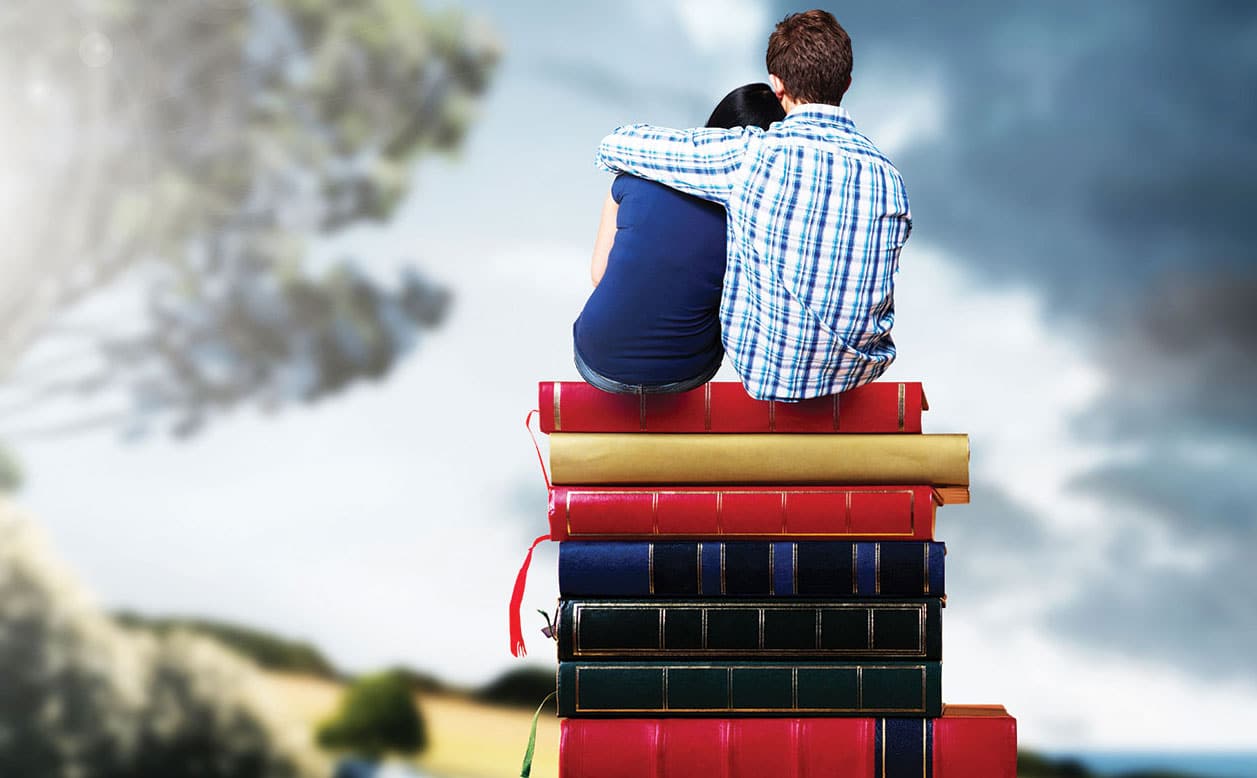 Indians have discovered a new found fascination with romantic novels set in their soil and written by home grown authors.
While the anti-Romeo squads patrol India's largest state of Uttar Pradesh, nipping the buds of romance amongst youngsters, romantic novels are selling like hotcakes all across India.
E-commerce company Flipkart's list of top ten bestselling fiction books in India for 2016 lists five titles on contemporary romance, including Our Impossible Love by Durjoy Dutta, She Swiped Right Into My Heart by Sudeep Nagarkar and This Love, That Feels Right by Ravinder Singh, amongst other equally mushy titles. Likewise, Amazon's recent list of Indian bestsellers features several romantic works. Savi Sharma's romance novels This Is Not Your Story and Everyone Has a Story made the first and the third spot respectively and Durjoy Dutta's The Girl of My Dreams and Ajay K Pandey's titles You Are the Best Wife and Her Last Wish made it into the top ten.
If that doesn't say something about Indians and their insatiable appetite for romance fiction, two years ago, a 25-year-old small town girl from Ranchi, Nikita Singh, became one of India's leading romance writer with books selling 20,000-25,000 copies. Singh who's now based in New York, has written 10 novels since her debut book Love@Facebook in 2015. All her books including the latest, Like A Love Song, which is also released in the U.S., are in the romance category.
The common thread binding this emerging genre of Indian fiction writing is that the stories are told in a simple, relatable manner and are often set in small towns and cities in India. The protagonists are mostly young girls and boys experiencing their first flush of romance and are caught balancing their life, careers, ambitions and family in a roller coaster ride of emotions that young love brings. Very often, the books are authored by first time writers, telling stories in straightforward, colloquial language. The easy-as-pie approach to story-telling, according to publishers, is attracting a slew of small town readers, who in the past were intimidated with the multifarious approach and variegated characters of Indian novelists, such as Arundhati Roy, Amitav Ghosh or Rohinton Mistry.
However, this new writing fad also has its share of critics who denounce the dearth of depth and substratum in these new "love self-help style books."
Author Nikita Singh admitted that literary elites in India dismiss this form of writing, and their criticism was so strident that she had to limit her presence on Facebook to block out hate messages.
The criticism notwithstanding, Indians have discovered a new found fascination with romance stories set in their soil and written by home grown authors.
Booming Book Market
On average nearly 85,000 new book titles are released in the country every year, most with marginal print runs. Nielsen's India Book Market Report 2015 projects that the country's book market will expand at a cumulative annual growth rate of 19.3 percent, almost tripling from $4 billion in 2015 to $11.5 billion by 2020. The growth is buoyed by rising literacy levels, which is expected to top 90 percent by the turn of the decade. A survey commissioned for the study found that an average Indian reads books 2.1 times a week. India is the second largest English language book market in the world with 9,000 publishers and books constitute the third largest e-commerce category, behind only electronics and clothing.
The popularity of romantic mush comes as something of a surprise in a society so attuned to concealing romantic expressions. However, Orange County, Calif., based contemporary romance author Varsha Dixit is not surprised. Dixit who has written five bestselling novels in India says: "Entertainment for Indians whether by way of watching a movie or reading a book is a form of escapism. They want to read love stories that are feel-good and high on emotional quotient. It's often as if to turn to something wistful to take a break from real life. And that does explain the popularity of this genre."
THE CHETAN BHAGAT EFFECT?
There can be no denying that Chetan Bhagat, despite the criticism of his prosaic style, won over a generation of Indians who woke up to reading, until then associated as an intellectual hobby. His ripple effect launched thousands of writers telling wishy-washy stories of love, romance and friendships.
Delhi based author Sreemoyee Piu Kundu who has written three books and has explored the genre of erotic writing in India says: "Indian writers writing in English is a popular trend today. Also more and more publishers are looking for the next Chetan Bhagat."
Dixit says, "Just as an author grows with every book, in terms of subjects and characters, the audience grows in their reading styles too."
Dixit, who wrote the first Indian love trilogy, cites her own example: "While my debut series was contemporary romance, my second was a first vampire sci-fi book in India. This was followed by an Indian American love story where I brought together the two worlds that I have grown up with. So as an author I am also going through a trajectory of topics. Similarly the new readers are taking up more readily to romance or stories set in small towns that speak to them, but the trend is bound to become more comprehensive."
The writers acknowledge that reading patterns of cultures vary. Dixit says: "A New York Times best seller list would mostly comprise of thrillers and heavy reading, while an Indian top seller usually would have fiction and romance. But that doesn't mean that Indians are not reading or are not ready for other genres."
Author Piu Kundu agrees: "Today I feel there is an audience for a mature love story with a twist too. My erotica titled Sita's Curse was hugely appreciated because they added a fresh take on romance."
She adds, "The chick-lit trend and of course the power of telling a love story to Indians of course did initially contributed to the popularity."
The growth of literary events, such as the Jaipur Literature Festival (JLF) and its knock-offs in smaller cities, signals that a growing young population is taking to reading Indian authors. Millenials attending the JLF were more enamored by the presence of the Indian author Amish Tripathi, who writes mythological thrillers, than such celebrated names as VS Naipaul and Paul Theroux.
The fact that romance novels are pulling in sales exceeding 20,000 copies in a month says something about the interest amongst readers. The accessibility and the feeling of belongingness is also drawing new Indian readers.
Dixit says, "I grew up reading Tom Clancy, John Grisham and Barbara Cartland, just like many other Indians of my age. But the fact is that when we read let's say a Sidney Sheldon or other such authors from the West, it was as if we were peeping into another world. We didn't necessarily relate with the stories or the locations, but today you have writers giving to readers a slice of their own life. My first book was set up in Kanpur, a city I grew up in and not Orange County, where I now live. It is natural for a reader in a small Indian city to relate with the nuances of a novel set in that backdrop."
The writers point out that although romance forms the central theme of these novels, other sub plots and important narratives are also woven through. A Nikita Singh novel, After All this Time, tells the tale of an HIV positive protagonist. Ravinder Singh's debut novel, I Too Had A Love Story is a semi-autobiographical tale of his own breakup. Durjoy Dutta's The Girl of My Dreams is an unusual story of a love lost, involving a protagonist who wakes up from a coma to learn that his girlfriend died and he is left with only a few memories of her, such as her name.
Publishers having discovered a new reading middle class and are concentrating on mass market. The affordability of these paperbacks has helped expand the audience and created a rush of authors and publishers keen to cash in.
But, Dixit warns, "There may be a lot of young story writers trying their luck at fame, but in the end the one who has some worth survives."