Life
Lights! Camera! Goal!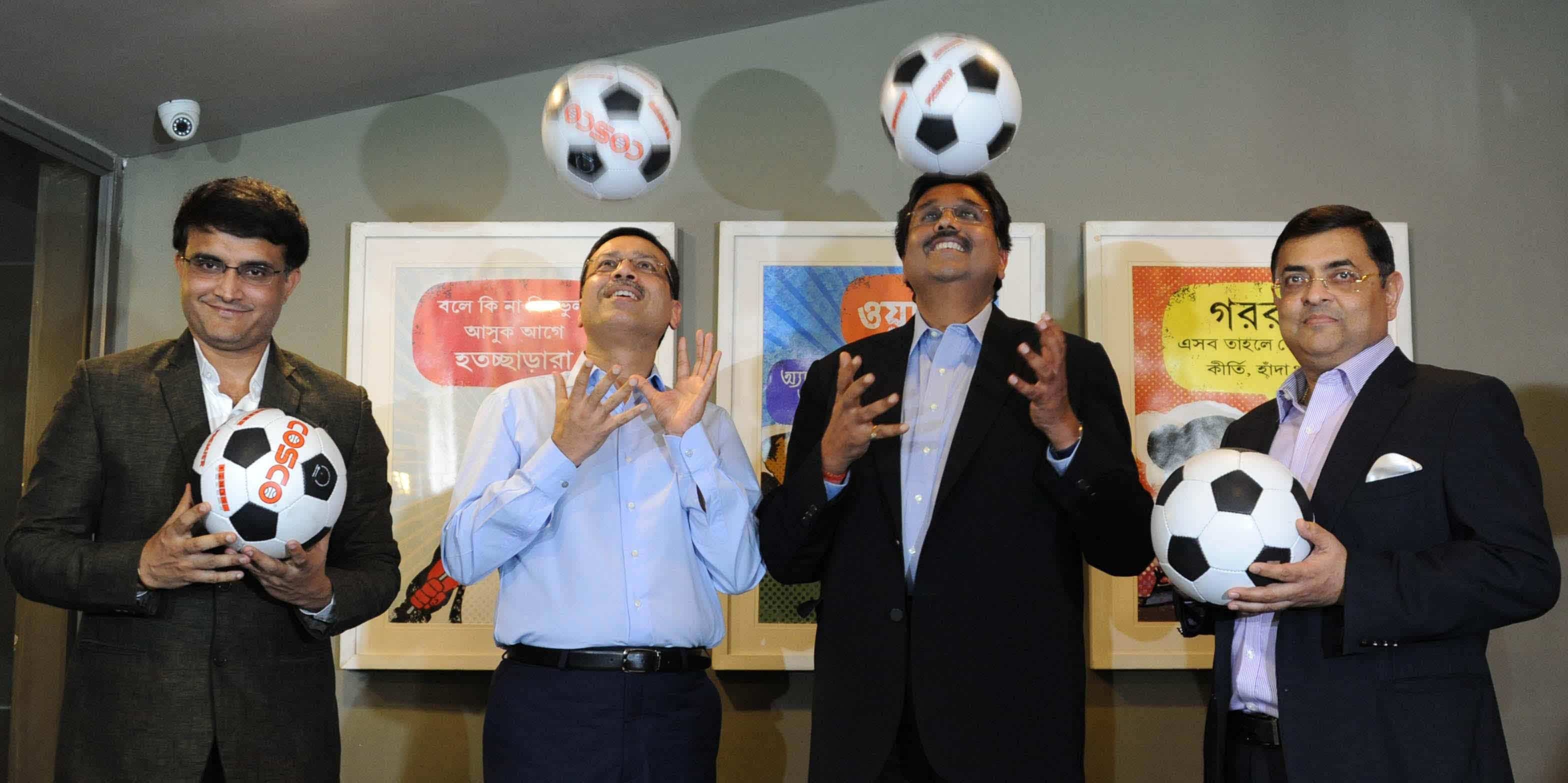 As celebrities and business honchos storm the auctions, will football in India get a new kick?
There is an apocryphal story relating to the legendary New York Yankees owner George Steinbrenner reprimanding the team's new buy Lou Piniella for wearing his hair long. The young star, reportedly, flashing attitude, shrugged and defended his shoulder-length mane, saying that there was another person with similar hair and although he didn't play soccer or any other sport, he did great as a show-stopper. Name? Jesus Christ.
The wily owner didn't bat an eyelid. He grabbed the young man by his hands, led him to a swimming pool and drawled, "If you can walk across that water, you can wear your hair any way you want to."

I-League Match between East Bengal and Salgaocar Football Club in KolkataOwners like Steinbrenner add flamboyance, flavor and big bucks to sports and project larger-than-life images by sheer force of their personality, adding value to their franchises. Kerry Packer, who changed the face of cricket by turning it into a carnival and monster bucks; Bernie Ecclestone, who stepped on the gas to zoom Formulae 1 to another stratosphere; Pakistani American Sajid Khan, the owner of Jacksonville Jaguars, a professional American football team, are all dazzling examples of charismatic bosses who've transformed the sport they powered to new, exciting spaces, guaranteeing fun, excitement, glamor and that very special edgy chutzpah required to make a difference.
In India, the Indian Premier League is, hands down, the greatest example of stars, celebs, glamor, entertainment and cricket bogeying together to rock an entire sub-continent — even the hitherto off-limits world of women. Because of the blockbuster product mix, the bosses of the various teams constitute an interesting fusion of hi-profile, glamorous, and powerful people from diverse fields — industrialist Vijay Mallya (Royal Challengers Bangalore) B-town stars Shahrukh Khan (Kolkata Knight Riders), Preity Zinta (Kings Eleven, Punjab) Shilpa Shetty (Rajasthan Royals), Biz Tycoon Mukesh Ambani (Mumbai Indians), etc.
Equally interestingly, despite the scandals and scams across the six editions of IPL, this mega event has never faltered on popularity, continuing to attract A-list sponsors, big in-stadia crowds, gigantic TV viewership and mind-bending booty. It has also, in all truth, provided an unparallel platform for new untapped talent and financial security to shaky stars unsure of their fate in their national teams. Most importantly, it has added an amazing dimension to the sport by re-inventing the format to fit into the itinerary of today's ever-busy, new-age generation. Everything considered, IPL is win-win for everyone connected to it — spectator, viewer, sponsor, franchise, players.
Can the promoters of Indian Super League, IMG Reliance & Star India expect the same generation of excitement, interest and revenue as the IPL? The G-8 comprises eight teams — Delhi, Bengaluru, Goa, Guwahati, Kochi, Kolkata, Mumbai, Pune — and has a base price that each team put down of Rs.12 crores. The highest price, reports state, went to Kolkata at Rs.18 crores. Guwahati, Kochi and Goa, apparently, were sold at a lower price than the rest and the total purse spent was approximately Rs.120 crores.
Contrary to popular belief, despite being a cricket-crazy nation, many are clearly bullish on football as reflected by the profile of buyers who jumped into the fray: Bollywood stars, hi-profile cricketers and Business honchos. Dazzlers lining up to bid for the league teams included Bollywood heartthrobs Ranbir Kapoor, Salman Khan, Shahrukh Khan, Abhishek Bachchan and John Abraham, iconic cricketers Sachin Tendulkar and Sourav Ganguly, industralist Harsh Neotia, former head of a successful production house, Ronnie Screwala and the media group, Sun Network, among others. Various consortiums play starring roles too. Saurav Ganguly and Atletico Madrid. Salman Khan with Dewan Housing. Sachin Tendulkar with Prasad Potluri.

Bollywood actor John Abraham and former Indian football captain Baiching Bhatia during the IMG- Reliance football camp in m umbaiExcitement and buzz are in the air, indicating football in India is definitely off toward a new goal. Superstar and youngistan's blazing icon Ranbir Kapoor takes the first strike by confessing that: "It is a moment of great pride for me to be a part of ISL and to represent the vibrant city of Mumbai. Football has never been far away from my daily life since childhood and now, as an ISL partner, I look forward to translate the passion into a meaningful contribution in terms of growth & development."
Former Indian captains P.K. Banerjee & I.M. Vijayan, along with diehard footer-fans Saurav Ganguly and John Abraham (remember Goal?), among a host of other celebs, push this enthusiasm and energy and promise to take the sport to newer heights.
Hawk-eyed observers, however, believe its not just the love of the game that's driving these stars and celebs to the game. The excitement of owning a team, they insist, also has to do with the promise of great valuation of the league and team they are investing in. They cite the example of Real Madrid, which, last year, edged past rival Manchester United, to become the most valuable team with a tag of $3.17 billion.
There are other benefits too. Eminent sports commentator Charu Sharma, who is also the co-promoter of Mashal Sports, which launched the recent ProKabaddi League, which has Abhishek Bachchan as a co-owner of the Jaipur franchise, believes it's the "privilege, visibility and bragging rights that draws them. Eventually, all of this coupled with their ability to attract eyeballs and followers are what makes the valuation zoom North."
Santosh Desai, Social Commentator & Brand Expert suggests that the reason these celebs want to tango with sports is to bask in its limelight: "Your currency as a celeb gets encashed. Most of the businesses they are into tend to be areas which are more visible, public facing and mostly attention-grabbing."
Fact is, in the wake of the hugely successful IPL, several other leagues were launched in badminton, hockey and kabaddi, but they have yet to come remotely near IPL. However, celebrities, despite the lack of similar buzz and popularity, have become involved and that is a good sign. Wide-angling this scene, globally, the jugalbandi between celebs and sportstars buying into teams is not exactly unknown. Some scorching headliners include basketball legend Michael Johnson, who owns a part of the baseball team Los Angeles Dodgers. Justin Timberlane is a minority owner of Memphis Grizzlies basketball team. Russel Crowe is the owner of Australian rugby team South Sydney Rabbitohs. Will Smith is a minority owner of the basketball team Philadelphia 76ers.
There are other reasons why our celebs want to move into this space. "To help fence sitters get converted," says Sharma, insisting that fans of Ganguly and Tandekar could well move into the football scene and root for their sides, because of loyalty for Brand Saurav/Sachin.
Says Prasad Potluri, managing director of PVP Ventures: "They see sports as an extension of entertainment. They have understood the value and potency of their brand recall and are busy using it to build brand value in the sports business". Finally this ying-yang, for whatever its worth, is great for both because it guarantees initial interest and excitement of the public to kick start sporting events, especially the non-cricket ones that are mostly ignored.

Captain of the Indian national football team Sunil chhetri in Colaba in Mumbai.However, despite all the hype and hoopla, critics reckon that it is a totally gigantic kick in the wrong direction. They believe that the ISL is merely following other sports formats copying the IPL, like hockey, badminton, etc. and their fate is well known. Despite celebs and sports-stars backing it, football is not cricket and to expect that sprinkling some international names and generating hype will suddenly add real zing to the sport in India is living in a fool's paradise. Loving FIFA and following the magical Manchester United or Real Madrid is one thing; doing the same for local teams is completely different, especially for a 2-3 months duration. Besides, if all the stars and talented newbies are bought off Indian footballs local clubs, what fate will befall these clubs?
So, can the ISL change the imagination of a constituency clearly seduced by the hottest clubs of Europe? Will it provide the long-overdue shot-in-the-arm for a sport neglected too long through lack of proper, focused, professional governance in terms of funding, organizational support and encouragement? Will it actually transform football watching in India — or is it a well-meaning but misguided venture, dribbling, passing and shooting towards goal posts that don't exist?