Life
Kohli Ke Peeche Kya Hai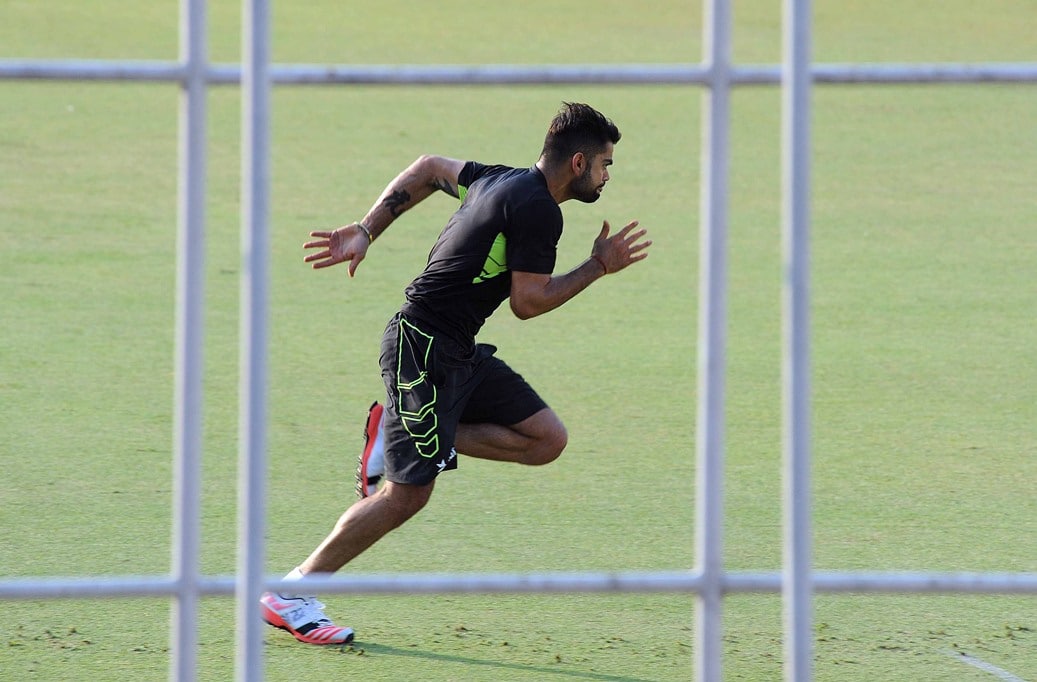 A superstar in every cricket-playing nation, forever addicted to confront Mission Impossible and vanquish unreachable targets, Kohli has zonked every former great into gushing new superlatives.
It is one of those rare, magical performances in which blood and electricity are somehow mixed. It pulls down lightning from the sky!" Although a euphoric salutation from theater critic John Mason Brown to the late, legendary Laurence Olivier's spell-binding 1946 role as Oedipus, it could as easily be echoed for Virat Kohli's spectacular heroics against Pakistan, Australia and the West Indies in the recently concluded T20 world championship staged in India.
"The Bradman of T20" and "God of Cricket" were only two breathless descriptions labelled on the 27-year-old batting star, clearly the toast of today's cricketing world.
A superstar in every cricket-playing nation, forever addicted to confront Mission Impossible and vanquish unreachable targets, Kohli has zonked every former great into gushing new superlatives.
Sunny Gavaskar reckons that in his present form, he is "beyond phenomenon and easily the world's best batsman." Kapil Dev is convinced he is "a genius." From Brian Lara to Imran Khan, Chris Gayle, Kumar Sangakkara and Wayne Daniel … it's raves all the way.
The Australian press, which loves brash, aggressive fighters who are fearless and give as good as they get, have tripped over each other in praising his winning knock against their team. While one announced that "there is no talent in world cricket at the moment quite like Virat Kohli," another added "he made the chase look simple with his master class," and a third announced that "he is emerging as a worthy successor to the great Tendulkar in the hearts and minds of Indian cricket lovers."
So what makes Kohli so special and unique? Kohli ke peechhe kya hai?

Virat Kohli of the Royal Challengers Bangalore celebrates his half century during an IPL match.Closer watchers of his game and those who have tracked his career believe it is a combination of many things: Aggression. Attitude. Ambition. Application. Feistiness. Fearlessness. Combative spirit. More than any other young Indian cricketer, he represents the pulsating new-age drive and energy to rocket ahead, taking his team with him. Playing hard and playing to win comes easy and naturally to him.
As someone who wasn't born with a silver spoon and had to work hard on his dream from a very young age against big odds and tough competition, Kohli has gone through the drill and understood that the only way is to consistently perform. Be a team player, lead from the front and relentlessly motivate your team.
The temptation to return to Olivier's performance as a comparison-point, is irresistible: "At present, he holds all the cards, along with chutzpah, the untranslatable Jewish word which means cool nerves, outrageous effrontery and the ability to seductively communicate a sense of danger … always negotiable!"
Also, his partnership with skipper Dhoni — an inspirational and calming influence — and team director Ravi Shastri — aggressive and fearless — backed by his loyal and supportive team members, has played no mean part in his exciting journey to the top.
Another very interesting angle to the Kohli story is the mega-stardom and iconic image that has accompanied his performances off the field.
In a market-driven world impatient to commercialize, glamorize and commodify everything and invest brand-value to special products, Kolhi has emerged as a smoking red-hot candidate.
The poster boy for Youngistan, with crazed fans screaming his name the moment he comes on view, (gushed Bollywood star Kareena Kapoor Khan recently "whenever he comes in to bat, I feel proud to be an Indian!"), it is not surprising that in 2015 he was rated the 6th most marketable athlete in the world.
The reasons are simple. He is young and attractive with mass connect across several segments, a fearless cricketer, a fashion icon perceived as a sex-symbol who until recently was half (with Anushka Sharma) of a hi-profile celeb power couple, a cool dude who expresses his youth through impish, mischievous body language as well as quirky fashion statements.
His appeal, confidently and effortlessly, crosses gender lines since it's non-threatening. It's also a brand that travels well across all cricket-playing countries.
Elaborates Ad-Guru Alyque Padamsee: "A PR-friendly brand-celeb, VK brilliantly joins the dots in the object of desire quotient. For marketers, performance alone is never enough. Color, pizazz, cutting-edge brio, spirited animation unleashing vigorous and vibrant, tattoo-flashing energy … this is what excites and grabs collective imagination and VK has it all the way.
No wonder he is today's biggest star-draw, comparable to the coolest B-town champs, a crowd-puller in his own right. Which brand-custodian can resist this deadly package?"
At the end of the day, Team India may have lost, but Virat Kohli has emerged a hands-down winner because he embodies the best of aspirational India.
A young, dynamic sports star powering ahead with passion and purpose, forever wearing the national colors on his sleeve, determined and confident to fight fire with fire in his journey to take his game and country to new heights.
Howzatt … for the new Mr. India of cricket!