Arts
Kaun Badnaam Hui Meri Jaan, Kiske Liye?!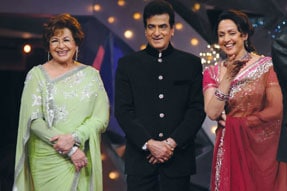 Ok guys, make way for the latest foot-tapping, mind-blowing and passion-pumping anthem from B-town "Munni Badnaam Hui" from the new monster hit Dabangg. While everyone and their toothless uncle salivates on Malaika Arora Khan's seductive (gasp! pant!) number, Bollywood trackers remind the new-age, turned-on mobs that neither item numbers nor item girls are exactly new to the B-wood construct of wooing and wowing fans.

From the early "Mera Naam Chin-Chin-Choo" to "Oh Babu, Oh Lala" to "Babuji Dheere Chalna" to "Ye Hai Reshmi Zulfon Ke" to the comparatively recent "Mehbooba-Mehbooba," "Chamma Chamma," "Chhaiya Chhaiya," "Beedi Jalaile," "Namak Ishq Ka," "Kajra Re," "UP Bihar Lootni," "Choli ke Peeche," etc. both the item girl and their raunchy toss-outs have, over time, made a special niche for themselves in the popular imagination. But to begin at the beginning, how and why did this phenomenon come about?

Once upon a time movies had three distinctly separate tracks: The hero-heroine, the comedian, and the villain-vamp. It was the job of the vamp, to try and seduce the hell out of the righteous hero. In earlier times, the dances and songs were more suggestive and provocative than in-your-face. Helen was the celebrated Queen of this zone and her sizzling numbers — who can forget her deadly number in Inteqaam — even today, sends shivers of delight to her zillion fans. Others in that luscious list included buxom Bindu (My Name is Shabbo), Padma Khanna, whose tantalizing turn sent an insanely excited Prem Nath to the planet Venus in Johnny Mera Naam and Laxmi Chhaya (Maar diya jaye yaa chhodh diya jaye) in Mera Gaon Mera Desh. All these item phatakas were requisitioned with a single point agenda — to fast-track the "hot" aspect of the movie, making it the unique selling proposition to audiences who otherwise wouldn't be interested, as also attract repeat value for bolly-junkies.
Says Film Critic Kishore Kapoor Chatterjee: "Refined, cultured and intellectual a person can well be, but after all he is a man and an item number targeting his basic instinct is normally considered a safe bet to strike a winner. Sex appeal is a great leveler and prince or pauper, captain of industry or chaprasi — an item babe sizzling on screen is likely to evoke the very same reaction for both."
In recent times, Kajra Re and Beedi Jalaile are red-hot examples of audiences across the board, enraptured and in an advanced state of emotional and physical frenzy, turning the numbers to chart-busters and zooming Ash and Bips to another level in "the object of desire" charts …
Now, coming to the latest Munni explosion, it has truly taken the country by storm, but it has an interesting background and history. Director Abhinav Kashyap says that the deadly jhatka number is sourced from the popular, sexy, raunchy, Bhojpuri hit, "Launda Badnaam Hui, Naseeban Tere Liye": "I have vivid childhood memories of this song from UP, where I grew up. What the guys did was to improvise, zing it up, re-phrase it to capture the full-bodied spirit of the song and unleash it with the gay abandon that it demanded."
And boy, did Malaika give it oooomph! However, Munni is not the first item to be "inspired" by folk. Bollywood — world champions at lifting — have been doing it for years. Remember the Mohammad Rafi-R.D. Burman number "Yamma Yamma" in Shaan? It was adapted from a Persian folk song entitled "Mastom Mastom." Even the sweet, cutesy, virginal "Didi Tera Devar Deewana" in the mega hit Hum Aapke Hain Kaun was inspired by Nusrat Fateh Ali Khan's "Saare Nabian." "Nimbooda" in the movie Taal was a direct tribute to a Rajasthani folk song while "Aahun Aahun" from last year's Love, Aaj Kal was a salute to Madan Maddi's Punjabi folk tune "Kadi Te Has Bol Ve." This infamous list also includes such big hits like "Shava Shava," "Aashiq Banaya Aap Ne," "Ae Ganpat" and "Gainda Phool."
Explains an amused veteran Bollywood tracker. "Why are you surprised? Haven't these guys always lifted shamelessly from Hollywood and world cinema and passed it off as their own? Now that game is over because those guys have woken up and got legal! The first legalized adaptation — Stepmom to We Are Family — is there for all to see and compare.
"In the music scene, apart from western tracks, these guys have been lifting from folk for ages. What they do is rev-it-up, sex-it-up, techno-it-up and market it, aggressively. Whenever it's choreographed intelligently and unleashed by a glamorous, desirable and sexy star (Shilpa, Ash Bips, Malaika), it invariably hits target. Nothing succeeds like success, remember, so if Munni is making all her insane fans dance to her folksy tune with "Main Zandu Balm Hui, Darling Tere Liye" who cares about originality, purity, inspiration, stealing, lifting, adaptation — whatever? And what's a little badnaami, for such a mind-blowing, chart busting number!"