Arts
Jessica Revival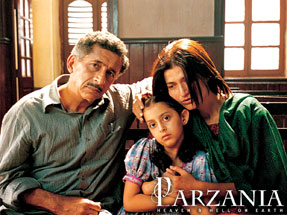 Will No One Killed Jessica be the catalyst to spearhead a turnaround for this seemingly doomed, rejected and neglected genre?
One of the biggest challenges for fearless, issue based filmmakers is keeping the known and familiar entertaining and engaging. It's easier said than done and while both talented and exhibitionistic directors have given this genre a shot, few have been able to either get a return on investment or convincingly satisfy the masses.
No One Killed Jessica
Let's take a quick look at some recent movies in this category … Amu, the Shonali Bose offering that presented a take on the 1984 Sikh riots. Anurag Kashyap's dark Black Friday that dwelt on the Bombay blast. Parzania and Firaaq, which in their own ways, touched on the Godhra disaster and its disturbing fallout on individual families. Provoked, the Jag Mundra project that showcased Ash Rai Bachchan in a totally de-glam role as the abused housewife in a true-to-life incident. Add to this the stuff that the Mahesh Bhatt factory keep churning out (mostly with diminishing returns) and some vague efforts by small-time directors on-the-make, wanting to cash-in on the flavor-of-the-day … and you pretty much get a broad picture of life n' times of this troubled genre. In one word, this segment is a flop!
Interestingly, in the West, this genre is embraced with a fair degree of enthusiasm. Whether it's Missing, A Mighty Heart, Fahrenheit 9/11 or others of the ilk, they frequently receive excellent patronage both in terms of headcount and returns. Does it make these audiences more evolved and sophisticated in terms of being more cinema-literate, more open and sensitive to viewing an alternate experience away from the hard-core entertainment dished by mainstream merchants?
The answer is both tricky and complex. The Indian perception, understanding and consumption of cinema is different from theirs, largely because of socio-economic factors. Unlike the West, cinema in India is mostly about entertainment and comes with a capital B, Bollywood, which in turn is about a tried and tested formula. Agreed, in recent times this formula has been under severe pressure and taken a huge hit, but what critics and analysts tend to forget is that it mostly restricted to urban and metro centers. In rural India, stars and hard-core, grounded masala still works … and this territory is increasingly more important. In this kind of a setting, the serious causes n' concern, issue-based cinema — unless engagingly and interestingly packaged — doesn't have a hope n' hell! Who on earth wants to be challenged and traumatized in a dark movie hall after paying good money? Give 'em Munni or Sheila … paisa wasool stuff, any day. The creators of reality and issue based films certainly mean well and have their heart in the right place, but …
Now blazes in No One Killed Jessica. Powered by hard-core promos, marketing and publicity — with lead stars Rani Mukherjee and Vidya Balan hitting every mall, cinema hall, TV channel and outlet that is people-friendly, imaginable — and dealing with the murder of Delhi-based model Jessica Lal in 1999, the film seems to have really taken off. For one, it has managed to achieve the near-impossible: recover its total cost even before its release! How? From the sale of satellite and music rights. Admittedly, the Rs 9 crore ($2 million) budget was very modest, but for it to be scooped up even before the film saw the light of day or audience reaction, reflects both the confidence and quality of both the creators and the product.
Hot-shots in the trade are not surprised. Says Sunil Punjabi, CEO of Cinemax: "The Jessica Lal case has been in the headlines for over a decade. It has caught and fired public imagination. The title comes from a newspaper headline and news of the movie has generated huge interest in both metro and smaller towns. Curiosity is a big factor in the movie business. The reviews are good. Vidya and Rani are serious actresses, well-cast, so the question of devaluing, dumbing-down or sensationalizing doesn't arise. Also the director, Raj Kumar Gupta's debut film Aamir indicates both focus and seriousness in issue-based cinema. All this put together, augurs well for NOKJ."
Adds Komal Nahata, editor of Film Information: "Even though it is an issue-based movie, it is entertaining, hard-hitting and provocative without being preachy, didactic or boring. Also, the music — Amit Trivedi — has caught on big time and helped to push it red-hot, on the public radar. Promos too have hit the right zone and the power-packed performances have further upped the ante." Add to this the fantastic word-of-mouth buzz, great media feedback from the premiere and opening shows and no other releases during this period and you have all the build-up of a good product getting its due.
Firaq
So, will No One Killed Jessica be the catalyst to spearhead a turnaround for this seemingly doomed, rejected and neglected genre? If so, the reality-bitten movies planned, could well see a brighter future. Be it 332 Mumbai to India (based on Rahul Raj's hijack of a bus during an attack on North Indians in Mumbai), Hostel (on the Aman Kachroo ragging case in 2009), Monica (on the Shivani Bhatnagar and Madhumita murder case) 2G Radia-tion (on the Nira Radia controversy and 2G scam), Run Milkha Run (on Jeev Milkha Singh), Special Chabbis (on 26 men posing as income tax officials), Ragini MMS (on late southie sex-siren Silk Smitha), Bombay Velve (on Guru Dutt), Vikram Motwani's biopic on cult Punjabi singer Chamkila, along with many others on tap… one thing must be clearly kept in mind: the films should be relatable and interesting in connecting with the audience and lending themselves to both curiosity and excitement. Dark, deep, dense, loaded with arty symbolism and nuance or overtly preachy or again trivializing and dumbing down a serious issue in a populist, frivolous manner is a total no-no! And oh, please cast very carefully. No One Killed Jessica got it bang-on with stars, subject and presentation blending exquisitely in a seamless fuse.