Life
Jersey City Grows Up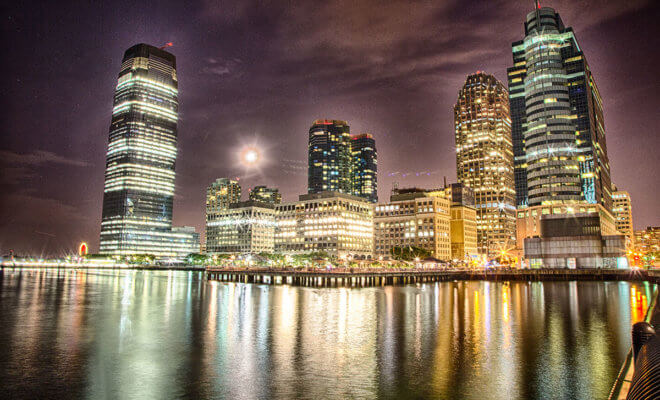 As the city's population has grown and its skyline has been redrawn with new high-rises over the past decade, singles and couples who moved there as young adults are electing to stay and raise families.
When Zacheus and Ratri Chan showed up at an open house for a townhouse in the Bergen-Lafayette neighborhood of Jersey City, New Jersey, last fall, there was a line down the street.
The six-bedroom was listed at $300,000, but it needed a fair amount of work. "In the basement, there was a sewage leak. And there was some water damage to the roof, some exposed walls. It didn't smell good," Zacheus Chan said.
Despite the house's condition, the Chans put in a $520,000 offer, outbidding more than 20 other prospective buyers.
"We just wanted that place," Zacheus Chan said, adding that they had been won over by details like the plaster ceiling medallions and what appears to be the home's original wallpaper — apparently the only things in good condition.
The Chans, who first moved to Jersey City 12 years ago, into a two-bedroom condo downtown, are putting another $500,000 into the renovation. "We have a daughter who is almost 3. We love the city and feel like we want to be here longer."
It's an increasingly common sentiment in Jersey City.
As the city's population has grown and its skyline has been redrawn with new high-rises over the past decade, singles and couples who moved there as young adults are electing to stay and raise families.
At the same time, new waves of priced-out Manhattan and Brooklyn residents show no signs of abating. As of July 2017, Jersey City had 270,753 residents, an increase of 9.3 percent since 2010, according to estimates from the U.S. Census Bureau. The number of families has also increased, from 56,997 to 59,886.
"I get calls from all over the world," said Joelle Chilazi, a real estate agent with Keller Williams City Life Realty, who has helped place people moving from the Netherlands, France, Belarus, Chile and India, among other countries.
The influx has meant that, despite a softening market, bidding wars remain common in neighborhoods where townhouses still trade for less than $1 million, like Bergen-Lafayette, Journal Square and Jersey City Heights. And now that the downtown waterfront is almost fully built out with high-rises, developers are pushing into those areas as well.
"Jersey City has been maturing for decades. At this point, it's an extremely well-known marketplace and is seen as a housing opportunity for anyone moving to the New York scene," said Michael Barry, president and an owner of Ironstate Development Co. "It used to be much younger, but people that came here in the 80s and 90s stayed and fell in love with the area. Now people don't move out when they have school-age children anymore."
At 90 Columbus, a building near the Grove Street PATH train station that Ironstate and Panepinto Properties opened this fall, two-bedrooms, which start at $3,850 a month, are moving at an almost equal rate to one-bedrooms, said Jackie Urgo, president of the Marketing Directors, a real estate advisory company that worked on the project.
Martin D. Brady, an executive vice president of sales and leasing at the Marketing Directors, said that people who are tired of commuting find the 15- to 20-minute train ride from lower Manhattan appealing.
"It used to be that people with kids would stay in Jersey City for two years, then buy their house in Short Hills," he said. "That's not really the case anymore."
James Tortorelli, the Jersey City branch manager of Coldwell Banker, raised his first daughter, now 22, in the Bergen County suburbs, where he grew up. But he and his second wife have opted to raise their 5-year-old in downtown Jersey City.
"I had a really good childhood in Bergen County, but I so prefer urban living," Tortorelli said. "We have 1,100 square feet here instead of 3,000, but our daughter is exposed to so much more — culture, arts, diversity. Growth-wise, I think it's a much healthier environment, much more enlightening."
Jennifer Rafford agreed, adding that she would never think of leaving Jersey City. Rafford, head of talent for a company in the East Village, shares a three-bedroom rental with her husband and their 7-year-old daughter in the waterfront neighborhood of Newport.
She first moved to Jersey City as an 8-year-old in the 1980s, after her family immigrated from the Philippines. Two years later, they moved to Carteret, New Jersey, but in 2000, after graduating from college, Rafford came back.
In the years since, she has found that the city has continued to grow and change with her, suiting her shifting needs. A few months after her daughter was born, the Newport Green Park opened. Her daughter attends a progressive private school, Stevens Cooperative School. And over the years, small businesses like Loradella's Family Pizzeria — a child-friendly restaurant that hosts Halloween and Christmas parties — have come to feel like an extension of their home.
"I love the community. There are very few other places where you can live on the waterfront and have it be super diverse, filled with immigrants and multiple generations — it's very common to see grandparents come from overseas and help to take care of their grandkids," Rafford said. "It just feels like home here."
That dynamic has been even more pronounced in Hudson County, which includes Jersey City, as a growing number of young families and empty nesters flock to urban-style, public transit-accessible developments rising along the formerly industrial waterfront — the Gold Coast, from Bayonne north to Bergen County.
In 2017, Hudson County's population hit 691,643, surpassing its previous peak of 690,730, set in 1930, said Tim Evans, research director at New Jersey Future, a nonprofit organization dedicated to "smart growth." Hudson County, he added, is by far the fastest growing county in the state, with an 11.6 percent population increase since 2008.
"Hudson County is on the leading edge of growth," he said. "Other places that lost populations to suburbanization and de-industralization in the 1950s and '60s are also growing, but they don't have the advantage of being right across the river from Manhattan."
The proliferation of families where both parents work — often long hours — has played into that shift. People want to maximize quality time with their children; commuting, errands and home maintenance cut into that time.
"It used to be that you followed the interstate highways when you built. Now you follow the trains," said Thomas Graham, president of the New York metro division of Landsea Homes, which opened Avora, a 184-unit luxury condo building on the Weehawken waterfront, this summer.
While prices of luxury condos rising along the Weehawken and West New York waterfront often rival, or even exceed, what buyers would spend on a large Tudor house in an inland suburb, real estate professionals say that buyers usually aren't looking at those suburban homes for comparisons — they're looking at condos in places like Battery Park or Long Island City.
Arthur Curcuru, chief financial officer of a waste technology startup in the city, and his wife, Anna, an orthodontist, moved to New Jersey in 2010, buying a two-bedroom condo in Hoboken for $408,000.
"We would have liked to be in Brooklyn — I'm from Marine Park and my wife is from Bensonhurst — but the pricing just got too extravagant," Arthur Curcuru said.
After having a baby in May, they wanted a bigger space, but had no interest in moving to the suburbs. "I'm a city guy forever," he said. "Me and my wife love apartment living, the doorman, the amenities."
The couple recently closed on a $1.5 million, 1,900-square-foot, three-bedroom condo at Nine on the Hudson, a K. Hovnanian Homes development in the Port Imperial neighborhood of West New York. And while they had some misgivings about buying in West New York, which lacks the amenities of Hoboken, they are convinced that it, too, will transform over time.
"We know how limited space is here, and we wanted to get ahead of the curve," he said. "As living in the city becomes more unattainable, I think more people will come to New Jersey, and its waterfront will become as untouchable as Brooklyn's."
While Weehawken and West New York are not on the PATH train, the light rail and ferry offer alternatives to driving or taking a bus to the Port Authority. Amenities are also coming, including a Whole Foods Market 365 and a waterfront park with a pool and ice skating rink, creating a vibe that is more Battery Park City than Lower East Side.
"It's a more mature demographic," said Bruce Sturman, a managing director of the Maxal Group, which is part of the development team for Harbor 1500, a mid-rise luxury rental on the Weehawken waterfront.
Many still do prefer the suburbs, of course. And far from being ghost towns, closer-in suburbs with walkable downtowns and train lines have also seen population gains in recent years, albeit smaller ones, said Evans, of New Jersey Future. The counties that are bleeding residents are car-dependent exurban ones with large, detached houses, convenient to suburban office parks but not much else.
"In the 1980s and 90s, jobs were suburbanizing as well, so people could live close to work," he said. "But now many jobs have moved back to the cities."
Mack-Cali Realty Corp., a real estate investment trust, is emblematic of that shift. Until a few years ago, Mack-Cali was the state's biggest suburban office park landlord. Now it is one of the most active developers on the Jersey City waterfront, a pivot made largely at the urging of its new chief executive, Michael J. DeMarco, a Jersey City native.
DeMarco moved the company headquarters from Edison, New Jersey, to Harborside, an underused office complex on the Jersey City waterfront that the company had owned for decades. He also started a $75 million revamp that has already brought a ferry stop, retail and restaurants to the waterfront, including Lutze Biergarten, a child- and dog-friendly spot that has been "almost too successful," DeMarco said.
"Now Lutze is so busy that we have people coming and getting mad if there's not room for their strollers at 7:30 p.m. at night," he added.
Increasingly crowded streets, sidewalks and PATH trains, as well as rising housing costs, have left some Jersey City residents concerned that all those gushing comparisons to Brooklyn might prophesy similar problems.
Jenna Hoge and Garrett Moran, who both grew up in the state and attended New Jersey Institute of Technology, moved to a two-bedroom apartment downtown four years ago, sharing the $2,700-a-month space with a roommate. This year, the owner of their house decided to sell — a blessing in disguise, they said.
"When we moved downtown, it felt like a community," Moran said. "But by the time we left, there was this huge influx of new people. It became a much, much more crowded place. Louder and younger. The bars were packed, and the restaurant groups had started coming in and replacing the locally owned places."
In June, they moved to a $2,000 one-bedroom in Bergen-Lafayette, where they regularly see the owners of nearby shops and restaurants walking around the neighborhood.
"The community we moved into is absolutely lovely," Hoge said. But she does worry about crowding on her commute, as two nearby developments are poised to add 400 new units, and presumably hundreds of people every morning to the light rail station.
If it gets too busy and chains continue to erode the local flavor, Moran said, they may look to other New Jersey cities, like Newark or Union City. "We hate it when people refer to this as the sixth borough," he said. "I like living in New Jersey. I like having access to New York, but I like New Jersey better."
Mayor Steven M. Fulop said that in the last few years, he has focused on balancing development with community initiatives and infrastructure improvements.
"We've tried to think of improvements the city can do to try to attract investors long-term, so it's not just like, 'Hey, I'm going to build another high-rise, and then the market turns," Fulop said. "We want the city leading the way."
Initiatives include investing $10 million for a museum and art center by the Journal Square PATH station, transferring 12 acres of city-owned land to the Liberty Science Center to develop a science and technology campus, and buying 100 acres on the city's west side for Bayfront, an affordable housing development that will be "one of the largest mixed-income communities in the region," he said.
Still, maintaining the character and affordability of a city in the midst of a development boom has required constant vigilance on a number of fronts. Fulop said he is working on an open-space tax that would create a fund for nonprofits and community arts spaces. He has also amped up resources for the enforcement of rent control laws and plans to introduce an inclusionary zoning bill to the City Council in November.
"We want to preserve the city as a diverse place that people of different backgrounds want to be a part of," he said.
Colin Egan, executive director at Landmark Loew's Jersey Theater, a 1920s movie palace in Journal Square that was saved from demolition by area residents in the late 1980s, said that while his organization has the luxury of not worrying about displacement, he doesn't believe that old and new have to be in conflict.
"Arts are a meeting place where old gets to meet new and become part of the community that's here," he said. "I see that every time the doors open."
"I always refer to Jersey City as the biggest small town in America," he continued. "Very few places can be Manhattan and, in fact, I don't think most of us would want every place to be Manhattan. The trick for Jersey City is to realize what it's got and build on that while welcoming in new people and change."
c.2018 New York Times News Service