Bollywood
Jeers for a Babe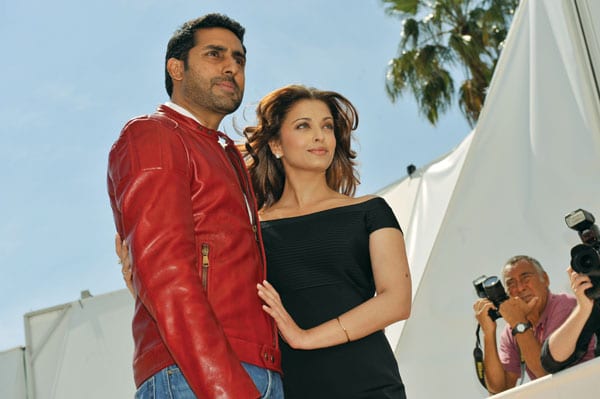 The pregnant pause that has created a storm.
With Ash Rai Bachchan's pregnancy gobbling front page headlines, Bollywood producers are in a brand new fix. This glorious news, unfortunately, didn't sit with filmmaker Madhur Bhandarkar, who has to shelve his ambitious Ash-starrer Heroine, which was due to be wrapped up in August and released later in the year.
Didn't Ash know about her pregnancy? Shouldn't she have come clean about it to the producer and director? Hasn't this news caused heartburn, embarrassment and loss of funds to the production house?
Ash is reputed to be a transparent, committed and responsible professional. So how and why did this happen? Searching, uncomfortable, but critical questions that the Bollywood industry must address. Presently it is playing out in the shape of: Should there be a no-pregnancy clause for young, married — or in-a-relationship heroines in their contract?
Opinion is divided, both within the industry and among the public-at-large. Tons of heroines have worked in this industry and hardly ever has there been such a problem. Earlier, most heroines only married after their "heroinescene" was over. If and when they returned — Nutan, Rakhee, Sharmila, Moushumi, Rati Agnihotri, Waheeda — they transitioned into the safer zone of the mature Bhabi, Maa, Nani character roles. Even today, this tradition continues, but with Ash's pregnancy, alarm bells have suddenly started ringing.
Movie-making is a hugely expensive business with investments running into millions of dollars and this jolt, midway could spell doom for the producer and untold frustration for the director. "Maybe," says young Delhi housewife Shukla Das,"but does that mean that such a life-transforming moment in a woman's life be monitored by some stupid, opportunistic, tunnel-viewed sharks riding solely on vested interest? Rubbish!"
Both Mahesh Bhatt and Ekta Kapoor agree. Head honchos of production houses, they argue that pregnancy is a birthright of every woman and no one has any right to shove an instruction manual in their hands. But theater artiste Monica Sharma is not so sure: "I'd like to see one of the female leads, who's completed almost the whole film, suddenly confess her state to any of these producers … and their reaction. It's easy to tread the high moral ground, but there are practical aspects to be seen. Both are reputed dramabaaz, perpetually seeking attention through statements that shock and surprise."
Producer Vipul Shah sees the big picture and believes, that lead heroes and heroines should be bound by contract, ensuring that no loss is incurred by the producers in any circumstances.
There are other voices at play. "It has long been established that unfavourable treatment due to pregnancy is a form of gender discrimination," says Ketan Gupta of Legaleye Associates. "As per the constitution, discrimination on the basis of gender can invite legal action. However, this is subject to contractual terms and conditions agreed by both parties."
Adds Advocate Rahul V.: "Generally in the glamor world, contracts stipulate that they can be terminated if the model/actor gets pregnant during the course of an assignment and is not deemed fit to deliver as per the requirements of her role. Most contracts also have a clause where the actor/model is supposed to be paid a certain compensation for the time invested in the project before it is terminated."
In this particular case, there is no contract between Ash and the production house, but she has shot for the film and wants to complete it. The filmmaker, however, is not relenting. There is a huge pro-Ash wave in the public domain.
Sheila Vaz, of Indore, is of the opinion that being at the center of the media attention and constant speculation is bad enough. "Madhur B may or may not have been the best person to confide in during the waiting and confirmation period. What if she'd told him, he spilled the beans and she miscarried?"
Says Maya Tandon from Toronto: "I don't consider Ash's pronouncement to be unprofessional at all. She needed to wait before she was pucca. She is in her mid-30's and it's a critical decision … C'mon give her a break!" Explodes yet another Ash fan, from Mumbai. "It's all Madhur's fault for being so damned unprofessional. Why couldn't he finish the film off in the scheduled 45 days, then everything would be in place? All this hue n' cry reflects the fact that Bollywood is so bloody sexist!"
The final hit comes from Mala Mukherjee of London. "Madhur calls himself a champion of female-oriented films — what a load of bull! UTV and Madhur seem to be treating pregnancy as a disability."
Both sides are at fault believes, says Pooja Khanna of Detroit: "So, hey, can't they call a truce and work out a solution?"
Hollywood has run into similar situations in the past. In 1996, Hollywood actress Hunter Tylo was cast in Melrose Place. However, she was fired by the Producer Aaron Spelling prior to filming when she announced she was pregnant. The actress sued Spelling on grounds of discrimination and won $4.8 million from a Los Angeles jury. Penelope Cruz became pregnant during work on the Pirates of the Caribbean. What happened? Nothing. The director worked around it. No big deal.
Can we expect the same in Bollywood? Ash is reportedly upset about stories asserting a loss of $10 million to the studio as a result of her pregnancy and the leaking of her private information by the production house.
Subhash Ghai is one producer who actually had worked in a clause in his contract with Madhuri Dixit — who was rumored to be in a relationship with Sanjay Dutt — during the making of Khalnayak. It was stated that she could not get married or pregnant while inviting the whole wide, zonked-out world to guess choli ke peechhe kya hai! Smart cookie, huh?
The last words, however, belongs to the filmmaker Sajid Nadiadwala: "I have never made any contract till date with any of my actors. Big deal! Why declare grandly that film production is a risky business if we can't take risks?"
Touche.