iSpy
iSpy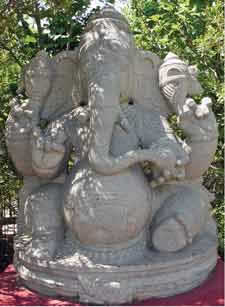 Send us your photos capturing an interesting or intriguing aspect of Indian life in America and win $50.
Every month, we will publish a selection of the submitted photos in Little India and the photo judged best by the editors will win $50. Photos will be evaluated both for concept and photo quality. We are especially interested in photos that reflect Indian American life in amusing, incongruent or unusual contexts.

You can email your photo to
ispy@littleindia.com
or mail photo to:

iSpy Little India,
350 Fifth Avenue Suite 1826,
New York NY 10118.

Please include a photo description and your contact information.
THIS MONTH
This 5 feet statue imported from India stands at the entrance of the elephant yard of the Tulsa Zoo in Tulsa, Okla., with the inscription: "The Ganesha is a beautiful example of artistic expression, reflecting a cultural belief that is strongly influenced by the presence and power of elephants. This statue was hand-carved from granite in Madras, India. As a symbol of wisdom and good will, the Ganesha is said to bring luck to students preparing for exams."
Photographer: Santanu Das of Tulsa, Okla., wins the $50 iSpy award of the month.