India
India's Supreme Court Limits Aadhaar, a Sweeping ID Program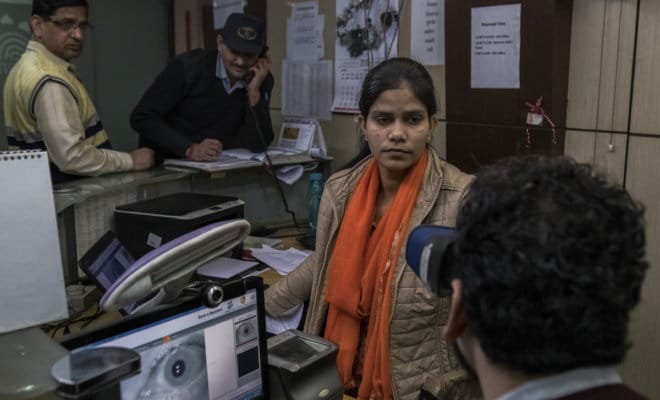 India's Supreme Court limited the government's sweeping national biometric identity system Wednesday, but found that the program did not fundamentally violate Indians' privacy rights.
The five-judge panel limited the use of the program, called Aadhaar, to the distribution of certain benefits. It struck down the government's use of the system for unrelated issues like identifying students taking school exams. The court also said private companies like banks and cellphone providers could not require users to prove their identities with Aadhaar.
The majority opinion of the court said an Indian's Aadhaar identity was unique and "unparalleled" and empowered marginalized people, such as those who are illiterate.
The decision affects everything from government welfare programs, such as food aid and pensions, to private businesses, which have used the digital ID as a fast, efficient way to verify customers' identities. Some states, such as Andhra Pradesh, had also planned to integrate the ID system into far-reaching surveillance programs, raising the specter of widespread government spying.
Aadhaar, a Hindi word meaning "foundation," was initially intended as a difficult-to-forge ID to reduce fraud and improve the delivery of government welfare programs. The plan was to scan the fingerprints, irises and faces of every one of India's 1.3 billion residents and then use them to check identity when someone was picking up subsidized rice or joining a government work program.
However, the decade-old Aadhaar project, which mushroomed into a mandatory ID program for all aspects of daily life, quickly became controversial.
Tens of millions of the initial enrollments were done by poorly trained or corrupt agents who recorded incorrect biometric or other personal data such as birth dates. Sloppy security practices by state and local governments led to more than 200 data breaches of sensitive information, including Aadhaar numbers.
After the government of Prime Minister Narendra Modi made Aadhaar mandatory for receiving all government benefits, millions of the poorest Indians were denied vital food rations when distribution shops had trouble reading fingerprints from work-worn hands or could not connect to the central server over India's unreliable cellphone networks. At least 25 Indians died of starvation after Aadhaar-related verification problems, according to a tally by one academic researcher, and some local governments, such as New Delhi, stopped using the system for food programs.
Proponents, led by Modi's Bharatiya Janata Party, argued that such problems were just teething pains. They said a digital ID would be transformational in a country where hundreds of millions of poor people have long lacked a reliable, universally accepted way to prove who they are. For private companies such as cellphone providers, Aadhaar turned a paper-intensive, two-day process of verifying a new customer's identity into a 30-second fingerprint scan.
The court's decision complicates the legacy left by the unanimous opinion from a nine-judge panel last summer in a related case that Indians had a fundamental right to privacy. The Modi government had argued that citizens have no such right.
In its majority opinion Wednesday, the court recognized the right to privacy and suggested the Aadhaar legislation gave the government too much power to pry into people's lives.
Aadhaar was challenged in at least 30 cases before the Supreme Court on several different grounds, including that it violated the right to privacy and that the Modi government had illegally authorized it in 2016 through a maneuver that allowed it to bypass consideration by the upper house of Parliament. The court upheld that maneuver, but limited the act's reach to government services.
The court consolidated the cases and held 38 days of hearings in the spring. During its deliberations, it halted the government's effort to mandate Aadhaar verification for bank accounts and other nongovernment services.
Hari Kumar contributed reporting from New Delhi.
© 2018 New York Times