Bollywood
India's Actresses Are Starting to Seize Their Own #MeToo Moment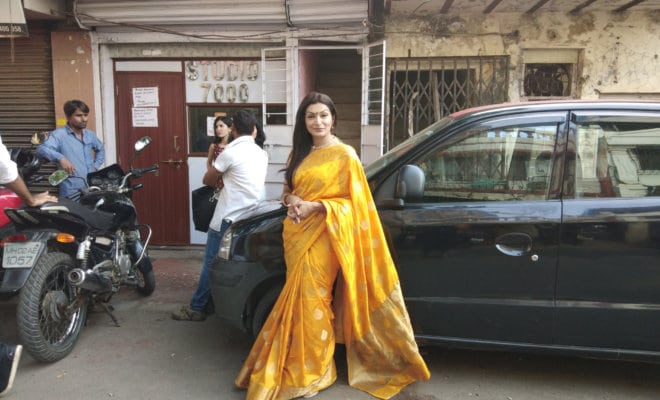 On her regular rounds of Bollywood casting studios, Mona Mathews says she will occasionally be asked: "Are you willing to compromise?"
She says no, although if she were more ambitious, the 48-year-old belly dancer and aspiring actress says, she would have to say yes. For newcomers like her, with no surefire connections, the route to stardom has long involved submitting to expectations of sex.
As allegations against powerful men pour out of Hollywood, Mathews is one of a handful of women breaking the silence in Bollywood, one of the world's most prolific moviemaking centers. Rape and sexual abuse are as common here as anywhere, industry insiders say, but Indian women who speak out face an unusually high risk of losing their jobs and reputations, given the tendency to blame victims that extends even to the legal system.
"People want to talk, but they are scared," Mathews said. "They don't want to be in the limelight for the wrong reasons. If women talk, other women will say: 'This is a normal thing. Why is she making such a big fuss?' "
One of the few established celebrities to break ranks is Daisy Irani, a former child star from the 1950s and '60s who last month alleged that she was raped at age 6 by a male guardian she called Uncle Nazar – a man who accompanied her to film shoots in other cities.
"It happened only once," she recalled in a recent interview. "I don't remember anything, just pain and fear. I remember him saying, 'If you tell anybody . . .' " she trailed off, wagging her finger.
Irani's story, splashed on the front page of the Mumbai Mirror newspaper, caused a sensation in India, where many people still recall the young actress onscreen, often playing a curly-haired boy.
Irani, 68, said she was abused by many men throughout her career as a child star but did not tell anyone at the time because she did not realize how serious it was and did not think she would be believed.
"Whoever felt they wanted to, would touch me," she said. "Even if I had told the director, would he have cared?"
She said she told her story to a journalist friend, Khalid Mohamed, last month when they were discussing the rape and sexual misconduct allegations against Harvey Weinstein and the #MeToo movement they triggered. "What's the big deal?" she recalled telling him. "It happens a lot. It happened to me."
Mohamed's astonished reaction, she said, made her realize that few people knew the gritty details of the sexual abuse that has long pervaded India's movie industry, known worldwide for its sparkling costumes, colorful song-and-dance sequences and dramatic fight scenes. She said she often watched child performers on television song-and-dance competitions and wanted to warn parents about the dangers of early fame.
As allegations trickle out from India's image-conscious movie business, a few Bollywood women have shared the #MeToo hashtag on social media. According to Mahesh Bhatt, a prominent movie director, the charges against Weinstein have shaken the industry. But no one of Weinstein's stature has been publicly accused of abuse.
"I'm told by people that there are innumerable such characters here," Bhatt said. "But here in India, there is a lot of victim blaming. If you have been propositioned, people will say you had it coming."
Former Bollywood actress and talk-show host Simi Garewal said it is unlikely that Bollywood's influential men will ever undergo the same scrutiny as Hollywood's. "In America, you have checks and balances," she said. "Here, if you criticize a male star, you're not going to get any roles."
India's other movie industries – including Kollywood, Mollywood and Tollywood, which produce movies in the Tamil, Malayalam and Telugu languages, respectively – are also starting to open up about the treatment of women in the business. In the southern state of Kerala, a group of actresses launched a campaign against sexual abuse last year, months before the New York Times' article on allegations against Weinstein, after an actress was abducted for two hours and sexually assaulted by four men in a car on her way home from dubbing a movie.
In Chennai in February, actress Amala Paul lodged a police complaint against a businessman for harassing her during a dance rehearsal. Last week, actress Sri Reddy removed her top in front of the Movie Artistes' Association building in the city of Hyderabad to protest directors' preference for women from other parts of the country, who according to Reddy are more willing to trade sex for movie roles.
Mathews, the newcomer Bollywood actress, said she is often invited to directors' homes for private dinners – and turns them down knowing they usually come with the expectation of sexual favors. Once, she said, a movie director told her she would get a role in his movie in exchange for sex. Another time, she recalled, a casting director called and asked for pictures of her wearing a bikini and when she refused said, "Okay, can you send it with your head cut off?"
Men here are also victims. Leading Bollywood actor Ranveer Singh said on Garewal's talk show, "India's Most Desirable," that he had been propositioned by a gay casting director early in his career.
"He was a small-time casting agent," Singh told Garewal. He asked, "Tell me, darling, are you a smart worker or are you a hard worker?" The agent then began asking more explicit questions, Singh said.
Rishi Bhattacharya, a 27-year-old actor using an umbrella between auditions to protect his skin from the sun, said such incidents were common. He recalled one casting agent who invited him to a seedy venue, refused to show him a script, and proceeded to kiss and touch him inappropriately.
"I felt awkward," Bhattacharya said. "I said, 'I respect your feelings, but I can't fulfill your desires because I'm straight.' "
India's regressive attitudes toward women became the focus of international attention after the horrific gang rape of a physiotherapy student in New Delhi in 2012. The incident galvanized a feminist movement across the country.
Rape and sexual misconduct are rampant in India, Irani said, and are part of a wider problem of women being seen as inferior to men.
"In our country, a mother tells a girl that she won't get to eat until her brother eats," she said. "We put men on a pedestal. They don't want to come down."
(c) 2018, The Washington Post