Crime
Indian-American Man Accused of Killing Girlfriend's Ex-Boyfriend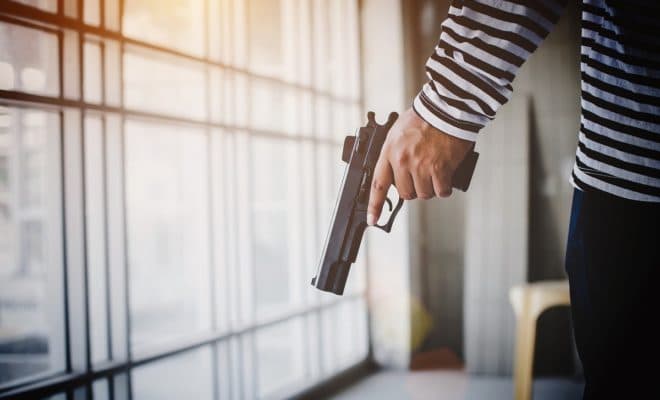 A 9-mm pistol and eight boxes of cartridges were found in a safe in Patel's bedroom.
An Indian-American man has been accused of killing his girlfriend's Arlington based ex-boyfriend and is facing first-degree murder charges.
Jitesh Patel, 42, was arrested in July this year under a second-degree murder charge, which has been changed by prosecutors to the first-degree murder charge, reported ABC7.
John Giandoni, who was murdered at his home in Ballston area on Mar.16 this year, was a former boyfriend of the woman, Patel was dating. Patel himself is a married father. The woman had a child from Giandoni and was undergoing through a tough child custody situation with him, said the report.
According to a report in the Washington Post, Arlington General District Court said on Nov.19, "that there was a probable cause to indicate that Patel broke into the Giandoni's house and shot, stabbed and choked him to the death."
Judge Frances O'Brien termed this case as "a case of circumstantial evidence" which has certain pieces "certainly incriminating." Here she was referring to a gun and, which was found in Patel's home. Bullets, like the bullets found at the crime scene, were also recovered from Patel's home.
The publication quoted the Judge as saying, "It's simply not coincidental."
A CCTV footage, which was shown in the courtroom, was from the afternoon of the Giandoni's death. It showed the outer area of Giandoni's house, where a minivan was parked. A person was seen exiting the van and entering the house.  Giandoni himself arrived home three hours later. Half an hour after his arrival, a person was seen coming out of the house to get into the van and leave, the newspaper said.
The police were able to match Patel's van with the van model in the video but could not identify the driver or license plate from the video.
In May, when the police searched Patel's house on a warrant, a 9-millimeter pistol and eight boxes of cartridges were found in a safe in his bedroom. One box of cartridges was missing two bullets, which matched the two bullets found from the crime scene: one from Giandoni's home and one on his body.
A police officer who had reached first at crime scene testified that Giandoni suffered gunshot, stab wounds and a zip tie was also found around his mouth which was used to stop him breathing.
A grand jury will now be hearing this case.