Business
In High Spirits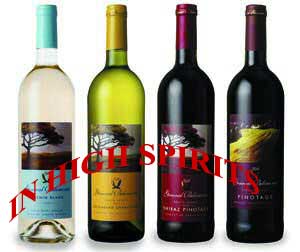 Indian Americans are discovering that wine is a fine business.
"Sita promises the river Ganga a thousand jars of wine if her exiled party were to return home safe. After they do so, Rama feeds her with his own hands with maireya, a spiced wine," writes K.T. Achaya in Indian Food – A Historical Companion.
Alpana Singh became the youngest Master Sommelier in the world at age 26. "I never thought I would end up in this profession"
"Meanwhile the happy public in the city outside indulge in drunken orgies, and even the atmosphere of Ayodhya reeked of wine. In the Mahabharata, Krishna enjoys drinking freely with Arjuna and the Yadavas are finally killed in a drunken brawl."
You may find it hard to believe that in the straitlaced Indian culture even the gods were reputed to imbibe wine, but you need only glance at the sculptures on the walls of the Krishna temples in Mathura, the Sanchi Stupa or the Chalukyan temples in South India to see the drinking scenes of daily ancient Indian life. The Kamasutra, as well as Kalidasa's plays, all evoke wine and Sanskrit literature describes the feisty taverns of Mauryan times where customers drank fermented and alcoholic drinks throughout the day and well into the night, eating salt to encourage their thirst.
Indeed, long before there were wineries in Bordeaux, or the Napa or Sonoma Valley, Indians were into wine, big time! Sanskrit literature relates tales of Kapisayani, wine made from white grapes, imported from Kapisis, Afghanistan and Harahuraka, which is wine made from black grapes imported from Harahur, Afghanistan. The Vedas described intoxicating drinks distilled from fermented mahua and Kadamba flowers, dates or mangoes, and even now Madhira, the Sanskrit word for wine, is still used in our Hindi poems and Bollywood lyrics and, of course, shairis and ghazals, love poems from the Muslim ethos, have enough wine in them to cause a flood!
Given everything else Indian Americans are into in this country, it was inevitable, that a few would venture into Sonoma and Napa Valleys, America's wine country. When you drink fine wine in upscale restaurants in cities like Chicago, Atlanta, San Francisco or New York, it may well be a bottle from an Indian American owned vineyard!
So, how about a bottle of wine? Or better still, how about 1.5 million bottles of wine?
Madaiah Revana: " I wanted to make the best wine – not just the best Californian wine"
The lush vineyards stretch over 650 acres in California's verdant Napa Valley. Calvin Sidhu, real name Kulwinder, is just 37, but he's certainly seen his share of the grape. He is chief executive officer of the well-reputed Freemark Abbey Winery, where his brother Dev, real name Devendra, is chief operation officer of this, one of the oldest wineries in California. Ever year, more than 125,000 cases of premium wine pass through their hands – just as basmati rice passed through the hands of their ancestors in the villages of the Punjab.
"My father's family had farms in the Punjab for 400 years. They grew wheat and rice," says Calvin Sidhu. Their father left the village life for Canada in 1952, getting into commodities trading, mostly grain and lumber, things that kept him close to his agricultural roots. "It was our Punjabi blood, I guess," Sidhu adds.
The family moved to California when the boys were in their teens and they grew up in San Francisco. Calvin went to school for a year in Italy, where he fell in love with wine. Both he and Dev were fascinated with the wine culture from a consumer standpoint and it was only later that they thought about it as a viable business.
The lush vineyards of Calvin Sidhu's Freemark Abbey Winery stretch over 650 acres in California's verdant Napa Valley
"My family's business was commodities trading and we didn't want to do that anymore. But we fell in love with wine and at the same time we wanted to stay in business together so we started to look around and we got lucky," says Sidhu. The brothers bought Freemark Abbey Winery in 2001 with an established history of high quality wines that had started in the year 1886. He says, "We didn't start the wineries from scratch. We actually purchased very well established ongoing concerns. My father was very happy when he saw the vineyards, because he felt we still had something of agriculture in it."
To the well-reputed Freemark Abbey in Napa, they added two more wineries this year – Arrowwood in Sonoma and Byron in Santa Barbara, purchasing them from the Robert Mondovi Company. "These are the three best known wine areas in the U.S.," says Sidhu. "There is some overlap, because in Arrowwood they also produce Cabernet and Chardonnay as they do in Free Mark Abbey, but they are distinct. Sonoma has its own flavor profile and Napa has its own. Byron is just pinot noir and chardonnay."
The brothers continue the tradition of crafting world-renowned wines as well as high quality, small lot production wines in the Napa Valley. Freemark Abbey currently crafts some 40,000 cases of wine each year, producing three Cabernets, a Napa Valley Cabernet, and the vineyard designated Bosche and Sycamore Cabernets. The winery also produces Merlot, Chardonnay, and Riesling, as well as very limited production wines, such as Viognier, Petite Sirah, Sangiovese, and Cabernet Franc. Depending on the climate and harvesting conditions, the winery also makes a luscious late harvest Riesling, known as Edelwein Gold.
Rajat Parr is one of the leading celebrity sommeliers in United states: "It's not just a job. It's more of a passion, more of a lifestyle."
The wineries employ a staff of 82 people and offer wine tastings and excursions as well as a wine club with nearly 5,600 members, to whom wine is shipped directly at a discount and occasionally exclusive wines not available elsewhere.
As CEO of the company, Sidhu is more involved with the marketing and sales, traveling constantly, while Dev as COO, handles the day to day running of the business. Says Calvin Sidhu, "We make a lot of different varietals, but at Freemark we are known for our cabernet sauvignons. At Byron we are known for our Pinot Noirs and at Arrowwood both our reds and our whites are world class." They sell to many restaurants across the country, including Spark's Steakhouse and Delfresco in New York.
What are the special challenges of the business? Sidhu says, "In our industry one of the challenges is consolidating business. A lot of the big guys are getting really, really big. We only concentrate on the very high end market so we would like to build our business and acquire other high end brands."
With an eye on their own young children, the brothers have named their business The Legacy Estate Group, hoping that the vineyards, with their hallowed past, will be something the children will take into the future. Calvin says, "It's a wonderful family business."
What do their relatives back in the village think about their wineries? He says, "They are very proud, but they are somewhat bewildered at the prices of wine in the States. Some of our wines sell for $20 a bottle and that translated into rupees is a little overwhelming!" Ask Sidhu about the most rewarding thing about his business and he responds: "Going into a restaurant and seeing your wine on the wine list."
Karan F Billimoria, an Indian entrpeneur, in search of the perfect wine to go woth Indian food, scouted the vineyards of France, South Africa and Spain to  create General Billimoria Wines. 
Close to Freemark Abbey is Revana Family Vineyard, a vineyard and winery estate with a singular focus of producing world class Cabernet Sauvignon. The vineyard, owned by a Houston cardiologist, Dr. Madaiah Revana, won awards and acclaim with its very first effort, the 2001 Cabernet Sauvignon. It was awarded 91 points by Wine Spectator and this commendation: "Rich, intense and sharply focused, offering complex flavors of roasted coffee, grain, currant and black cherry and finishing with a mix of ripe fruit and pretty vanilla oak. Drink now through 2013."
How did Revana, a medicine man, end up imbibing the grape? "It's a passion actually. I started collecting fine wine about 15 years ago. I never thought I'd actually have a winery or a wine business," he says.
A busy cardiologist, his relaxation was going to wine tastings and seminars, where he made friends in the wine world. He accompanied a friend to Tuscany where the man's best friend owned a winery in Chianti. Recalls Revana, "We stayed on the property and I just fell in love with it. It was so beautiful. I thought I should maybe get a property and have a small vineyard here. That's how it all started, but I decided against this because of the distance."
When a meeting took him to Napa Valley in California, Revana met with realtors in the St. Helena area and looked for a small property there. He recalls, "I was just looking for land. I didn't know anything about the business and I thought I'd better start from scratch – that way I would be able to ensure quality."
Raju Mirchandani's wine bar La BateauIvre, which means "Drunken Boat in French," serves different 300 wines by the glass.
He bought ten acres of prime land, with a house, an open courtyard and olive trees – a little bit of Tuscany in the Napa Valley. The area was already known for producing some of Napa Valley's most prodigious Cabernet Sauvignons and the gravelly soils, sloped pitch and excellent exposures of the property seemed perfect for growing grapes. Studies of the soil composition confirmed that it was an ideal location for premium Bordeaux varieties.
After purchasing the property, Revana focused on assembling an expert team to create premium Cabernet Sauvignons: winemaker Heidi Peterson Barrett, who is widely considered one of California's great winemakers, and Jim Barbour as vineyard manager. Says Revana: "I wanted to make the best wine – not just the best Californian wine – that was my intention. We did everything from the beginning to ensure high premium wine."
Revana has invested heavily in the talent to produce top wines. Revana Family Vineyard 2001 Cabernet Sauvignon won the Santé 2004 Gold Star Award, an elite designation granted to food, wine, and spirits products of exceptional quality. The Colorado Wine News Review noted: "The wine is elegantly styled with great acidity, balance, structure, and integration. Still tight and needs another three years in the bottle to show at its best. Excellent."
Yes, the uninitiated may think a wine is just a wine, but to people in the know it is as remarkable as a great novel or a poem, orchestrated carefully with soil, climate, fermentation, barrel aging and blending. It's all about patience and love's labor. After 18 months in barrel and an additional twelve months in bottle, the inaugural, limited bottling of 2001 Revana Family Cabernet was released in early fall of 2004.
Dan Dawson of Backroom Wines observed, "With the resources to plant the best, hire the best, build the best, and make the best, Revana's ability to sell was without question." The winery also has a mail order division and wines are also sold at fine stores and at major restaurants like French Laundry in San Francisco and The Tribeca Grill in New York. These are fine wines that retail for $90 a bottle. Revana Family Winery produces just 2,000 cases a year, and sometimes less, depending on the yield.
Revana, who hails from Bangalore, studied at the Mysore Medical College before coming to the United States some 30 years ago. He did his cardiology training at Baylor Medical Center in Dallas and is now in private practice in Houston. His winery may be in the Napa Valley, and he physically in Houston, but his passion keeps him connected: "I am pretty much hooked. I speak to my staff everyday, make a lot of decisions and visit it every month."
So does it make money or is it just for pleasure?
"It will never be a huge money making venture. It might make a little bit of profit eventually," says Revana. "But it gives me a lot of pleasure. I just want to concentrate and make the best wine." It's a break from his medical work, he says, and something to look forward to. In the future, when he is no longer practicing medicine, he hopes to be involved much more with the winery.
What does he feel when he goes to a restaurant, and sees 'Revana Family Vineyards' on the label of a bottle? He laughs, "I can't believe it! I feel very fortunate that I have something like this. Lots of people enjoy it and it gives a lot of pleasure to people – and that's very satisfying."
From California, move to London. Karan F. Bilimoria, an entrepreneur of Indian origin, who, in his search for the perfect wine to go with Indian food, has scouted the vineyards of France, South Africa and Spain and created General Bilimoria wines, a division of Cobra Beer Inc. Bilimoria, a law graduate of Cambridge University and a chartered accountant with Ernst and Young, became obsessed with creating the perfect beer to go with Indian food in 1989. The result was Cobra Beer and in a country mad about Indian food and beer, the brand really caught on. Today the company is worth 80 million pounds at retail and sells a ton of beer. As Cobra CEO, Bilimoria has won many awards, including Business Person of the Year 2004 by the London Business Awards.
He next turned his attention to wine and once again looked for the perfect fit with spicy Indian food. The result was a range of French, Spanish and South African wines under the General Bilimoria label, named after Karan's father, Lt. General F. N. Bilimoria, who was quite a beer and wine connoisseur.
The company has launched a reasonably priced range of South African, French and Spanish wines in the U.S. market, exposing wine drinkers to lesser-known varietals: The South African range captures the best the region has to offer from a crisp Colombard-Chardonnay to a fruity Pinotage and Chenin Blanc, the most planted grape in the area. The French vintage encompasses Terret Sauvignon, Merlot and Syrah Grenache, while the recently added Spanish range cultivated along Valencia's Mediterranean coastline includes Tempranillo and a Dry Muscat.
"We are selling to hundreds of restaurants in London, including the two Indian restaurants which have Michelin stars, Zaika and Tamarind," says Honshang Chenoy, vice president of marketing for Cobra Beer and General Bilimoria wines in New York. "These wines were paired to go specifically with Indian food. They are very easy drinking and smooth so they don't clash with the food, they complement it." General Billy, as the wines are affectionately known, sell over 350,000 bottles a year.
As Chenoy points out, England has over 8,000 Indian restaurants. In America their reach in the Indian restaurant market is a lot lower, so they have broad streamed in America with their wines selling at Fresh Direct and Best Sellers chain of wine stores, and are served at several mainstream restaurants too.
The potential for wine both for the domestic and the overseas market is not lost in India. Indeed, Kashmir and Maharashtra were populated with vineyards right up to the British days when the phylloxera pest destroyed crops. Wine was not a priority in the intoxicating days of independence for a newly born nation and for many years one heard little about Indian wines, nor was the country a big consumer. Now things are changing with enterprising vintners emerging, and a wine nascent culture developing in India with thousands of potential customers.
Yes, wine is set to become big business in India and the grapevine connections go all the way to the United Kingdom and the United States
"Today noses might wrinkle at the thought of an Indian sauvignon blanc or cabernet but tomorrow India's winemakers hope it will be as acceptable as a Chilean merlot or an Argentinian shiraz," wrote Peter Foster in the Daily Telegraph. "Wine has been produced in India for centuries but with help from French and Australian experts India's wine industry is now seeking international acceptance."
The three main wine producers in India are Grover Vineyards, Chateau Indage and Sula Vineyards, and they are all exporting Indian made wines to the rest of the world. Sula was created by a returning NRI – Rajeev Samant. In 1990, after completing an undergraduate degree in Economics and a master's degree in Industrial Engineering from Stanford University, Samant joined the hi-tech world. He became one of the youngest managers in the finance division at the headquarters of one the world's largest software companies, Oracle in San Francisco.
And then he decided to leave it all and plant alphonso mangoes in the family owned land in Nasik! Situated 120 miles from Bombay and 2,000 feet above sea level, Nasik is India's biggest grape-growing region. Samant found it strange that no wine grapes were grown there at the time. After a little study he was convinced that the Nasik climate was perfect for wine grapes, at par with winegrowing regions in Spain, California and Australia.
He headed back to California, back to Sonoma County and there he met Kerry Damskey, who is one of the region's noted winemakers. The two experimented with planting Sauvignon Blanc and Chenin Blanc, both varieties that had never been planted in India before. The Sauvignon Blanc cuttings were flown in from France, the Chenin from California, and these were the first two varieties to be planted at Sula Vineyards, in early 1997. Samant and Damskey also created state-of-the-art 670,000-liter winery facilities that have all stainless steel tanks with chilling jackets, perfect for sub-tropical winemaking.
With over 250 acres planted with wine grapes, Sula still remains the pioneer of Sauvignon Blanc, Chenin Blanc and Blush Zinfandel in India. Sula sells in Indian wine shops and restaurants, and also in Lavinia, France's largest wine shop. Samant is also exporting Sula not only to Europe but also to the United States, so his excellent wine adventure has really come full circle.
Indian Americans are not just into producing wine from Nasik to Napa Valley, however. They are also interpreting and serving it – as sommeliers. This fancy sounding name merely means the keeper of the wines, the one who knows everything about the soul of a wine, what wine goes with what food and what wine a customer really wants, even though he may not.
The job, however, is far from simple. The sommelier must not only know everything from grape to vintage, but also just about all there's to know about the history of the wines even if there are thousands of wines in his inventory.
One of the leading celebrity sommeliers in the United States is Rajat Parr, wine director of the noted Mina group of restaurants. He is responsible for developing and managing the wine programs at each of their restaurants: Arcadia at the San Jose Marriot, Nobhill and Seablue at the MGM Grand in Las Vegas, and the most recently opened, Michael Mina at the Westin St. Francis, San Francisco, where he is sommelier. Three other restaurants are slated to open next year. As wine director, Parr structures the wine list in all the restaurants, makes the big volume decision and heads the sommeliers at all the restaurants.
Michael Bauer, restaurant critic for the San Francisco Chronicle raved about Parr's wine list at Michael Mina: "I can't think of a list that's more distinctive or exciting. The 1,500 selections crafted by wine director Rajat Parr are perfectly tailored to the complex combinations served at the restaurant."
Parr was the sommelier-recipient of Wine Spectator's Grand Award in 2001 and has acquired his immense wine knowledge through experience. He began his career as an apprentice to the acclaimed Master Sommelier Larry Stone at the Rubicon, where he developed an expertise in wines from around the world. He recalls, "He's a wine guru and the greatest sommelier in America. He's the only one who's a master sommelier and has the French master's diploma – no one else has that in the world. He's an incredible teacher. He's a very hard person to work for, but he's a very great teacher. I worked with him for three years and he's still a mentor of mine."
Earlier wine director of Aqua Development Corporation, where he oversaw wine lists for seven restaurants, including Aqua in San Francisco, Parr also been the sommelier at Fifth Floor in San Francisco, which quickly received rave reviews and the Grand Award from Wine Spectator two years after opening. So how did this Calcutta boy land up in the fine restaurants of the world, telling people what they should drink?
"It just happened," he says. "I happened to be in culinary school and I fell in love with wine. I was planning to be a chef, but by the end of it all I knew I wanted to be in the wine business."
After earning a bachelors degree from the Welcomgroup Graduate School of Hotel Administration, he entered the Culinary Institute of America at Hyde Park, New York. An internship at the Raffles Hotel in Singapore gave him the opportunity to work with such renowned guest chefs as Alain Ducasse and Jean-Louis Palladin. Parr, 32, is a much sought after speaker at wine seminars and tastings at prestigious food and wine events.
"The wine list in San Francisco Michael Mina is very comprehensive – it has 2,200 wines – it's very deep in Burgundy and is almost 70 percent French wines," says Parr. It just won the Wine Spectator award last month in the very first year of operation and that rarely happens.
What is the challenge of being a sommelier? He says, "The hardest part is to understand people and to follow what they want. You have to judge what they really want. You're pretty much on your feet and you're up till about 1 am. It's a fun job, but it's for people who are passionate about wine. : It's not just a job – it's more of a passion, more of a lifestyle. You can't just be a sommelier for so many hours and say the rest of the time I'm going to be normal. It pretty much takes over everything you do."
One Indian woman who has really made a big splash in the world of wine is Alpana Singh: by the age of 21, she had passed the advanced sommelier exam and by 26 she had become the youngest Master Sommelier in the world, one of only 14 women to achieve this title. She is the sommelier at Everest, a renowned restaurant in Chicago, presiding over a cache of 1,500 wines.
Singh, who grew up in Monterey, Calif., says: "I never thought I would end up in this profession. My parents both worked in the restaurant industry so working in a restaurant is very comfortable for me. I just never knew you could have a professional career working in wine."
As Singh recalls, she was barely of legal age to drink when she first got into wine. She started out waiting tables at a bistro, and one of the requirements was to know something about wine. She decided to pursue a wine education and went on to study for the rigorous Master Sommelier test, which is administered by the Court of Master Sommeliers, an international examining body for wine and beverage service in Devon, England.
The goal of this exam is to turn out people with outstanding tasting and evaluation skills, wine knowledge and impeccable abilities in service and beverage department management. There are introductory, advanced and master exams, and the exam for master sommelier is not an easy one to pass. In fact the only 3 percent of those who sit in the exam pass, and there are only 104 master sommeliers in the world.
"What amazed me about it was the study of the various aspects of science, history, geography and travel," she says. "There is so much more to wine then just drinking it. You have to read and study. There's no school you can go to; you're on your own. You can have a mentor who's already passed the test."
The MS exam is an intricate three-part process with several tests and a three year wine retail experience among its requirements. The tasting part is scored on the candidate's verbal abilities in clearly and accurately describing six different wines. Inside 25 minutes, the candidate has to identify grape varieties, country of origin, district of origin and vintages of the wines tasted. She says, "Once I made the connection of the book knowledge to the flavor, wine became a definite passion for me."
She recalls, "My great grand-parents are from India and they were brought to Fiji by the British who owned Fiji as a colony. They were indentured servants and cut sugar cane and harvested rice on British plantations. They decided to stay in Fiji rather than returning to India therefore my grandparents and parents were born in Fiji. After emancipation the political climate was in turmoil so my parents thought it would be for our best future if they moved to the United States."
Indian parents generally have their hearts set on producing doctors and engineers so did her parents give her a hard time on her unusual choice of career? She says, "My parents did not have a choice as far as what I wanted to do. They respected my judgment and supported my passion. I think more Indian parents should be as encouraging rather than trying to box their children into a career path that they have chosen for them. I could have been a doctor, but that would not have made me happy. I think all parents want what is best for their children and my parents realized that a career in wine was going to make me happiest and most successful. So far I have not proven them wrong."
She might not have an MD after her name but she does have MS – Master Sommelier!
Everest, a renowned four-star restaurant atop the Chicago Stock Exchange, where Alpana is sommelier has received several awards, including the Five-Diamond Award from AAA, and top ratings from the Zagat Survey and Maitre Cuisiniers de France. She met its famed chef Jean Joho at a wine and food event who invited her to interview for the position in 2000. The restaurant's $1 million, award winning wine inventory boasts the largest selection of Alsace wines outside of Alsace, and includes a rare wine, the 1982 Petrus Bourdeux, a bottle of which goes for $2,800.
Yet ask her which wine is the jewel in the Everest crown, and she says: "All of our wines are the crown jewels. We have no favorites. If the wine weren't good it wouldn't make it to the wine list. So they are in essence all my favorites." She suggests the Alsace Pinot Gris with pate, the Rieslings with cream sauces and the Cabernet Sauvignons from California with the heavier meat items.
 
If you've ever wondered what happens to an open bottle of wine when wine is ordered by the glass in a fine restaurant, Singh gives you the inside story: "Usually we will pour the entire bottle during a night's service. All left over wine goes to the kitchen for use in cooking. We begin each day with fresh bottles of wine."
Are cheap wines always bad or can one find reasonably priced wines that can enhance a meal? What would she recommend? She says, "There are many great values out there. You just may have to go outside of the box to get them. Try wines from Spain, Argentina or Australia for good bargains."
Singh has never visited India, but would like to some day. The country's emerging vineyards will certainly be virgin territory for her to explore. The young wine connoisseur has traveled extensively and does see a difference in people's attitude toward wine in different countries: "The younger generation is definitely more into wine than older generations. In Europe wine is viewed as a food item meant to be enjoyed in moderation on a daily basis as part of a healthy diet. In the U.S., we are slowly beginning to adopt this attitude."
Wine continues to be her big passion, both inside and outside the restaurant. She is in demand as a speaker and also teaches a class at Just Grapes, besides hosting the Emmy award-winning dining show "Check, Please!" on Chicago's local public broadcasting station. She says, "I enjoy helping viewers learn about restaurants and neighborhoods they normally would not have tried." She is currently working on a charity project for Children's Memorial Hospital in Chicago and adds: " I'm sure wine will always be a part of my life."
Raju Mirchandani is another Indian whose passion for wine has taken him into an entirely different world – the world of wine bistros and cigar bars. Mirchandani understood the pleasure and intimacy of wine and cigar bars and opened his first whiskey and cigar bar in 1991, called Hudson Bar and Books. The concept was so popular that in 1998 he opened the Lexington Bar and Books. Mirchandani calls them the world's most refreshingly civilized places to meet, and they've certainly proved popular. He's opened Tynska Bar and Books in Prague and is currently in Budapest opening the Rosetti Bar and Books. He has plans to add Bar and Books in Berlin, Warsaw and New Delhi.
In 1999 Mirchandani brought the French bistro concept to New York when he opened Le Bateau Ivre, which means "Drunken Boat" after a poem by 19th century Frenchman Arthur Rimbaud. It offers French wines by the glass along with raw and grilled seafoods, served in true bistro style from 8 a.m. to 4 a.m. It's a place to have a real French breakfast, lunch or dinner with a glass of wine fine. It offers Burgundies, Bordeaux, and Beaujolais, and has received strong reviews in The New Yorker, New York and Time Out. It serves 300 wines by the glass and features representation of every winemaking region in France.
Says Arun Mirchandani, managing partner of the Bar & Books, about Le Bateau Ivre, "It's a popular theme. It was created out of the visible void in the market and no one had conceptualized and capitalized on this in the past. In New York there isn't any other restaurant devoted completely to French wines in the classic bistro setting."
Arun, who is Raju's nephew, says of the Bar and Books in Manhattan, which focus not so much on wine as on whiskey and are two of the premier smoking lounges out of just six in the entire city: "We have a well balanced wine menu, but the primary focus is on whiskey of which we carry 125 different kinds of whiskey from all over the world, and premium cigars." Do Indian-Americans frequent the bars? He says: "There is a well-represented Indian clientele that visits our establishments – young, successful professionals."
Indeed, as more and more young Indian Americans come of age – drinking age actually – some are bound to be fascinated by the encyclopedic number of wines available in the country, for America is indeed a melting pot of fine wines from all parts of the globe. Each immigrant brings from his country of origin his own native favorite – be it from Portugal, Argentina, Brazil or Australia – and the varieties are just mind-boggling.
And in this kingdom of entrepreneurship where the improbable becomes probable, America offers a huge array of careers in the wine industry; as time passes we are bound to see not only sommeliers and winery owners, but also winemakers, distributors and vineyard managers of Indian descent. So big bucks and big satisfaction don't lie just in IT, engineering or medicine – the impetus for a whole new lifestyle can be in your next sip of fine wine.
We'll drink to that!