Life
Howzat!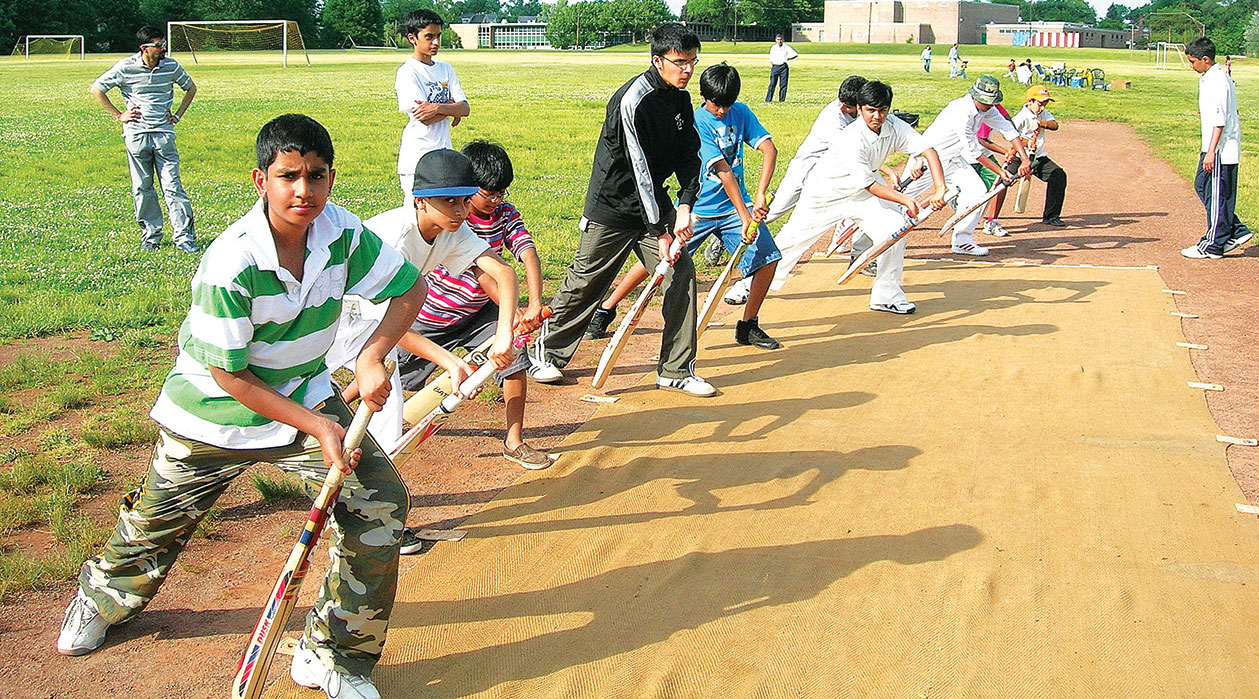 Cricket struggles to take root in America.
It has been an eventful summer for Indian American cricketer Ibrahim Khaleel. The Hyderabad native bagged a spot on the United States national cricket team, which placed 4th in the World Cricket League Division Three championship, held in Uganda in May.
Elsewhere in America, Chicago United, one of the better known professional cricket club teams in the country, is celebrating its recent win at the Chicago Cup, a prestigious cricket tournament in the Midwest. The team is now preparing for the cricket U.S. Open in Florida later this year. The Caribbean Premier League (CPL), will hold several of its games in Lauderhill, Fl., in August as well.
Professional cricket is beginning to find a toe-hold in America. For decades now, the sport has been patronized predominantly by South Asian and Caribbean immigrants, who play it at the club and amateur league level.
Scores of clubs nationwide promote recreational and amateur cricket and take pride in their multicultural teams. The Millennium Cricket League in New Jersey boasts participants from the United Kingdom, Australia, the Indian subcontinent and the Caribbean. The Southern California Cricket Association even has a women's cricket league.
The California Cricket Academy (CCA), which claims to be the first cricket academy and youth league in the United States, runs a busy summer schedule and holds several titles, including the U15 (under 15) U.S. national.
 CCA co-founder Kinjal Buch, says: "Our U16 team finished their tour of UK in midsummer and our U11, U12 and U13 teams are also traveling to UK…. Cricket is the fastest growing sport in America at the moment, though mostly among expatriates. The interest needs to spread among other communities too."
Atul Huckoo, president of 
Edison Cricket Club in New Jersey, acknowledges there is little mainstream interest in the sport, but, he says:
"South Asian parents are interested in getting their kids enrolled in cricket. However, with lack of an infrastructure to support cricket in schools and colleges it becomes difficult to pursue it on a professional level. We need a lot more efforts to popularize the game."
Edison Cricket Club's Atul Huckoo: "Cricket was played in the U.S. before 18th century, so there is no reason why it should not be accepted now."
Cricket, the second most popular sport in the world, with an estimated 2.5 billion fans, is virtually unknown in America. Even so, an estimated 15 million cricket fans turn to special telecasts of international cricket games on Dish, DirectTV, ESPN or livestream them on  the Web.
Recently, a sports development company, helmed by an Indian, announced lofty plans to start professional league cricket in America. Philadelphia based Jignesh "Jay" Pandya, chairman of Global Sports Ventures and Royal Sports Club, announced an eye-popping $2.4 billion investment in March this year to promote the sport and establish a U.S. Cricket Professional League. Pandya told Little India that his company plans to develop 26,000-seat stadiums in New York, New Jersey, Washington, D.C., Georgia, Florida, Texas, Illinois and California. The first of its state-of-the-art stadium and multi-use complex is planned in East Brunswick, N.J.
Pandya estimates that each of these stadiums and multi-use complexes surrounding it would cost between $300 to $400 million and the total investment is expected to run $2.4 billion.
Pandya was reluctant to share financial information about the company, but said presently he had no other investors in the project, but he expects them to join later as the project advances.
Last year, the company announced a 20 year $70 million deal with the USA Cricket Association (USACA) for licensing rights for a domestic Twenty20 league. But the USACA, a nonprofit organization with an annual budget of just $600,000, has been suspended by the International Cricket Council (ICC). Pandya insisted, however, that his league plans were unaffected by the ICC suspension.
 The USACA had signed up two previous pro cricket deals, but they fell apart relatively quickly. The Pro Cricket League established teams in eight U.S. cities and introduced three-hour matches in 2004. The league, which began with 120 domestic and 40 professional cricketers from Australia, India, Kenya, Pakistan and West Indies, shut down after just one three-month season. Major League Cricket, formed in New Jersey in 2000, likewise struggled after holding just a handful of low profile tournaments and disappeared quietly, even discontinuing its website.
Nadeem Zain, owner and president of Chicago United, is skeptical of the new initiatives: "We keep on hearing about many blueprints. But until something concrete happens, we can't say that it will change the face of cricket in America."
Pandya is bullish about the prospects of cricket in America, however, and even hopes to lure the ICC to host the 2024 World Cup at the "world class infrastructure" his company will by then have built for cricket in the country. He expects the stadiums and the professional cricket leagues to be launched by 2020. He projects, "In 10 years, cricket will be among the top 5 sports in the United States."
The Changing Scenario
I
n June 2017, the International Cricket Council (ICC) expelled the USA Cricket Association (USACA) from its associate membership over governance issues. The ICC has called for the incorporation of a new governing body for cricket
in America.
 Sohail Bari, who established the American Cricket Conference (ACC), with the aim of providing cricket enthusiasts an opportunity to play competitive league cricket in the Chicago area says: "With the ICC taking matters in their hands things should look better for cricket in America."
Bari says although cricket has grown in popularity, it is nowhere near reaching its potential in America: "When we started back in 2001, we had just two teams. Today there are 41 teams under us, but still a lot has not been done at the grassroots level."
Zain says, "Things should be more transparent and better organized with a greater emphasis on developing the players and the sport in the country. As cricket enthusiasts, we are definitely watching the development with a lot of hope."
Huckoo, who has been closely observing the cricket scene in America for decades says: "This development may also mean that Pandya's plan, may be dead investment since he had invested in USACA. Even though his CPL investment is a business deal, it may work for him."
He adds: "USACA had so many years to get its act together; ICC actually gave them so many years."
Kinjal Buch of the California Cricket Academy concurs: "USACA needed to have proper plans in place to grow cricket in USA. U.S. cricket is getting re-organized under ICC supervision, so hopefully many good things will happen in the future.
Huckoo says, "The need of the hour is to include cricket in school curricular and ICC may be putting things in process."
The Michigan Cricket Association, which promotes recreational programs and cricket activities in and around the Great Lakes Region, in a recent press release quoted USACA executive secretary Sankar Renganathan as saying: "USA cricket is at a critical juncture and needs stakeholders to start investing in various stakes."
Renganathan declined several Little India requests to discuss the USACA's future following its suspension by the ICC.
The USACA website still claims to be an associate member of the ICC and has not addressed its suspension
Niraj Patel, a former IPL player from India, who has played 100 first class matches in India and is now an active league player in America, says: "If I compare the cricketing scene from say 2005 to now in 2017, there is a solid improvement. While we do still have only one ICC certified stadium, now turf wickets have come up in many places such as California, Houston, Florida, Indianapolis and Pennsylvania, indicating a more professional level of the game. In Bollingbrooke, Ill., a new turf wicket is coming up. Florida holds a major tournament every year and CPL (Caribbean Premier League)  is now held in America."
Patel admits that the game is primarily popular among Asians, Africans or West Indians, but "Americans are beginning to get interested."
Zian has also observed growing mainstream interest in the game: "This summer season we have been getting calls from a few Americans who say that they saw our teams on WGN TV network and would love to come down to watch the matches. This never happened before."
Huckoo believes that peripheral activity is bolstering interest in the game. For instance, State Farm recruited cricketer Virendar Sehwag for its advertising campaign. Willow TV, an American sports channel that airs overseas cricket matches, has close to a 3 million-subscription base.
The number of cricket teams in the country has grown from just 800 in 2002 to nearly 3,000. Zain says: "15 years ago the average age of an American player was 35; today the average age is 24. Hopefully in the next 10 years we will reach 18 or 19 and that would suggest that the talent is being tapped at the right time."
Huckoo adds: "There is a lot of cricket happening at the college level too and we can see that in places such as New York University and Columbia University, though most players remain South Asians and Caribbeans. Sadly these college levels matches fail to get noticed, because we are so used to watching the likes of Sachin Tendulkars that no one wants to give attention to unknown new players."
Lack of funding is stunting development of the game in this country.
Bari, a cricket fan who hails from Karachi, Pakistan, formed the American Cricket Conference (ACC) to provide opportunities to players interested in pursuing cricket. However, he is aware of the lack of mainstream interest in the sport: "No local American wants to play, as there are no sponsors or infrastructure to support the game."
He makes no bones about the fact that his conference caters to Indian subcontinental fans.
ACC, which in the past has invited celebrated players, such as former Indian national team captain Mohammed Azharuddin, says that lack of funding makes big-ticket tournaments unlikely: "We want to invite star players, but between organizing matches and organizing prize money we don't even meet our goals.
"We often get deals like local restaurants paying a couple of hundred dollars to put logos during the games, but this would not suffice to take the game to another level."
Sami Khan, captain of Chicago United, represented Hyderabad for more than a decade and played several national level tournaments in India before coming to the United States to play cricket. Khan, who works at a software firm in Seattle, says that despite his world-class cricket background, he has to treat cricket as a second vocation in America as it is not possible to survive on the game alone.
Zain laments that despite their strong interest in the sport, Indians are unwilling to step forward to fund it: "Indians may spend a fortune acquiring luxuries, such as a boat in America, but chasing them to sponsor cricket is a task."
Huckoo who has succeeded in securing corporate sponsorships for his club, including many from Fortune 500 companies, says that registering as a tax-exempt nonprofit helped: "We keptall our workings very transparent and attained the federal nonprofit status even though it took us two long years and a lot of background work. In America, the biggest revenue spend is on advertising and then on philanthropy. Every corporate contributes to charity and we always approach them with a systemized plan on how their efforts will work towards the game."
Khaleel says that the sport also faces practical challenges specific to America: "The cricketing season is very short-lived in America as opposed to the subcontinent. It is a summer game. Also, Americans are used to shorter version of games, such as soccer or baseball, which are over within a couple of hours. To make them interested in cricket one needs version such as 20-20 etc., which is happening now."
California Cricket Academy's Buch says: "Getting proper grounds is the biggest challenge. We have two fields for games that we rent from local city and school districts. But these are shared facilities and are used for other sports too. Hence we cannot have turf pitch."
Star Power
In 2015, a three game cricket all-star exhibition series was held, with cricket legends Sachin Tendulkar and Shane Warne captaining the sides at Citi Field in New York. The match attracted unprecedented interest. Cricket organizers in America believe that exhibition matches that pull star power along with inspiring stories of players from the subcontinent coming to the United States could jumpstart interest in the sport.
Khaleel, who has played with prominent cricketers, such as MS Dhoni, Parthiv Patel and Dinesh Kartik, chose to come to the United States to participate in league cricket. He says: "I was playing Ranji cricket and in India cricket is such a huge phenomenon that you can lead a fairly good life even playing Ranji and other tournaments. But I came here to be with my family and also because I felt that cricket is on a rise in America. In India, it is already at its zenith, but given right nurturing there is immense scope to be a part of this rising trend in America."
Sami Khan too chose to come to America while he was playing in India: "I got an offer from a club in Ireland and from Chicago United at the same time. I decided to take up the offer in U.S. as my sister lived here. And even though I came here at a time when IPL was beginning in India I chose to take up the offer I had and I feel it has been a good decision."
Though the cricket bodies rue that so many American companies choose to sponsor cricket teams from other countries and not their own they recognize that viewership and broadcast audiences are the core drivers.
Huckoo points out: "Last year during India v West Indies T20 in Florida, most of the sponsors were from India, when they should have been from America. To get more attention we need to popularize the game."
Sami Khan says, "Things are looking up. Today Pepsi is sponsoring the Bollingbrook tournament which sends a good message."
Huckoo adds: "There is development. In Edison, NJ, where we are located more and more teams are joining in. Also, more cricket pitches are being provided by townships as there is a demand."
He expects the game's popularity to grow: "With ICC investing into the game there is every possibility that it grows. Cricket was played in the U.S. before 18th century, so there is no reason why it should not be accepted now.
Says, Khan: "My wife, an Indian born and brought up in America, is a die-hard soccer fan. She began taking interest in cricket only now, but my one-year-old daughter has already started showing interest in my cricketing equipment. I hope to teach professional cricket to my daughter and the day many parents in America start thinking likewise, we will have cricket on par with the other sports here."
Cricket in America
Although cricket has little presence in America today, there are historical records of the game being played in the United States as early as the beginning of the 18th century.
At the time, British colonists played cricket. Archived newspaper references of game as known from the early 1700s. The first documented cricket competition was heldin 1751 in Manhattan. Historical records show that the game was played in 1793 in Dartmouth College in New Hampshire.
Philadelphia was the nerve center of the sport and the first cricket team was established in 1833 in Haverford College, Penn. The Intercollegiate Cricket Association was established in 1881, but shut down after 1924. Cricket teams were known at the University of Pennsylvania, Harvard University, Yale University, Amherst College, Williams College, etc.
Bloomingdale Park in Manhattan hosted the first international club contest in 1844 between the United States and Canada.
By the mid-19th century cricket was known to have been played in 22 states with 500 officially established clubs.
But with the rise of baseball in the 19th century, cricket fizzled.
The United States Cricket Team is unranked in Test Cricket and One Day International Cricket. But there are thousands of amateur clubs and leagues populated principally by South Asian and Caribbean immigrants.