Immigration
High Above New York, Newest Citizens Are Sworn In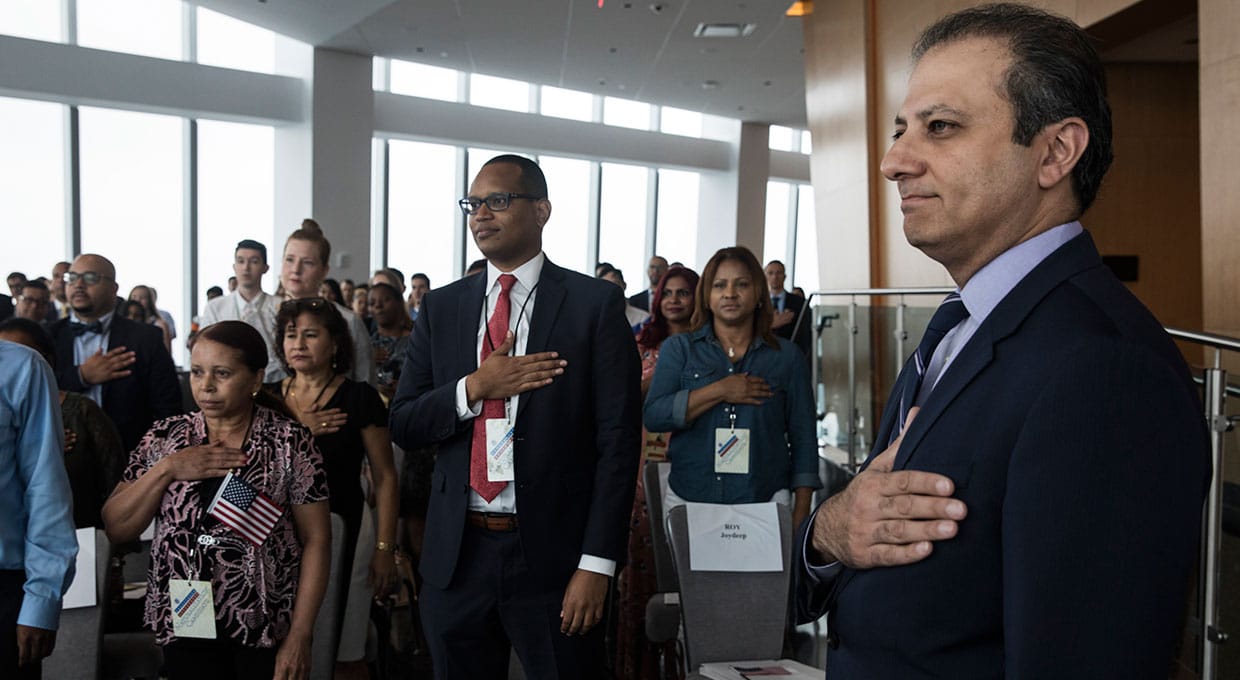 "We are bound together in ways that long-standing Americans don't always appreciate,"
One hundred and two floors above the city, with a hazy view of the Statue of Liberty, 30 immigrants were sworn in as citizens of the United States on Aug 15.
It was a morning thick with clouds and redolent with symbolism.
This was the first naturalization ceremony to be held at the observatory on the 102nd floor of One World Trade Center. Just days after violence broke out at a white supremacy march in Charlottesville, Virginia, Robert Katzmann, a federal appeals court judge who is the son of a refugee from Nazi Germany, presided. And Preet Bharara, a naturalized citizen from India who was fired in March as a U.S. attorney by President Donald Trump, was the keynote speaker. They talked about liberty, equality and the immigrant experience.
"How fortunate we are to have you here, contributing your hopes, your aspirations, your skills, your heritages, your music, your culture, your literature, your food to the tapestry of this nation," declared Katzmann, who is chief judge for the 2nd U.S. Circuit Court of Appeals. "The American story is your story."
The newest citizens, from 19 countries including Argentina, Bangladesh, Sudan and Trinidad and Tobago, nodded in recognition, some shedding tears.
Katzmann, who founded the Immigrant Justice Corps for lawyers training to assist immigrants, spoke about his father's feeling of freedom when he arrived in the United States, "Of being able to walk on the sidewalks, of not having to fear being accosted because of his religion."
Intending his words to "be timeless," Katzmann said that he wrote his speech before the weekend's violence.
Bharara, the former U.S. attorney for the Southern District of New York, who joined New York University School of Law as a scholar in residence, invoked his immigrant father, who came from a village in India without running water.
Bharara's parents brought their family to the United States more than 40 years ago. Bharara described his "only in America" success as the first Asian-American U.S. attorney in Manhattan, appointed by the first African-American president. But the new citizens seemed more impressed when he mentioned that his brother, Vinnie, sold his internet company to Amazon for $545 million.
"We are bound together in ways that long-standing Americans don't always appreciate," Bharara said.
Were his words meant to respond to the anti-immigration rhetoric of the current administration?
"A restatement of what's great about the country is never a rebuke to anything," he said when asked, with a slight smile.
Joydeep Roy, the one naturalized citizen from India in Tuesday's ceremony, proclaimed Bharara's words "very moving," and posed for a picture with him after the ceremony. Roy, 45, works as an economist for the city and teaches at Columbia's Teachers College.
A student of history, he reflected on his own overlapping messages of liberty: Aug. 15 is India's independence day. He was honored to be chosen that morning to lead his new class in the Pledge of Allegiance, though his family could not attend. His 9-year-old son was at taekwondo camp, and his wife, who was already naturalized, had an important meeting as a senior economist for the Federal Reserve Bank of New York.
The proceedings inspired Hani Ali, 35, an accountant from Sudan, to think about the American dream. "Everybody can do it, it teaches you that 'impossible is nothing,'" said Ali, proudly wearing a red tie and navy suit. The middle child of five siblings, and the only one to live in the United States, he graduated from the University of Connecticut and is a senior manager at Deloitte.
He acknowledged that he was upset by Trump's executive orders that banned immigrants and refugees from Muslim-majority countries, including his own. But he added, "After all, it's not what the president thinks or says — America is bigger than that, greater than that."
Amid the flag-waving pomp, the new citizens did not get a message or congratulatory letter of welcome from the president. But that was not an indication of the administration's position on immigration. Creating a new presidential greeting can take a while: President Barack Obama did not have a video message until October, nor a letter until a year after his inauguration, according to the U.S. Citizenship and Immigration Services agency.
© 2017 New York Times News Service