Magazine
Guess Who's Coming To Dinner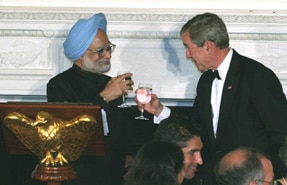 The Indian guests at the three state dinners for Indian prime ministers during this decade are a study in contrasts and reflect the political bases and priorities of the hosting administration.
The Indian guests at the three state dinners for Indian prime ministers during this decade are a study in contrasts and reflect the political bases and priorities of the hosting administration. Surprisingly, Pres. George W. Bush's 2005 state dinner, which had the fewest guests, had the highest proportion of Indian guests. The state dinners by Pres. Barack Obama and Pres. Bill Clinton boasted almost twice as many Indian guests, but as they were both significantly larger events, the proportion of Indians was noticeably smaller.
President Bill Clinton and first lady Hillary Rodham Clinton
applaud Prime Minister Atal Bihari Vajpayee during the
State Dinner at the White House in 2000.
Just 30 percent – 104 – of Obama's 336 guests at the state dinner on Nov. 24, were Indian, compared to 46 percent (59) of the 128 guests invited by Pres. Bush to his state dinner in 2005 for Indian Prime Minister Manmohan Singh. The Clinton White House did not disclose the complete guest list for its 2000 state dinner for Prime Minister Atal Behari Vajpayee, at which fewer than a quarter of the nearly 700 guests were Indian. Little India has filed a freedom of information request for the list from the national archives, which had yet to release the data at press time.
Obama's guest list is notable for the large number of Indian Americans working in his administration invitees. Nearly a sixth of the Indians at the banquet were Obama administration officials or their guests, including Rajiv J Shah, under secretary for Research, Education & Economics, Department of Agriculture, Rajesh De, deputy assistant attorney general, Anish Goel, acting senior director, South Asia Affairs, National Security Council, Neal Katyal, principal deputy solicitor general, Kalpen Modi, associate director, Office of Public Engagement, Sonal Shah, deputy Aasistant to the President, and Obama's college buddy Vinai Thummalapally, presently U.S ambassador to Belize.
Equally notably, as a former community organizer himself, Pres. Obama gave a nod to Indian American activists, such as Bhairavi Desai and Javaid Tariq of the New York Taxi Workers Alliance (NYTWA), Annetta Seecharran, of South Asian Youth Action (SAYA!), Deepa Iyer, of South Asian Americans Leading Together (SAALT), Maneesha Kelkar, of Manavi, and Seema Agnani, of Chhaya Community Development Corporation.
Bush's guest list was heavily loaded with his Indian American donor base, predominantly physicians, led by Dr. Zach Zachariah, president, Fort Lauderdale Heart Institute, who was one of his leading fundraisers. Other physicians invited to the Bush state banquet included, Dr. Praveen Chaudhari, Brookhaven National Laboratory; Dr. Raghavendra Vijayanagar, Gulf to Bay Cardiovascular Surgical Associates; Dr. Ravindra Desai, ENT Surgeon; Dr. Shabbir Hashim, Westgate Dental Arts; Dr. Sharad Lakhanpal, American Association of Physicians of Indian Origin; and Dr. Srini Malini, radiologist.
Mrs. Gursharan Kaur, the wife of Prime Minister Manmohan Singh, talks with President Barack Obama during the State Dinner at the White House, Nov. 24, 2009. Speaker of
the House Nancy Pelosi and former Secretary of State Colin Powell areseated at right.
Just a handful of guests made both the Bush and Obama list, most notably the film director Manoj 'Night' Shyamalan and Louisiana Gov. Bobby Jindal. Just four Indian American guests – Ethan Allen's Farooq Katwari, PepsiCo's Indira Nooyi, McKinsey's Rajat Gupta and Asia Society's Vishaka Desai – made all three state dinners hosted by U.S. presidents for Indian prime ministers during this decade.
The Indian American guests at Clinton's state dinner reflected both the Internet bubble and his financial donors, such as Sycamore chairman Gururaj Deshpande, then InfoUSA Chairman Vinod Gupta, venture capitalists Vinod Dham and Vinod Khosla, former United Airlines President Rono Dutta, and Hotmail founder Sabeer Bhatia.
Celebrities that made both the Clinton and Obama list included new age guru Deepak Chopra and author Jhumpa Lahiri. The official Indian delegation featured a handful of repeats, representing a continuing administration, including Deputy Chairman of the Planning Commission Montek Singh Ahluwalia and National Security Advisor M.K. Narayanan, as well as prominent Indian industrialists Ratan Tata and Mukesh Ambani.
A striking difference in Obama's guest list, perhaps one that contributed to the notorious gate crashing of the party by the Virginia couple Tareq and Michaele Salahi, was the participation of the White House social staff, who were entirely absent from Pres. Bush's party. The social staffers included not just White House Social Secretary Desiree Rogers, whose presence has been widely criticized. Obama's guest list also included, curiously with honorific salutations usually reserved for ambassadors and heads of states, three other White House insiders who might otherwise have been minding the event's logistics: The Honorable (Ms.) Alyssa Mastromonaco, White House Office of Scheduling; The Honorable (Ms.) Lisa Brown, Office of Staff Secretary; The Honorable (Ms.) Tina Tchen, Office of Public Liaison.
A common refrain of many Indian American guests was that even they had no access to a human contact at the White House prior to the event.
Indian Guests at President Barack Obama's State Dinner For

Prime Minister Manmohan Singh and Gursharan Kaur

November 24, 2009
Invited Guests
Amartya Sen
Amrit Singh
Anil Kakani
Annetta Seecharran
Ashok S Ganguly
Balvinder Singh
Bhairavi Desai
Bobby Jindal, Governor of Louisiana
Chanda D Kochhar
Deepa Iyer
Deepak Chopra
Deepak Parekh
Eboo Patel
Fareed Zakaria
Farooq Kathwari
Geeta Rao Gupta
Indra Nooyi
Jay Goyal, State Representative
Jhumpa Lahiri
Kamala Harris
Kamil Hassan
Kavita Ramdas
Kiran Mazumda-Shaw
Lakhwinder Singh
M. Night Shyamalan
Maneesha Kelkar
Mukesh D Ambani
Om Prakash Bhatt
Parag Saxena
Rachakonda D Prabhu
Raj Goyle, State Representative
Raj Gupta
Rajat Gupta
Rajiv Chandrasekaran
Raju Narisetti
Ratan Tata
Rohini Chopra
Sam Pitroda
Sanjay Gupta
Satveer Chaudhry, State Senator
Senapathy Gopalakrishnan
Shantanu Narayen
Sri Srinivasan
Srinija Srinivasan
Sunil Bharti Mittal
Surinder Malhotra
Swati Dandekar, State Senator
Tim Dutta
Upinder Singh
Urvashi Vaid
Vinod Shah
Vishakha N. Desai
Zarin Mehta
Administration Officials
Anish Goel, Acting Senior Director, South Asia Affairs, NSC
Kalpen Modi, Associate Director, Office of Public Engagement
Neal Katyal, Principal Deputy Solicitor General
Preeta Bansal, OMB General Counsel
Rajesh De, Deputy Assistant Attorney General
Rajiv J Shah, Under Secretary, Department of Agriculture
Sonal Shah, Deputy Assist to the President
Vinai Thummalapally, Ambassador, Embassy of Belize
Vivek Kundra, Chief Information Officer
Indian Delegation
Arun K. Singh, Deputy Chief of Mission, Indian Embassy
Gaitri Kumar, Joint Secretary, Ministry of External Affairs
Harish Khare, Media Advisor to the Prime Minister
Nirupama Rao, Foreign Secretary
M.K. Narayanan, National Security Adviser
Montek Singh Ahluwalia, Deputy Chairman, India Planning Commission
I.S. Chaturvedi, Personal Secretary to Prime Minister
Jaideep Sarkar, Personal Secretary to Prime Minister
Meera Shankar, Ambassador of India
Pankaj Saran, Joint Secretary to the Prime Minister
S.M. Krishna, Minister of External Affairs
Shyam Saran, Special Envoy to Prime Minister on Climate Change
Guests of Guests
Analjit Singh
Anita M Gupta
Anjana Pitroda
Arvind Dandekar
Arvind Gupta
Barbara Thummalapally
Bhavna Shyamalan
Colonel Ravi Chaudhry
Durga Raghunath
Farida Kathwari
Javaid Tariq
Julie Chandrasekaran
Kate Clinton
Kiran Goyal
Lata Shete Prabhu
Maya Harris
Mohinder Singh
Monica Arora
Parag Khandhar
Paula Throckmorton Zakaria
Rebecca Olson Gupta
Reni Narayen
Rita Chopra
Sant Singh Chatwal
Seema Agnani
Shehnez Mansuri
Sukhbir Kaur
Supriya Jindal, First Lady of Louisiana
Talat Hassan
Vasudeva Iyer
Vinay Vaishampayan

Indian Guests at George W. Bush's State Dinner For
Prime Minister Manmohan Singh and Gursharan Kaur

July 18, 2005
Invited Guests
Amar Bose, Bose
B.N. Bahadur, BBK Ltd
Bernard Malik, FIACONA
Bobby Jindal, Representative
Brandon Chillar, St. Louis Rams
Durga Agrawal, Piping Technology Products
Farooq Kathwari, Ethan Allen
Manoj 'Night' Shyamalan, Film Director
Mrs. Indra Nooyi, PepsiCo
Mukesh Ambani, Reliance
Nandan Nilekani, Infosys
Narender Reddy, Sterling Realty Services
Praveen Chaudhari, Brookhaven National Laboratory
Raghavendra Vijayanagar, Gulf to Bay Cardiovascular Surgical Associates
Raghubir Goyal , Correspondent, India Globe
Raj Vattikuti, Covansys
Rajwant Singh, Sikh Council on Religion
Ratan Tata, Tata Sons
Ravindra Desai, ENT Surgeon
Shabbir Hashim, Westgate Dental Arts
Sharad Lakhanpal, AAPI
Srini Malini, Radiologist
Subha Barry, Merrill Lynch
Sunita Lyn Williams, NASA
Vishakha N. Desai, Asia Society
Zach Zachariah, Fort Lauderdale Heart Institute
Indian Delegation
K. Natwar Singh, Minister of External Affairs
Mayankote Kelath Narayanan, National Security Adviser
Montek Singh Ahluwalia, Deputy Chairman, India Planning Commission
Prithviraj Chavan, Minister of State
Ranendra Sen, Ambassador of India,
Shyam Saran, Foreign Secretary
Thottuvelil Krishna Aiyappan Nair, Principal Secretary to Prime Minister

Guests of Guests
Abraham P. Mammen
Alexander Zachariah
Arwa S. Hashim
Balbinder Kaur
Farida Kathwari
Jai Narain Gupta
James Barry
Kalpana Sen
Karin Chaudhari
Kathleen M. Vijayanagar
Lalita Desai
Michael Williams
Molly Zachariah
Arathi Narasimhan
Padmaja Vattikuti
Raj Nooyi
Ram Chillar
Rani Bahadur
Rashmi Lakhanpal
Robert Oxnam
Sikiu Yepes
Supriya Jindal
Sushila Agrawal
Thomas Abraham
Ursula Bose