Life
Go Figure! Win $30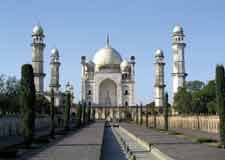 Almost two-thirds misidentified Photo 1 as the Taj Mahal, to which the Bibi ka Maqbara bears a striking resemblance. Indeed, it is also known as the Mini Taj of the Deccan, which was built in 1660 by Aurangzeb's son Azam Shah as a tribute to his mother, Dilras Bano Begam.
Even more were off the mark on Photo 2, which was most commonly mistaken for the Meenakshi Temple, but also for Khajurao, Konark Sun Temple, Tirupati Temple, Somnath Mandir, etc.
The correct answers are:
Photo 1:
Bibi ka Maqbara in Aurangabad, Maharashtra
Photo 2:
Kesava Temple in Somnathapura, Karnataka

In all, only 11 readers identified both photos correctly.
The winner of the $30 prize, selected by lottery, is
Meghana Palshikar from Charlotte, N.C.