Food
Gheeing America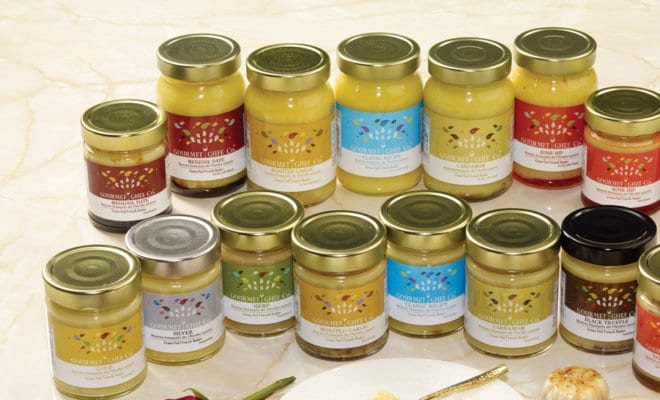 Ghee goes mainstream in America.
A few months ago, Lynbrook, N.Y. based, Gourmet Ghee Co. received an unusual request. A bride in Connecticut, wanted to source ghee made by the small manufacturer for her Rose Ghee Wedding Cake.
Indian American, Nazia DeFrank, who runs the company with her Sicilian husband Steven DeFrank says: "The bride was very Paleo (diet) driven and feared that she wouldn't enjoy her wedding cake because of all the butter or lard in it. She had also been using ghee and inspired by the benefits of it, put us in touch with her baker who came up with a rose ghee cake to complement the flavors with the Indian household staple."
Elsewhere in California, a new social trend is gaining some traction. Ghee parties, organized by homemakers, nutritionists or just enthusiastic home cooks are generating a buzz. Often these ghee party hosts stock ghee jars and conduct an experiential ghee talk followed by a cooking session using ghee recipes. The women participating in these parties can buy the ghee jars and also learn ways to use this ancient kitchen Indian staple.
The ghee's growing visibility has not gone unnoticed by U.S. supermarket chains; several, including Whole Foods and Costco now stock them in their aisles. Celebrity chefs have been endorsing ghee and using it in everything from their recipes to smoothies. Ayurveda inspired benefits of ghee are increasingly being listed in new-age keto and paleo cookbooks.
The golden liquid is also making a cameo in 'it' millennial shot drinks. In Santa Monica, Calif., at the famous Bulletproof Coffee Shop a shot of ghee spiked bulletproof coffee is the new Instagram de-riguer. If that's not all, reality TV star Kourtney Kardashian, a stickler for vegan and healthy diet, famously announced on social media that her day begins with a spoonful of ghee. Twitter handle Paleoplan posted a tutorial on how to make ghee using an instant pot and celebrity chef Alton Brown tweeted a recipe to make ghee to millions of his followers.
It would not be an exaggeration to say that ghee is having its moment under the sun, or well, the moon, considering that a few companies, such as Ancient Organics based in the Bay Area, claim to make all their ghee under a full moon night during the waxing phases of the moon!
According to market research company IMCAR's latest study, Ghee Market: Global Industry Trends, Share, Size, Growth, Opportunity and Forecast 2018-23, the global ghee market grew at a cumulative annual growth rate of 3.8% between 2010-17, topping 5.6 million tons in 2017. Ghee startups in the U.S. are inundated with queries on how to store ghee or use it in everyday recipes.
New Jersey based Pure Indian Foods, which retails its organic ghee at Whole Foods and Nature's Harvest, amongst other U.S. retailers, was started in 2008 by Sandeep Agarwal. Agarwal, who left his Wall Street job to venture into ghee in the United States, admits that when he started his target audience were Indian immigrants. "However," he says, "I was surprised to find that the Americans were more receptive to the idea of all organic, 100% pure ghee that was just being discovered as the new secret to good health."
"Today most of our customers are Americans and not Indians," he says.
But how did ghee, which ruled for centuries in Indian households mostly in the form of ghee chupdi roti (flatbread smeared with ghee), transform into this new cool health potion, served in chic cafes in the form of bullet shots and mentioned as the holy grail in paleo, keto and whole 30 diet cook books? Can ghee, a potion traditionally made from bovine milk in India, go the way of Yoga and capture the health superfood space in America?
Agarwal thinks so: "Look at what is happening with turmeric. Ghee with its plethora of benefits is fast becoming a necessary craze. Americans may not be using it actively in their food, but they are finding ways to incorporate it in their diets."
Interestingly, until recently only sparingly mentioned as clarified butter in U.S. recipes, the term ghee is now used clearly and robustly (often without an explanation) in another nod to the acceptance of diverse cultures.
According to ghee purists though, clarified butter does not accurately describe the potion, but it was used nonetheless to help Westerners understand the difference between ghee and butter. Nazia Aibani, founder of Gourmet Ghee Co., says, "We sell our product on Amazon as ghee butter because many Americans still do not understand ghee and thus it is important for them to have a connection."
But as ghee becomes more commonly known, the understanding of its composition and health benefits has grown too. Renowned eateries are proudly proclaiming ghee in their menu. At Rasa Indian restaurant in Washington, ghee roasted lamb chops are a popular item. At the just concluded Mrs Universe pageant in Florida, the contestants were served ghee because of its collagen boosting properties. It also served as a better substitute for caffeine for contestants who had ghee shots in tea.
While the American shift toward ethnic health food secrets and rising disdain against processed food led the way for health experts to bring ghee to the continent, new-age food diets, such as keto, paleo, etc., set the ball really rolling for acceptance of ghee in American kitchens.
The bringing of ghee into the American fold by many young Indian American entrepreneurs also reflects an embracing of their identity moment. Aibani says: "I ventured into the ghee making trade because I wanted to reclaim it from many people who had little or no knowledge about the basics of ghee consumption and were selling it. I wanted to bring the ancient wisdom that Indians have about ghee to help propagate it like it should be, and not as a fad."
Aggarwal concurs, mocking certain practices such as making ghee on a full moon night: "It may sound very mystic, but it has no scientific co-relation. In Ayurveda, it is prescribed that certain medications should be prepared under the full moon for them to absorb the energy, but if you are simmering ghee inside a building on a full moon night, nothing's gonna change. Also American laws forbid any cooking in open air, so the whole basis of this practice goes for a toss."
Several companies are now wooing a newly interested crop of ghee lovers with interesting flavors and fads. While Pure Indian foods sells everything from Brahmi, Shatavari to turmeric ghee, it also has on its website a recipe for paleo ghee popsicles with a list of paleo friendly fruits. Ancient Organics claims to chant the mahamrutnjay mantra during the making of their artisanal ghee to create a healing environment. Gourmet Ghee Co. has ghee in Indian and Italian flavors, such as Gulkand and Black Truffle, besides a 24-carat gold leaf ghee sold for a cool $29.99 for 9 oz jar. Fourth & Heart ghee comes in flavors such as Madgascar vanilla bean and Himalayan pink salt and Tin Star Foods has launched brown butter ghee in small sachets for easy portability.
But defying the fads, many Indian American ghee makers insist that their love for ghee originated from deeply personal reasons. Says Aibani: "I was in a high-stress TV job while pregnant. My water broke five-weeks early and when I had my baby I really struggled with breast feeding. During this time, my mum asked me to consume ghee. Skeptical, when I had ghee with coconut flakes oatmeal, I was surprised at the amount of milk I produced. Later when I struggled with post-partum weight, I took to ghee again on my mum's insistence and I began losing weight. I knew that this potent ingredient had to be discovered in its entirety."
Aggarwal, likewise, has another personal story to share: "When we had my first baby, he really struggled with allergies and asthma. Hapless, we began taking stock of our diets and the moment we switched to all organic natural ghee things began changing. Back home in India, I had a ghee business for generations. It took me no time to decide that I need to bring the business here in the U.S. But instead of importing we tied up with farms in U.S. and made our own pure organic ghee. Most ghee makers operate out of small, commercial kitchens to ensure that the product is made personally and with a lot of care."
The Skinny on Ghee v Clarified Butter
Butter comprises of about 80 percent butterfat, 18 percent water and 1-2 percent butter solids. When butter is heated over a low flame, it foams as the water evaporates. The milk solids separate and bubble to the top, where they are skimmed off, yielding clarified butter. Clarified butter can be used much like any oil since, unlike butter, it does not burn at higher temperatures.
If you keep heating the butter past evaporation of the water, the milk solids fall to the bottom of the pan and begin to caramelize. The strained mixture is called ghee, which has a nuttier, toasted flavor compared to clarified butter.
In another strain, known as brown butter, (buerre noisette in French), butter is heated until the water evaporates and milk solids brown, turning the mixture fragrant and nutty. In brown butter, the mixture, unlike ghee or clarified butter, is not strained. Brown butter is principally used as a flavoring agent on gnocci, scallops, vegetable dressing,, etc. Since it still has the mild solids it cannot be heated to high temperatures.
So here is the skinny on the three types: ghee and clarified butter can be used interchangeably, although ghee has a better fragrance and nuttier taste. Brown butter can't be used in high heat cooking, but is tastier as a flavoring. Next time consider smearing the chapatis with brown butter; keep the ghee for the parathas. — LIFS
Jolen's 'natural' whitening cream, Fair and Lovely's skin whitening face wash, Pond's White Beauty night cream, Fem's 'natural' skin bleach. – LIFS