Entertainment
Game of Thrones: India's Westeros Weddings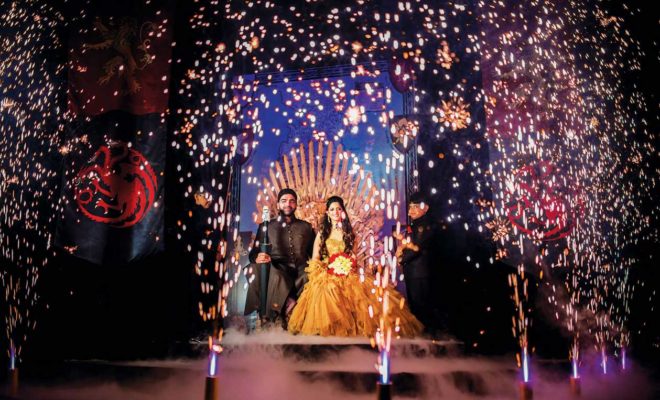 India is known for its pompous weddings. Game of Thrones is the new craze for their big, fat destination weddings.
As the world anxiously wonders who among Cersei Lannister and Daenerys Targaryen shall rule the Seven Kingdoms of Westeros, an Indian couple recently occupied the glorious Iron Throne for their wedding function in Udaipur.
The event, based on the popular American fantasy drama, Game of Thrones (GoT), was designed around House Stark's "Winter is Coming," complete with tens of kilograms of cotton to depict snow, Valyrian steel swords, and even a target board with a picture of Joffrey Baratheon, the much-despised king, who executed the Lord of Winterfell.
Shaurya Mehta, the groom, says what started off as an "epiphany" was initially difficult to realize since he had to blend the complex, oft-violent story arcs of the sitcom with the sobriety of a desi wedding. Getting his parents to visualize it, too, was difficult since the average audience age for the dramanseries in India is 18 to 30 years.
"I was confident about coming up with something decent, given my passion for the show, but it turned out to be better than we expected. My wife and I walked to the stage with GoT's 'Winds of Winter' track playing in the background, and our closest family and friends escorted us with flaming torches, swords, and 18-feet tall sigils of the four houses of Westeros. The Iron Throne, which was awaiting us at the stage, remains a prized possession," says Mehta, who also carried Jon Snow's magnificent sword, Longclaw to the event.
Ajay Modgil, founder of F5 Weddings, which organized Mehta's event, says that the planning and execution process was riddled with challenges. Neither he nor his team had watched the sitcom, which has recently gained popularity in the country, and at least four of them had to watch all the six seasons of the show (roughly 60 hours) to comprehend Mehta's expectations and deliverables. Once the team was done with the research, it was time to allow their creative juices to take the lead.
"The idea was simple — the more décor elements we add, the more realistic it appears," says Modgil. "Keeping the details in mind, dragon eggs were created, fruits were carved in shape of sigils, table centrepieces denoted the various houses, and even the bar menu had drinks named after the characters in the show."
India is known for its pompous weddings — a $16 billion industry in the country, growing at an annual rate of 25 to 30%. Couples are constantly looking for innovative themes for their big, fat destination weddings.
When the Priyanka Chopra-starrer Mary Kom was released, weddings around the boxing theme were popular. During major cricket tournaments cricket-related themes are in and then there are the themes around popular sitcoms, films, and characters.
"Bollywood theme is consistently in demand, and couples often want to recreate a movie scene, or a particular set for their functions, or have a general Bollywood backdrop to the arrangements. The theme is then incorporated in every facet — from the invitations to the decor to the jewelry to the attire of waiters. One theme, which foreigners usually ask for, is the recreation of the British comedy film, The Best Exotic Marigold Hotel. More recently, Beauty and the Beast has drawn interest of soon-to-wed couples," said Swati Singh, a Jaipur-based wedding planner.
With the GoT fever encircling the world at the moment, soon-to-wed couples are now flocking to wedding planners with requests to bring Westeros to India for their special day.
Delhi-based Manish Grover, CEO of Shaadimagic.com, which claims to be India's biggest wedding planning marketplace, says that theme-based weddings are always challenging, but with the vast ensemble and varied plot lines of GoT, this world is even more difficult to recreate.
"Our portal has a database of close to 1.75 lakh vendors, but not all of them can create props required for a GoT wedding. In case of such requests, we only approach the most elite vendors on our list. Everything — from the pre-wedding shoot to the invitations to the attire to the decor — needs to compliment the creative styling of the theme," says Grover.
FFor Mehta's sangeet and cocktail function, Modgil says that most of the props were created by his team in Mumbai and transported to Udaipur via road. This was the first such event in India, and with no reference point, the organizers had to put in considerable energy to identify the most suitable vendors from across the country. In all, it took the team five months for the planning and execution of the event.
"After the function, our phones haven't stopped ringing! We are flooded with requests from Indian couples to bring the Realm alive for their weddings as well. The sitcom has set some major wedding goals, has broken the trend of stereotypical themes in ceremonies, and has created a new niche for creative weddings," says an elated Modgil.
Singh says that her Jaipur company, too, has been approached by several couples for GoT-themed weddings. Singh's team is currently "studying" the show, and has been instructed to watch out particularly for striking scenes, imitable sets, and intriguing characters. However, the cost for realizing such themes, she says, is always substantially higher than a regular wedding, where decorations are usually limited to flowers.
"Expect to pay at least 50 percent more," says Singh, "When couples approach us with ideas like a GoT-themed wedding, we always warn them about the cost. Budgets for such weddings are open-ended because a lot of things have to be created from scratch."
However, it is not just wedding planners, who are analyzing the show to create its matrimonial parallels. Meesha Damania, owner of Cakes and Cupcakes, a confectionery store in Mumbai, says that she has created tens of cakes based on the GoT theme for Indian weddings in the last few months. She adds that since she hasn't watched the show, she usually asks her clients for a specific reference point from the sitcom — a particular episode, character, or a scene.
"Since this is the new trend and has several people interested, we've put up all the GoT-themed cakes we've created so far on our website. Unlike regular orders, we require at least a four-day notice for such cakes," says Damania.
With the rising demand for GoT-themed ceremonies, Indian wedding portals in the last few months have aggressively started creating content around the theme, providing attire guides based on the show, wedding invitation concepts, and hairstyle inspirations for the bride, among other idea-oriented stories. Such content, say industry aficionados, has a huge audience in the contemporary Indian wedding market.
Devika Patel, chief creative officer at Wedding Brigade, another planning company, says that content generation around the drama series is imperative to gauge and guide the show's wide audience about their GoT theme-related wedding preparations. Patel says that while publishing stories, she is mindful of keeping the Indian culture alive in the foreign backdrop.
"GoT is such a vast show; its trends keep changing every season. So we have to pick out the most salient features, and generate content around them. To illustrate, since Daenerys Targaryen is currently one of the most popular characters on the show, I would create a post headlined, '10 Khaleesi hairstyles to wear this wedding season.' The point here is to analyze the sitcom for its trends, generate workable ideas around them, and provide advice for their easy execution," she says.
Patel adds that not everyone can afford the big, fat Indian wedding, and those with lower budgets could opt for ideas presented through this content. "In case of budget constraints, the GoT theme works best for smaller functions like bachelorettes."
Industry gurus say that while planning a wedding, couples usually opt for themes that are innovative, and ones which are close to their hearts or mean something to them. A GoT theme, they say, fulfils both criteria.
Dhiraj Sanil, Operations Manager at Reels and Frames, the company which photographed Mehta's wedding, says: "Thanks to the first GoT-themed event, couples now know that Westeros can indeed be brought to India. GoT has been around for a while, but in India, it's only now that the show is gaining the mass popularity it enjoys abroad. Hence, the craze of turning the fantasy series into reality has also picked up very recently. With more and more youngsters joining the show's fan club, it is safe to say that this is just the beginning of GoT-themed events in India."
He adds, "Recreating the world of GoT is a lot of work, yes, but it's all good as long as couples keep away from The Red Wedding!"