Life
Forget Coachella, Come to Rajasthan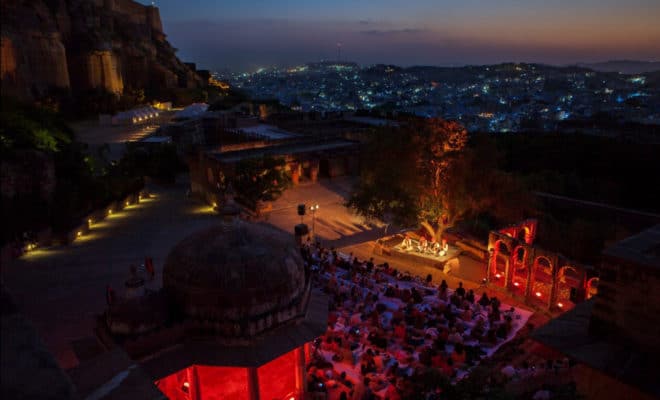 For years Indian music lovers salivated over international music festivals, such as Coachella, Lollapalooza and Glastonbury. But now the desert state of Rajasthan, with an impressive calendar of music festivals is becoming India's hottest music destinations.
As Sharad Poornima, the brightest full moon night of the year, swept the desert state of Rajasthan with a glowing light, the cadence of music filled the autumn air. At Mehrangarh Fort, the venue for Jodhpur RIFF 2017 from Oct 5-9, which is held annually to coincide with the full moon night in the city, musicians from India and abroad played the best of Rajasthani and global sounds. At this year's edition, 350 musicians from Rajasthan and abroad amalgamated for an unusual musical synergy.
For some years now, music tourism has been gaining traction in India with an annual calendar of music events dotted across the country. From the electronic music festival, Sunburn, in Pune and Naariyal Paani in Alibaug, near Mumbai, to Ziro Music Festival in the Ziro Valley in Arunachal Pradesh, music enthusiasts have growing choices. While nearly 24 big ticket music events are held in India each year, off late, Rajasthan, the desert state, with its folk art culture seems to be fast becoming the preferred music destination.
The audience for these festivals is largely from India. However, many festivals also attract a bevvy of international visitors. According to Sarah Chawla, founder of Wild City, which partners with Rajasthan's Magnetic Fields Festival, "The global trend cycle of music festivals had to come to India and India is very much a part of this trend cycle."
Many of the festivals are on par with top music festivals across the world. The festivals also are an alternative to Bollywood dominated entertainment in India. The festivals also give space to artists from a variety of genres, ranging from EDM, blues, rock, pop and of course folk, which is the biggest draw, especially in Rajasthan. According to festival organizers, the events also give an opportunity to local artists to bring their traditional arts to international audiences and opening up vistas for global collaborations.
HH Maharaja Gaj Singh II of Marwar-Jodhpur, chief patron of Jodhpur RIFF says: "Rajasthani folk musicians are at the heart of Jodhpur RIFF. Their traditions are acknowledged and celebrated at the festival and they benefit from growth and exposure through high-quality international collaborations, as well as through our efforts to present them in festivals in India and across the globe. Jodhpur RIFF is increasingly recognized as the leading name for music travel in India."
The popularity of the Indian festivals is growing, although they remain a far cry from their international counterparts. Last year, Coachella, the biggest U.S. music festival attracted 125,000 attendees and raked in $94 million. By contrast, the Indian music festival sector's entire volume is under Rs 150 crores ($25 million), according to Vijay Nair, CEO and founder of OML Entertainment, the organizers of Bacardi NH7 Weekender.
According to estimates, nearly 1.5 million tickets are sold annually at various music events in India. The growing popularity of music festivals can also be gauged from the fact that Bacardi NH7 Weekender, one of the more popular fests in India, added Weekender Express to its calendar this year, which includes one-day concerts in seven cities. The festival also has a Jaipur edition, featuring the likes of Nucleya and Faridkot Ritviz in the city.
Nair, says: "As we keep doing the festivals year after year, there are two trends that we see — increasingly there are more people who are coming in from other cities to be part of the main events and there are more and more people asking us to bring festivals to their cities. It's bolstered our belief that an audience exists in the country."
But music festival are still not mainstream in India and many observers are skeptical about their profitability. Organizers concede that a music festival is not just about the music, but also the broader experience at the event. That may well explain why Rajasthan, with its colorful culture, enchanting landscape and fascination for foreign tourists, is a top choice for music festivals.
Many festivals rely on sponsorships to cover costs as ticket sales alone do not meet expenses. But some popular festivals, such as the Magnetic Fields Festival at Alsisar Mahal in Rajasthan, rely on ticket sales for their financial model, similar to the practice in the West.
A roundup of the most popular music events in Rajasthan.
Jodhpur RIFF
Mehrangarh Fort, Jodhpur (October 5-9, 2017)
Jodhpur RIFF has attracted international attention. Music lovers from New Zealand to the United States travel every year to attend this festival. The folk festival of Rajasthan was launched under the patronage of Mick Jagger and H.H. Maharaja Gaj Singh II nearly a decade ago, and draws on the cultural tradition of Rajasthan. Festival director Divya Bhatia says, "Our endeavor has been to nurture as many regional artists as possible right here in their land and to get them respect and recognition from across the world…. It's our way of giving visiting artistes an opportunity to perform on stage with each other, most of whom have never met before or may never meet again."
This years' edition featured 350 artists in genres ranging from rock and Qawwali to Sufi over five days and attracted nearly 9,000 visitors from across the globe. But the main draw are performances by folk artists from Rajasthan. For music aficionados, the music of sarangi, tambura, shankh, dholak and other instruments heard so vividly during the festival marks the essence of Jodhpur RIFF. This year, the musician Ladu Ram Nayak from the Shekhawati community revealed how earlier people came to folk artists to heal from snake-bite as the musicians played powerful strains that made the venom lose it effects. Nihal Khan from the Mangiyar community enraptured the audience with songs of separation and travel. The composer Ram Sampat created a jugalbandi between traditional percussionists of Rajasthan and contemporary drum players.
Magnetic Fields
Alsisar Mahal, Rajasthan (December 15-17, 2017)
Held in December every year, Magnetic Fields has been growing in popularity organically. The festival's main draw is the holistic experience which includes camping under the skies, discreet parties, dance and music in palace dungeons, art installations with jazz, jam and electronica.
The 2017 line-up includes British artist Four Tet, Canadian composer and musician Dan Snaith, Your Chin by Mumbai based Raxit Tiwari, and Donal Bergin, a prominent name in London's electronic music scene. The three-day carnival combines the history of the magnificent venue with rustic pleasures, such as kite flying at sunset as electronic and jazz melodies resonate in the desert palace.
Udaipur World Music Festival
Udaipur (February 9-11, 2018)
Nearly 150 artists from various countries converge in the city to combine genres and cultures through music. As with most festivals in Rajasthan, the ambience takes center stage with early morning concerts in the backdrop of Fateh Sagar Lake. While the 2018 line-up is yet to be officially announced, the 2017 edition featured artists from 16 countries, including the UK, Iran, Norway, Cuba and Switzerland.
Iranian American singer Azam Ali enthralled the audience with Electro Sufi World Music and Ablaye Cissoko from Senegal collaborated with Constantinople Ensemble from Canada. The finale performance was by the London Community Gospel Choir. Festival Director Sanjeev Bhargava says, "A festival of this scale featuring such diverse music from so many different continents and regions coming together in one of the best tourist destinations of India makes Udaipur a culturally vibrant destination."
World Sacred Spirit Festival
Jodhpur (February 16-17, 2018)
Held in February every year, the event brings lovers of Sufism together. Sufi poets sing renditions of Rumi and Bulley Shah as the crowds sway into a spiritual trance. Next year's festival will be held at three different breathtaking venues, Mehrangarh Fort, Ahhichatragarh Fort of Nagaur and Toorji Stepwell Square, across the desert city of Jodhpur. Artistes scheduled to perform include sitar player Irshad Khan, folk singer and storyteller Parvathy Baul. musician Mehdi Nassouli, tabla player Zuheb Ahmed Khan from Palestine, flute player Lingling Yu from China and musicians Samuel Cattiau and Quentin Dujardin. Princess Shivranjani Rajye of Jodhpur curates the festival. Maharaja Gaj Singh II of Marwar-Jodhpur said "The festival is a pioneering effort in cultural conservation and music tourism in India."