Expat Voices
For Me, India Has Been the Best School of Life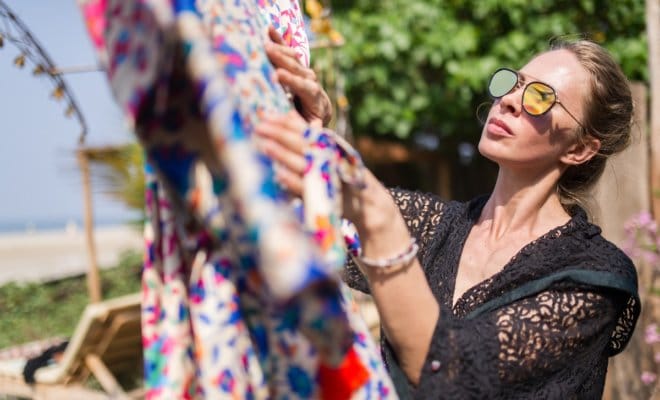 Goa and India existed as two separate worlds in my imagination. Most people are not aware of the rich heritage and history of the state.
Irina Nepryntseva first visited Goa with her girl gang in December 2005 and immediately felt at home.
"My friends and I were eager to explore the world after graduation. I hardly knew anything about Goa at that point in time. I had heard stories of hippies, beautiful sunsets, people living within a community, etc. It seemed like a place where one could just be," the 37-year-old interior designer from Moscow tells Little India.
Irina, who is currently developing her own brand of body and home décor products, talks about her love for Goa and much more.
Of Beaches and Heritage Buildings
What impressed me the most about Goa were the beautiful beaches. There's something in the air here that makes me smile and feel like a teenager at a summer camp. This place has a positive vibe. I love going for early morning jogs, eat simple vegetarian food, and interact with creative people here.
Goa and India existed as two separate worlds in my imagination. Most people are not aware of the rich heritage and history of the state. I traveled across Goa visiting beautiful heritage buildings and reading up on the state's architecture and history. I had purchased a boutique agency here over a decade ago, which provided the best beach houses and colonial houses to tourists on rent. So, I would write articles about Goa for a website to impress clients to visit the state and stay in our villas rather than hotels.
Commercialization
The atmosphere in Goa has seen a rapid change with the increase in commercialization. One must be careful while going out after dark. There's more garbage on the streets as well as the beaches. The crowd is not that great.
The state seems to be slowly losing its charm and fascination. The condition of the roads is bad, the beaches are dirty, and the focus seems to be more on commercializing this beautiful holiday destination.
Developing a Design Brand
I closed my agency in 2014 and worked as an interior designer at a big construction site for a couple of years.
I'm currently developing my own brand "IRUFORU" for which I design different home accessories and products related to fashion. I work as a consultant with Indian and Russian companies on interior design projects – buying furniture, fabrics, home décor items, etc. – for which I get to travel a lot around India, Asia, and the Middle East.
It is difficult to adjust to the work culture here, especially for a woman. I have to constantly prove myself to be taken seriously and not be dismissed as just another tourist. People are irresponsible when it comes to work. There's cheating as well. People don't usually keep their promises.
I'm still trying to understand the mentality of the local community here. There are many hidden nuances which foreigners should know, accept and follow if they wish to get things done in India.
Tryst with the North
I wanted to explore the real India and, therefore, I traveled up North in the Himalayas for about three months. Moreover, I wanted to introspect and have a better understanding of my feelings without bothering about what other people had to say.
I followed my gut feeling and spent a couple of months alone in Rishikesh. I'd wake up at 5 am, go for yoga classes, bathe under the waterfalls in the jungle, read books and go to sleep by 8:30 pm. I was at peace with myself and wished for this state of mind to last forever.
When the time came to leave for Moscow, I felt like I was returning to the materialistic life again. I could feel a huge difference within me following that trip.
Visit to Hemkund Sahib
My visit to Hemkund Sahib in 2010 was the most difficult and spectacular one. I was staying with my ex-husband at that point of time. We saw people wearing orange-colored turbans driving/riding up and down the road. We were curious to know where they were going.
I soon found out about Hemkund Sahib that boasts of a 500-year-old white marble temple, where Sikhs offer their prayers. We decided to visit as well! We took an old bike on rent and started our journey with my husband riding pillion. It was cold and there was no proper food available. We faced lack of sleep and couldn't even take a shower. There were road blockages. We almost had a bike accident. I still remember how fast my heart started beating when the bike skid. Fortunately, I managed to get the bike straight and continue riding.
We finally reached the last camp where we were required to park our bikes and climb up till the gurudwara. There wasn't any actual road. We climbed for hours, got wet due to the rain but the view was so breathtakingly beautiful – wild waterfalls, crystal blue sky, rainbows, and lakes – that the trouble was all worth it. It was a surreal experience.
India – Best School of Life
I love that fact that there is always more than enough to explore in India. People are kind and the hospitality is amazing. Life is quite unpredictable and adventurous here. It's like eating your favorite dessert. No matter how much you eat, it is never enough. You always want more of it.
I have become much wiser, patient and open-minded after moving to Goa. I developed my personal and professional skills here, made mistakes and learned from them and continue to do so. I've been able to know and understand myself better. I became physically and mentally stronger after shifting base to India.
Living in India made me understand the different aspects of life. It's not been an easy road but I'm happy here. I have had the best time and the best experiences in this country for which I will be eternally grateful.
For me, India has been the best school of life.