Business
Flip Side – Measure Of A Pakistani Coin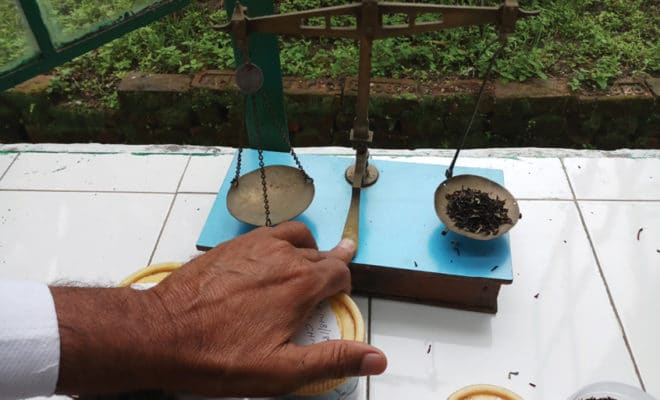 A tea estate in the Darjeeling district of West Bengal has been using the Pakistani currency in its process of sampling tea.
The mere mention of Pakistan in India often conjures up images of rivalry, bloodshed and revenge. But there is a bit of Pakistan beating right in the heart of Indian hills.
A tea estate in the Darjeeling district of West Bengal has been using the Pakistani currency in its process of sampling tea. The Namring Tea Estate in Darjeeling has been using an old 25 paisa Pakistan coin for the past several years.
It uses the currency of the neighboring country as a weight to measure small quantities of tea for tasting before arriving at an appropriate sale price. Apparently, the coin weighs 2.5 grams, the precise amount of tea required for sampling.
Harkaram Chaudhary, superintendent manager of the Namring Tea Estate, one of the oldest and largest manufacturers of tea, an hour's drive from Darjeeling, says: "I first saw the coin when I joined here in 1981. Even I was curious when I came to know that it belonged to the neighboring country. I wanted to know about its history, but my search didn't yield much result as there was nobody left to tell me about the coin."
Chaudhary, who has been at the tea estate for nearly four decades, speculates: "I believe that an Englishman who served here as a manager after Pakistan was created might have brought the coin."
The coin is made of copper and cellophane is taped to the bottom of a pan of a dented copper balance scale left by its British operators.
Both sides of the coin have been effaced over years of handling, so it is impossible to determine the year of the issue.
Namring, established in 1855 and purchased by its current owners, the Poddar HMP Group, from McNeil Berry, a UK company, in 1973, is unusual for more than just the coin.
The 1,068 hectares tea estate, which produces around 3 lakh kgs of Darjeeling tea annually, boasts several other antiques of the bygone era. It has an Eastman Timer for sampling tea. "The timer is set on an alarm of 5-minute duration that is required to boil the Darjeeling tea before sampling. The clock has been here before Independence, but is again not possible to tell the exact time it was brought here," says Chaudhary.
The tea estate also has a ropeway for transporting tea leaves from the tea gardens, which are situated several meters below, to the tea processing factory. The ropeway also harkens to British times.
"The ropeway is of immense help to us. It transports tea bags weighing as heavy as 70-80 kg from several meters below, where the tea gardens are located," Chaudhary says.
Sumon Majumder, general manager of the HMP Group, which runs the tea estate, said he considers the items valuable legacies: "It is extremely rare for a tea estate to have a foreign currency, especially Pakistani, for sampling tea. Even digital weighing machines are available in the market nowadays for tea sampling, but we have stuck with the old method to keep the legacy alive. The Eastman timer and ropeway are also interesting items that we possess. As both the countries were together before being partitioned, so it a sort of a tribute to the glorious past."
Karel Thieme, a tea taster and lecturer from Holland visiting the Namring, was intrigued by the antique items: "The tea gardens are undergoing lot of innovation with changing times. But it's really interesting to see that they have clung to the old items, which are slowly vanishing from the public eye."