Life
Dreams & Detours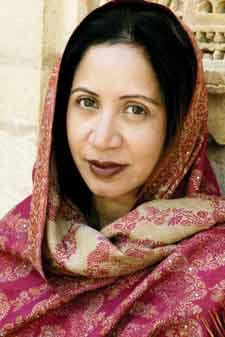 It's not every day that a first film made by a neophyte is selected to premiere at the prestigious Tribeca Film Festival, chosen over hundreds of other films. Nanda Anand of Manhattan beat those odds with her very first effort Return to Rajapur, which had packed screenings and picked up an international sales company to market it at Cannes. Movie critic Jeffrey Lyons screened the film for Talking Movies.

The film, a bittersweet love story about intersected lives, is set in Jaisalmer and the deft direction, breath-taking cinematography and music grab the viewer.

Equally intriguing is the real life story of the filmmaker, of how one can catch up with dreams, even if life takes a detour.

Anand, who has a masters in psychology, married early into a traditional household and with her physician husband settled in New York, bringing up their two children. It was only years later, after the children were grown, that she decided to study film in continuing education classes at New York University.

"I always loved cinema. I'm from Calcutta so Satyajit Ray and Mrinal Sen films had an impact on me," she says. But her earliest memories are of Sound of Music seen at the Metro cinema – not once, not twice, but 25 times!

"I was so fascinated. I identified with the youngest child, by the Austrian Alps," she says. "As you can see from my film, landscapes have always been very fascinating to me. My characters play against a background that also reflects who these people are, and seeps into their emotions and their everyday lives."

And so, Anand has moved between two very different lives herself, almost as juxtaposed as the two stories she mingles on the screen of two women in Jaisalmar at different times and ages. Usually it's hard to get financing without a track record, but her screenplay attracted three investors. She managed to bag Kelley Garner (The Aviator), Frank Langella (Dracula) as well as the incomparable Manoj Bajpai, not to mention sumptuous palatial locales.
The movie is low budget (Anand won't divulge the figure), but it looks so extravagant that she says people have asked her if the budget was about $35 million. How did she manage that? She says with a laugh, "Three reasons: the strength of the screenplay; me – I could charm the birds off a tree, and blessings from above!"
The Gods certainly smiled on her when she needed a sandstorm and heavy rains. Right on cue came a huge sandstorm, the first in 12 to15 years!
Her husband Vijay, who is an internationally known surgeon, has always been into the arts and her daughter too is studying film in college. Her family always comes first, and so Anand is happy to have taken the longer route to realizing her dream. She says, "I always tell women it's never too late to start doing what you really want to do."