Bollywood
Deepti Naval's Real Life Character in The Boy With The Topknot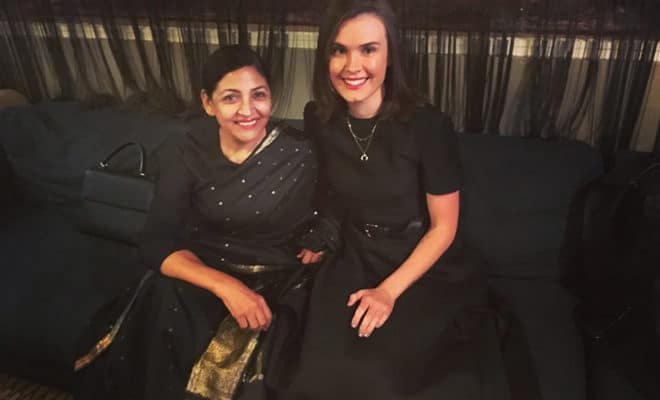 Deepti Naval says her character as a Paunjabi mom in The Boy With the Topknot is close to real life.
An adaptation of Sathnam Sanghera's memoir on mental illness in a family, The Boy with the Topknot, was recently screened on BBC2 to rave reviews.
The story is about a Punjabi family in Wolverhampton. The protagonist takes the strange and difficult behavior of his family for granted. When he turns 24, he discovers that his father and sister suffer from schizohrenia.
Deepti Naval portrays the role of a strong mother trying to protect her son, the protagonist (played by Sacha Dhawan) by keeping the family illness under wraps. She seeks to give the son a chance to lead a regular and normal life. Naval's character takes everything in her stride with a smile and deals with challenges, including the family situation.
Sam Wollaston in his review of the movie in The Guardian praised all three leads, Deepti Naval, Anupam Kher and Sacha Dhawan.
Known for playing characters closer to real life, Naval's roles are frequently etched in our memory forever, such as her recent character in NH 10.
Naval has cinema and creativity running through her veins. Subtle yet powerful, intense and impactful, her characters get treated differently because she holds the key to displaying nuances and bringing them forth as and when required with an awe-inspiring command over her craft.
In a phone interview from New York, Deepti Naval says she was approached by one of the casting directors to play mother in The Boy with the Topknot. She describes the mother's character in this movie as an intense one, who puts up a front, but the moment you scratch a bit, things below the surface begin to surface and simmer.
Initially, Naval was not clear about the role since she had not read the book, but after reading the script, Naval found it very intense. Naval played the role of a Punjabi woman. The makers asked her if she knew the language. "I said I am a Punjabi," responded Naval.
In a career spanning more than 35 years, Naval played a Punjabi woman for the first time, "because I found this character was very close to real life."
She adds: "Never thought I will be comfortable speaking Punjabi on screen. But felt very comfortable."
Comfort zone is a space where artistes find space to grow and develop characters. For Naval that came from the interactions she had with Nisha Parti, the producer and Lynsey Miller, the director. Once that connection was made, Naval says, "I knew I was in safe hands."
This is Naval's third film in the West, after Ek Baar Phir and Leela. "I am keen on working in the West. There is a certain comfort zone, a rhythm that I understand and the energy starts to flow. Working in that same energy zone feels good," says Naval, who was born in Amritsar but was raised and did her studies in New York.