Arts
Content Over Khan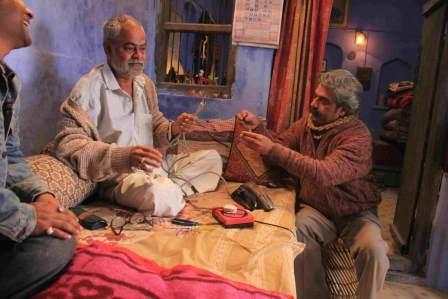 Everytime a couple of small films or a bunch of new, young, exciting stars hit the marquee the media go to town about how the new lot will take from the Khans and why are their days are numbered.
2014 has really been one helluva year for quality cinema! A whole clutch of bold, interesting films, sans the usual Bollywood formulae (big-budget, big-stars, sexy-locales) high on content, treatment and great story-telling, powered by fantastic performances, hit the screen and struck a chord among large sections of the audience and became successful at the box office as well.
Haider, Highway, Queen, Finding Fanny, Mary Kom, Mardaani, Dedh Ishqiya and Ankhon Dekhi were among the hits that audiences everywhere everywhere, bringing joy to the quality-starved and masala-saturated masses forever looking for light at the end of the tunnel. Will this inspiring drive, finally, catapult content as the key to good and popular cinema? Will engaging edgy and quirky themes, subjects and treatment replace the — y-a-w-n — Khans, as the real mover and shaker of new-age Bollywood movies?
"I seriously hope so and think so!" said a charged, 20-year old, Delhi-based film enthusiast at Filmfare's 2014 award ceremony.
While hope is indeed heaven's gift to struggling mortals and is always doing its number in the human breast, do the ground realities portent a change of heart, direction, blueprint and mindset for the Movie-Moghuls who comprise the decision-makers in B-town — production houses, big banners and reputed commercial film-makers?
Kolkata-based author and filmmaker Jayabroto Chatterjee doesn't think so. "It's one step forward and four steps backwards. While its really wonderfully rewarding to see a lot of ground-breaking stuff, fact remains that historically this lot has always had to struggle to get decent bucks for their next project, irrespective of their earlier superb film and its return on investment factor. It's a bimari, a deep-rooted mindset that somehow roadblocks big name producers from investing in these films, but happily pouring crores into the crappy, vulgar Humshakals and Happy New Year of this world!"
Chatterjee believes that the Lunchboxes, for all its global acclaim still remain endangered species and there's a lot of ground to be covered before this "blinkered and masala-driven mafia shift focus. Old habits die hard, bro!" he says.
Gifted young aspirant Sheena Chohan begs to disagree. The Mumbai-based Bengali beauty (an ex Miss Kolkata and reputed model on ramp and screen who starred in iconic art-house film-maker Buddhadev Dasgupta's films and played leading lady in a recent Bangladeshi film Ant Story, for which she received Best Actress nomination at both the Dubai and Shanghai Film Festivals) believes that never was there a better time than now for scripting a newhistory of Bollywood.
"Every single day I see new blood being encouraged and wooed by tons of bold, visionary production houses and filmmakers. They may not all be big banners and big-budget affairs, but they all have clearly seen the writing on the wall and are passionate about taking it forward. The films mentioned have obviously inspired them and the industry to think beyond the usual template and pursue the road less traveled, which promises great destinations. I audition every day and most of these guys are bullish on new themes, subjects and actors. Yup, the future is now, guys!"
Veteran TV (Buniyad's Masterji) and screen actor Alok Nath agrees: "Filmmaking has become an exorbitantly expensive proposition, so big ticket producers and banners prefer playing safe by going with big stars and popular, audience-friendly, feel-good subjects. But recent times have shown that this may not always work. Instead small films with big heart — like Queen, Holiday and Haider — driving off-beat subjects in a compellingly engaging manner, have worked. Even de-glamorising star, Akshay Kumar in Baby and making him perform with credibility in an area away from his staple hi-action/comedy, seems to pay off big time with an audience base obviously ready for change."
Film Buff Nupur Khanna however dismisses such talk as a "chalta phirta wave that comes and goes from time to time, exciting the individuals, critics and so-called lovers of serious cinema!" She invites the "pseudo-types" to have a look at the scorecard of the Khans and other big stars.
"Salman scored huge with Kick. SRK did the same with Happy New Year and as for Aamir Khan and PK, everyone knows it was the biggest hit in Bollywood history. Also Hrithik's Bang Bang rocketed past the Rs. 100 crores mark and both Ajay and Akshay Kumar continue to be in hot demand so what are we talking about? Sure these small films did well, but It's like comparing an Irfaan and Nawazuddin with SRK and Aamir. One is niche — select audiences — while the other is mass. It's a non-issue yaar. Glossy, glamorous, feel-good entertainment powered by A-listers is — and will always remain — the big O! That is the reality."
She has a point. Everytime a couple of small films or a bunch of new, young, exciting stars hit the marquee — Ranbir, Ranveer and now Varun, Siddharth, Sushant, Ayushman, Aditya — the media go to town about how the new lot will take from the Khans and why are their days are numbered … but has it happened? They and their films continue to rock the box office and their fans for over two decades and they seem to move from strength to strength, so, is all this noise about the Queens, Haiders, Highways, Mary Koms and Khubsoorats really worth it?
TV actress Jaysree Arora believes it most certainly is. The fabled mother in the memorable and iconic Humlog, says that "a solid, viable and respectable opposition to the establishment is critical if a good balance is desired. The masala movie and the dazzling, glamorous stars apni jaga mein … the brilliant actors and visionary directors offering new, fresh and interesting stories, apni jaga mein … there is place for all, so why this clash and confusion? It need not be either/or … it can be a little of both, hai na? You may not always be in the mood to see a serious, realistic, well-acted, hard-hitting and raw film like Citylights and may want to be entertained full-on by seeing Kick. Does that make you a cultural pariah? I don't think so! Everything considered, it's a wonderful thing that gifted directors like Vishal, Imtiaz, Hirani, Vikas Bahl, Abhishek Kapoor and Rajat have joined the old gang of Anurag, Dibakar, Sujoy and Shoojit to offer stuff that provides an engaging and entertaining alternative to established loud, over-the-top, mainstream fare. Great. More power to the movement!"
Film analyst Shiven Das demurs. "Arora is cutely fence-sitting while I choose to shoot from the hip. I am thrilled that 2014 has been such a watershed year bringing in such a superb crop of talented directors and films. To have the ability and desire to make a Dedh Ishqiya or a delightful remake of Khubsoorat or even quirky Hansee to Phansee or Dawat-e-Ishq represents a quantum leap in terms of courage and confidence — the twin factors necessary to challenge the monstrous masala muck from the movie moguls! For me Queen, Haider and Highway are audacious films that push the envelope and defy the status quo to win audience approval, all the way. Remember, fortune favors the brave."
At the end of the day, both long shots and close-ups need to be considered in the light of what movies mean to the Indian audience. At a basic level, they equate with entertainment, bharpoor mauj, masti, manoranjan! Here content is secondary to star value and there are tons of examples where a Dilip Kumar, Raj Kapoor, Dev Andnad, Rajendra, Shammi Kapoor, Manoj Kumar, Dharamendra, Shashi Kapoor, Rajesh Khanna and Amitabh and now SRK, Salman, Aamir, Hrithik, Ajay and Akshay's star-power, dazzle and charisma has eclipsed the wafer-thin content and come out tops.
There has also been content-driven oeuvre — sans glamor and formula — like the Guru Dutt, Bimal Roy and Mehboob Khan films, also Amiya Chakravarty and early B.R. Chopra movies followed by Hrishikesh Mukherjee, Gulzar, Basu Chatterjee, Basu Bhattacharya products that entertained while enriching the mind, providing food for thought. Alongside were the art-house projects championed by Shyam Benegal and his cohorts in the early 1970s searingly probing socio-economic and political themes that, at least then, resonated with large sections of the engaged parallel cinema audiences. All were relevant and were rooted in time and place.
Today's new-age audience however are different. While they are clearly open to new moviescapes and experiences, they need to be excited, challenged, provoked and charged with story-telling themes, subjects and treatment that they can relate to and connect with. Hence the 1970s Ankurs and Aakroshes are unlikely to find favor anymore and Queen, Haider, Highway, even Fanny are the new replacements. This is clearly confirmed by the fact that most major production houses and international banners are focused on budgeted, content-led movies. This includes UTV Motion Pictures and Spot-boy, Viacom 18 Motion Pictures, Walt Disney Studios and Fox Studio, which produced Bang Bang along Hawa Hawai, Citylights and Finding Fanny. Disney produced Haider and Highway along with Kick and PK, while Viacom offered two female-centric films. While what works and why remains one of god's enduring mysteries, the very fact that a band of fearless Samurais continue to relentlessly push the envelope, represents a giant leap in the right direction. So, while you get a Kick watching mindless star-filled blockbusters like Happy New Year, you also can be amazingly engaged with the tortured Prince of Srinagar in Haider, the broken-to-bindaas filly in Queen and the Stockholm syndrome duo in Highway.
Boy, for Bollywood, that counts for something.