Arts
Chumma Chumma De De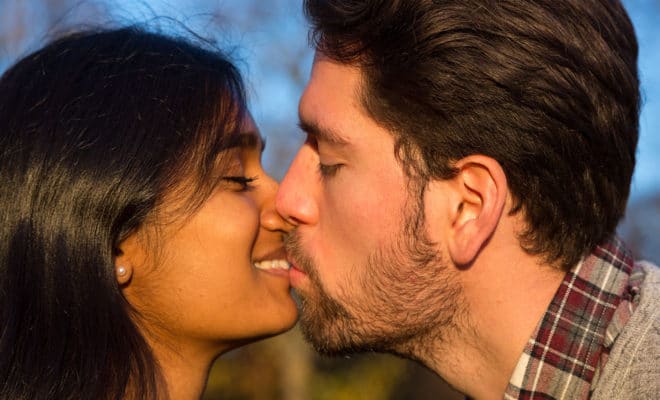 Indian society, post-globalisation may be wanting to make that critical, new-age, paradigm shift regarding morality, but still feel distinctly uncomfortable while discussing anything to do with sex.
A caress given with lips. Key to paradise. The blossom of love. The first discharge of a purely, physical, sexual sensation, the first crisis of voluptuous pleasure. The kiss has been described in many ways by experts, as the mother of all senses. Interestingly, while kissing in its present form is said to be rare among the primitive races, it appears to be fully established and almost instinctive in higher societies.
The celebrated Dr. Kinsey's Report found that kissing is more common as a measure of love among the higher echelons of society. Lower down the social strata, men may have initiated lots of action with tons of females, but the kiss has hardly played any role in those gasp-pant transactions. Sociologists believe that kissing was almost unknown in ancient Egypt (Cleopatra didn't kiss?) although widely practiced in Assyria and Greece, but mainly as a token of humility and reverence and fully developed in India only once the Aryan influence seriously invaded the land with its s-m-o-o-o-c-h signature.
The sublime language that Shakespeare describes as "the voice of all the Gods that make heaven drowsy with harmony" had once invaded early Bollywood, but in its latest avatar, it is played out in an embarrassing whimper. The passionate, red-hot, four-minute (longest recorded kiss in an Indian movie) shared between the husband-wife team of Devika Rani and Himangshu Rai in Karma (1933) has never ever been remotely matched in recent times. Consistently shying away (No kissing — we're Indians, yaar!] B-town freaked out simulating the kiss (by showing flowers swaying and then touching, birds coochie-cooing) in the dumbest way. Over time, kissing did make it into the movies, but last year lip-service chewed up a lot of space. The biggest surprise was the tight-lipped, no-kissing Shahrukh Khan giving in to the dictates of the script and actually kissing the angelic Katrina Kaif — more than once.
Did it work? Did these acts, blending love n' lust from hunks and babes get the required reactions from the audiences (the drool, gasp, pant) as expected? Out of the bedrooms and into the public domain, did new-age Bollywood finally manage to take the leap with any real degree of success? From all reports the answer seems to be a resounding no.
Film Critic Kalpana Nair says: "The grammar of Bollywood is usually so dramatized and over-the-top that something as fragile as a kiss invariably pops as a soap-bubble under its weight. After all, you can't choreograph it like a sex scene or cue armies of back-up dancers to lend it scale." She points out that Bollywood spent decades filming weird, cheap, titillating sex-scenes, worked its way to some coded satin-sheeted draped coitus, then shed most of its clothes (Beautify? Celebrate? Commodify?) to grapple desperately with the simplest of all acts defining, magical, pure love — the kiss.
She is spot-on. Never has the female body been so flashily, glamorously and sexily, promoted as an object of desire as in the last few years. From Munni to Fevicol the Item Girl — completely wiping out the yesteryear's Vamp/Cabaret Girl — is played by every single top heroine and remains a critical masala ingredient on its journey to the magical Rs. 100 crore club. Scintillatingly choreographed (with huge focus on the male-friendly gaze), Farah Khan and gang remain committed to turn on the heat and strike target with chart-busters that become veritable anthems, must-play numbers at every party/club/disco/wedding/function worth the name. Yet these very same guys can't seem to transmit even a fraction of the required gentleness, sensitivity, tenderness and chemistry when framing a simple, believable, convincing kissing scene that will light up the emotive quotient to ignite the moment. Why?
24-year old Mumbai-based photojournalist Awasthi ascribes it to two factors: "For one, almost without exception, Bollywood stars —heroes and heroines — are totally out of depth in this area because kissing is not a part of the prescribed B-town vocabulary required for success. How does one act out kissing scenes? The discomfort and cluelessness is evident. Secondly, B-town is full of bloated, shoshabaazi stars, (not actors) so layers and nuances are alien territory. Love scenes with kissing falls into this category — a space without props from directors, lyricists, singers, dialogue writers etc. — so it's a flop show!"
Sneha, a 23-year old Mumbai-based assistant director for a production house, puts it more bluntly: "It's amazing, but men can piss but can't kiss in public. They don't think twice about unzipping and letting fly. Koi sharam nahin, but the most beautiful and spontaneous act of bonding has them in dumb, panic mode."
Kolkata TV actress and Anchor June Malleya argues the problem is cultural: "To begin with, these romantic scenes are played out in the most unromantic environment of all; with camera, lights and tons of technicians around, the director yelling instructions … does it happen like that in one's private lives? Also, we, unlike the west, are not a demonstrative people. So kissing does not come naturally to us, in a, any-time, any-where, any-person mode."
Veteran, Delhi-based ad executive Esha Guha concurs: "As a people, we are not physically demonstrative while expressing affection, love or passion, so why should cinema be any different? Remember, commercial movies come with a built-in mandate of hyping the truth. With the exception of the original serial kisser Aamir Khan and later his enthusiastic successor Emran Hashmi, no one has really come on with any great heat. Even the king of romance, SRK, in Jab Tak Hai Jaan was a sensational p-h-u-s-s!"
Guha believes that the actresses have fared better in this area: "Be it Piggy Chops, Kat Kaif, Mallika Sherawat, Anushka or Deepika … they've all displayed greater efficiency, acting skills and credibility in the smooch department. Re-visit their scenes and you'll agree. The guys are a disaster!"
Mumbai-based journalist Roma Kapadia adds: "Indian society, post-globalisation may be wanting to make that critical, new-age, paradigm shift regarding morality, but still feel distinctly uncomfortable while discussing anything to do with sex. If we can't talk about it with any degree of normalcy and maturity, how can we ever hope to represent it, meaningfully?"
Journalist Shrishti Jha argues that that filmmakers obsessed with the Rs.100 crore club and convinced that kissing generates excitement incorporate it, come what may; "The heroines, for their turn, are running scared about vetoing it and getting dumped, replaced by another willing girl, so they go along. Also, somewhere they believe that bold scenes and kissing give them an entry into the business, even a ticket to stardom. Why else would everyone from Aditi Rao Hydari to Bips, Priyanka and Katrina kiss and flash flesh? As for whether they enjoy it or not, approve it or not … ask them!"
Communication specialist and ad titan Alyque Padamsee says: "I think it has to do with the fear of the scary, uncontrollable hormonal rush. A peck on the cheek or on the mouth is both safe and antiseptic, but a full-blooded, passionate French kiss where tongues play starring roles can lead to problems. Why? Because it unleashes desire and lust that usually zooms to the next destination and that is certainly not what stars are looking for! Hence, keep it cosmetic and quiet, sweet n' cute and let the camera and crazy body language imply passion and whatever it is that the scene requires. That's my take."