Life
Chappal for Chappell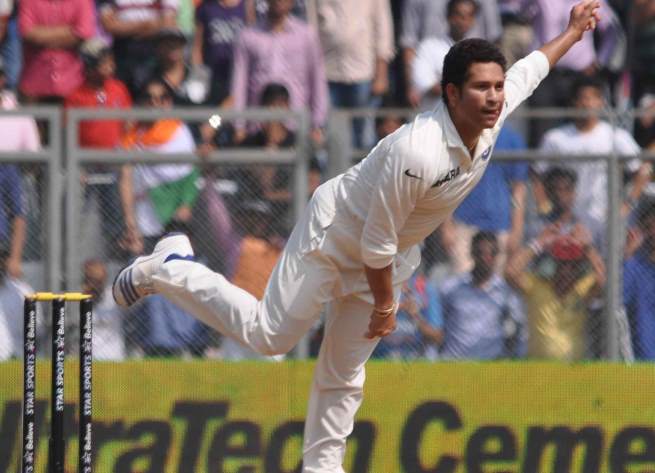 Has the great man finally succumbed to stooping to conquer, selling out and fallen into the age-old trap of sensationalizing facts to boost sales?
Sachin Tendulkar is an acknowledged living legend, admired, respected even openly worshipped by fans, media and every cricketer alive. His farewell last year was a spectacular blockbuster event and evoked the kind of collective emotion unseen and unheard of in the annals of cricket's glorious history, with every "great" pouring out superlatives to express their admiration, affection and even reverence for a great sportsman … and even greater human being.
In these days of scams, cricket-fixing and controversies, the "little master" stood out tall and proud as the finest ambassador of the game who, beyond his astonishing skills and world records, constantly demonstrated the true meaning of decency, decorum and ethics forever celebrating the spirit that enshrines this gentleman's game. Right through his fantastic 24 year innings, Sachin never once played with anything other than a "straight bat." No wonder, if ever, any mischievous controversy came his way, no one took it seriously. No matter what the provocation, allegation, anger or frustration, Tendulkar never ever betrayed anything other than a dignified silence befitting his reputation and the sanctity of both team spirit and the game.
For a man of this brand of discipline and focused dedication to the spirit of the game, a totally clean and non-controversial image, his belief that some things are best kept hidden in the interest of the sport, why this sudden and dramatic explosion of opinions about ex-Aussie coach Greg Chappell's disastrous tenure with the Indian team and ringmaster approach in monitoring their activities?
Chappell's celebrated face-off with outspoken ex-skipper Sourav Ganguly and his subsequent sacking from the captaincy is popular folklore to avid followers of the game. But during that period of terrifying — and destructive — turbulence, Sachin was (and chose to be) totally silent despite sympathizing with his childhood pal. Why?
His word could be huge in an understanding of the controversy, but is this sudden outpouring a calculated marketing gimmick — akin to Aamir Khan's TRP-inducing tears on his Satyamev Jayate reality show — to create buzz and bolster record-breaking advance orders for his book Playing It My Way, out Nov 6? For a man who symbolized dignified reticence, this tell-all tirade does seem a tad fishy, doesn't it?
Has the great man finally succumbed to stooping to conquer, selling out and fallen into the age-old trap of sensationalizing facts to boost sales? While many of his teammates — Sourav Ganguly, VVS Laxman and Harbhajan Singh — have supported him, full-throatedly, in print, Rahul Dravid and many others have chosen to be silent.
Not Greg Chappell though. He has categorically denied Sachin's allegations in print, from Australia, while refusing to get into a "war of words." Wow, the plot thickens — and this is only the tip of the iceberg for sure — but who's responsible for this ongoing drama? Is Sachin justified in laying it all on the line eight years after it all happened, because he felt passionately about the importance of truth's rightful journey to cricket lovers? Or is it just a sly nudge and wink from the Publishers and his PR team to light a spark and let nature take its freak course? In the famous words of Times Now's hi-profile anchor … the nation wants to know!
Media Commentator Saibal Chatterjee is highly critical: "I know that I stand amidst a minority, but I have always maintained that Sachin has never stood up for anything, except himself! Across 24 years there's been a lot of action in the dressing room, many causing huge discomfort to the players and the way things were going, but Tendulkar always remained completely and deafeningly silent. Little wonder that he has today allowed himself to be a pawn in this PR and promo exercise in hawking his autobiography. I am neither disappointed nor surprised at all … that's the man — Cricket's so-called Mr. Clean!"
TV Commentator Ayaz Menon however begs to disagree: "Sachin Tendulkar has written his bio. Both the publishers and he are keen to get it out in style in keeping with the cricketing legend's aura, reputation and image. They have released excerpts designed to create a buzz. Big deal! Isn't that a common marketing ploy? People tend to overreact and read stuff that they choose to. One must remember any product manufactured needs to be advertised, promoted, marketed and sold. Period. You can have problems, opinions and views on the content but to raise a hue n' cry on the pre-release buzz is silly."
ESPN's Swarup Purakayastha however takes umbrage at Chatterjee suggestion that Sachin chose to always remain quiet even when things were rotting within the team. "The man doesn't believe in creating waves or hot-footing immediately to the media. He believes in going to the people who matter — BCCI — and speaking his mind, which he did regarding Chappell. That's his character — solid, loyal and focused, doing nothing in a flamboyant exhibitionist way to win brownie points, but quietly and firmly stating his case. Besides, everybody knows that Sachin Tendulkar has always single-mindedly played for Team India with pride and passion."
Regarding this leak, Purakaystha, like Menon, dismisses the allegation that Sachin is a smart promoter, because its completely out of character. "It is the publisher's call after all." Cricket journalist Pradeep Magazine also rejects the notion that Sachin is a hawk-eyed and opportunistic salesman. "What has the poor guy done? He has written a book from his heart, which the cricketing world and his fans are dying to get their hands on. In that he has spoken about some cricket-related events coloring his career that are controversial, which the publishers have put out as spicy teaser-trailers! Come on, doesn't that happen all the time in the world of books … and movies? There are no lies, Reality Show nautanki or dramabaazi. Just stuff that is there in the book of which he takes total ownership."
So, while the jury is still not really out in full force, the general impression is clear: Sure it's a marketing and promotional ploy to make the book fly, but in a way that perhaps in a way that will not undermine his impeccable image. After 24 years of letting his bat speak of him, it's only fair that we give the Master-Blaster a chance to tell it … his way!