Food
Introducing Americans to the Great Indian Chai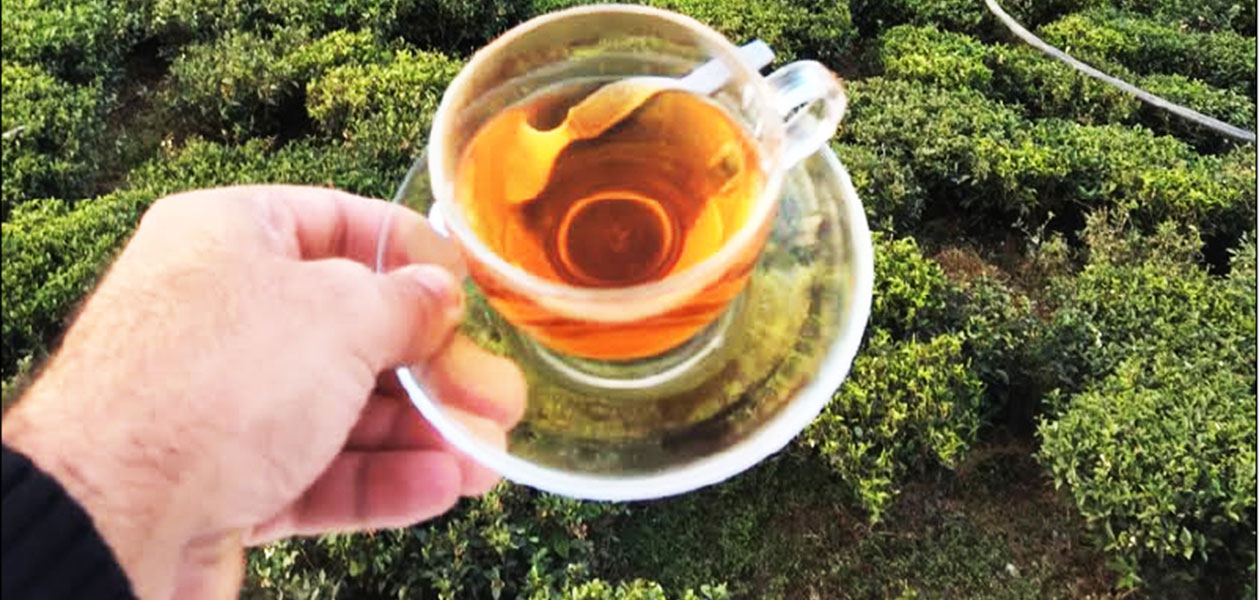 A handful of Indians are striving to introduce Americans to leisurely chit chat over a cup of tea.
This summer, two Indian Americans plan to curate a chai session in Boston, Mass., the educational hub of America, to discuss national issues. Vishal Thapar and Rushil Desai of The Boston Chai Party, a food startup that sells Indian masala chai ingredients and offers lessons on making the cuppa, have tied up with Wild Flower Pantry, a local grocery in Brighton, to organize the chai evenings. The event is designed as a cultural exchange for Americans to sit down with immigrants over a cup of chai to discuss their similarities and cultures.
Co-founder Vishal Thapar, says: "While many feel that America has never been more divided, we are attempting to bridge the gap by inviting everybody, no matter what their political or ideological beliefs may be, just to come over and talk to many other immigrants like us and perhaps get to know us better. And because we are Indians, we think a chat over chai, as is customary in our culture, is the best way to do it."
America, a melting pot of not just cultures but also flavors, is gradually discovering chai in fancy variations. Unlike coffee, which is a pick-me-up drink sipped while hurriedly pacing or glued to the computer screen, for Indians a tea experience is very different. A tea culture, in which people sit and relax over a cuppa serves as an excuse to bring family or community together and discuss everything from politics to social issues and is almost a sacred ritual in South Asia.
A handful of Indians are now striving to introduce Americans to the same leisurely mood of chit chat over a cup of tea. And some even see the medium as a vehicle to tell effective and powerful stories in these divisive times.
Earlier this year, the International Student Association Council at Georgia State University organized a Chai & Chat session with the university's Indian Cultural Exchange inviting students to discuss topical issues. Chai and Indian snacks served as icebreakers.
Earlier, New York based Alexis Bhagat, a tea lover who works for the Albany Public Library Foundation, together with Shazia Shirazi, a curator and doctoral candidate at Cornell University, formed a Facebook group called The Chai Party Movement in 2011. The group describes itself as: 'The chai party is like The Tea Party. Only brown. And more sugar. And less guns."
The duo says that they called for chai party movements across America to warm the bellies and support the bodies of protestors as an impulse reaction during the Occupy Wall Street Protest in 2011. They served hot tea in Zuccotti Park in New York at the Occupy Wall Street (OWS) encampment.
Shirazi explains: "We were thinking about the Chai Party Movement as an alternative to the Tea Party, which we felt did an injustice to our beloved chai. Drinking tea with someone is a gesture of affinity, friendship and generosity; we felt it was the inverse of the Tea Party's politics. Once the OWS kitchen was so well stocked that our chai felt redundant, we began to provide chai for various groups or events at OWS and we also organized a 'Tea for Turkey' during Gezi Park."
Looking ahead, Bhagat says, "Since Trumps' inauguration, many people have expressed an interest in the Chai Party, perhaps this is the moment we were preparing for."
Storm in a Chai Cup
Now that tea has a mainstream presence across big coffee chains and tea stores in America, chai promoters see an opportunity to treat chai as a platform for important conversations. Tea consumption in America has been on the rise since the 1990s.
Starbucks with its chai latte and upmarket Teavana chain have brought new focus on chai, albeit in a slightly different format. Most North Americans are now familiar with the flavor of chai tea, as they call it.
Starbucks spokesperson Sanja Gould says: "Starbucks introduced the Chai Tea Latte in 1999. As a result of the popularity of chai tea, Starbucks introduced the Teavana lightly sweet chai tea latte in March 2017. This is a less-sweet take on the Starbucks classic Teavana classic chai tea latte."
She explains the infusions in the chain's chai: "The Teavana lightly sweet chai combines black tea infused with cinnamon, clove and other warming spices mixed with steamed milk and sweetened with liquid cane sugar, available hot or iced. At Starbucks, customers can also enjoy a range of Teavana chai teas as brewed, iced and latte beverages, including Teavana organic chai brewed tea, Chai tea latte, and lightly sweet chai tea latte."
However chai puritans are aghast that misplaced versions of tea are being palmed off as chai. The Indian tea version with milk, sugar and spices may be hard on the British palate, used to having the tea strong and black, however Americans, given their affinity to sugar, may be more receptive to chai.
Rushil Desai, co-founder, The Boston Chai Party, says, "Though I came to the U.S. as a young boy, chai always remained a central theme in our house. But disappointed with the quality of chai available in America, Vishal and I took upon ourselves to be the chai guys in America."
The trick, Desai says, is in their ingredients: "All our tea leaves come from states of Darjeeling, Assam and West Bengal. We pound the masala for our specialty masala chai every week using the highest quality cinnamon, cardamom, fennel, some ginger for the zing, and other ingredients. We do not let our masala sit on the shelf for a long time, so the flavor is retained."
They started their company in 2015 and still keep their day jobs as scientists while working as chai guys during weekends, but say the response has been encouraging.
Other young entrepreneurs are seeing the growing popularity of tea as an opportune time to serve chai done right to the West. Bala Sarda, founder of Vahdam Tea, a, New Delhi, India based direct-to-consumer online tea brand, says, "After water, tea remains the largest consumed beverage in the world and U.S. and Russia are amongst the largest consumers of tea."
Vadham derives 50 percent of its revenues from the United States, 20 percent from Russia, 10 percent from South Asia and just 5 percent from India.
Sarda says: "Our teas do not travel in containers for months before being packaged and sold. All our teas are procured directly from plantations and tea growers within 24–72 hours of harvest. They are then packaged fresh and door delivered, directly from source in India, in less than a week to most countries."
Chai Camaderie
Viewing the tea ritual as an opportunity for community bonding may have found an opportune moment in an era of growing divisiveness. The chai culture also serves as a nostalgic experience for many South Asians in America and often binds them too. Sadia Shirazi of Chai Party Movement, who belongs to Lahore, recalls: "I cannot think of a day growing up with family, in Chicago, Lahore, Karachi, and Vancouver that was not punctuated by sharing a cup of tea. The big discussion remains whether we will drink it mixed or separate. Sometimes you feel like the richness of masala chai, other times the unadulterated taste of separate chai, and in winters my mother would make Kashmiri chai while all my siblings and I would gather around ogling amazedly at the lovely dusky rose hues of the brew."
Bhagat shares similar memories" "My father moved to New York City from Ambala in the 1960s and my mother is Polish-American. I'm born and raised in Manhattan. Tea was very important in my home since childhood. My mother started us on this sweet, milk tea when we were kids (hot-milk with a little bit of mom and dad's tea). By the time I was in 2nd grade, I noticed that most of the other kids did not gather with their family after school for tea. My Polish grandmother was also a great lover of tea — American garden club style tea and sandwiches."
He recalls his tea experiences from India:, "I traveled to India for the first time when I was 19. This was the year 1994 and chai was still served in a clay cup on the trains. I spent too much time sitting in tea-stalls in touristy towns like McLeod Ganj and Manali reading books. I became addicted to chai and came home like some Silk Road Trader with suitcase bursting with tea of all grades, star anise, cinnamon bark, cardamom."
He adds: "Later in life I became a committed Buddhist and traveled all over Japan, and learned some of their tea culture. The first time I had a proper matcha was in the family museum for a favorite potter of one of the Tokugawa Shoguns. Sitting at that museum, holding those precious 300-year-old teacups, I thought about sugary masala chai in an unfired clay cup, tossed out the window of a moving train. Ever since, these two tea-cups have defined the extreme limits of Asian culture for me."
Chai's appeal is not limited to South Asians. Rose Higashi and Kathleen Pedulla, an aunt and niece who together run the website www.myteaplanner.com, which provides a comprehensive overview of the Afternoon Tea tradition from a multi-cultural perspective have a section dedicated to the Indian chai party. Higashi says: "I have had an interest in masala chai and Indian food for many years. Before moving to Hawaii, my husband and I lived in California where there is large immigrant Indian communities in Santa Clara County (Silicon Valley) and also in San Diego.
While living in California, we ate Indian food two or three times a week, tried all the new restaurants in our area, and attended may Indian cultural events. We also traveled to India, where we took an Indian cooking class and sampled a wide variety of Indian foods."
On the possibility of replicating the tea culture in America, she says: "I believe that Americans can learn a lot about quality of life from Indian culture. Kathleen and I believe that a tea gathering offers the opportunity for people to bring their best selves to a happy and unhurried setting where they can share tea and polite conversation, as is the custom in India. It would be nice if Americans, who tend to be far too busy and over-scheduled, could make time for the aesthetic and inter- personal pleasure of afternoon tea."