Arts
Can Web Series Unseat The TV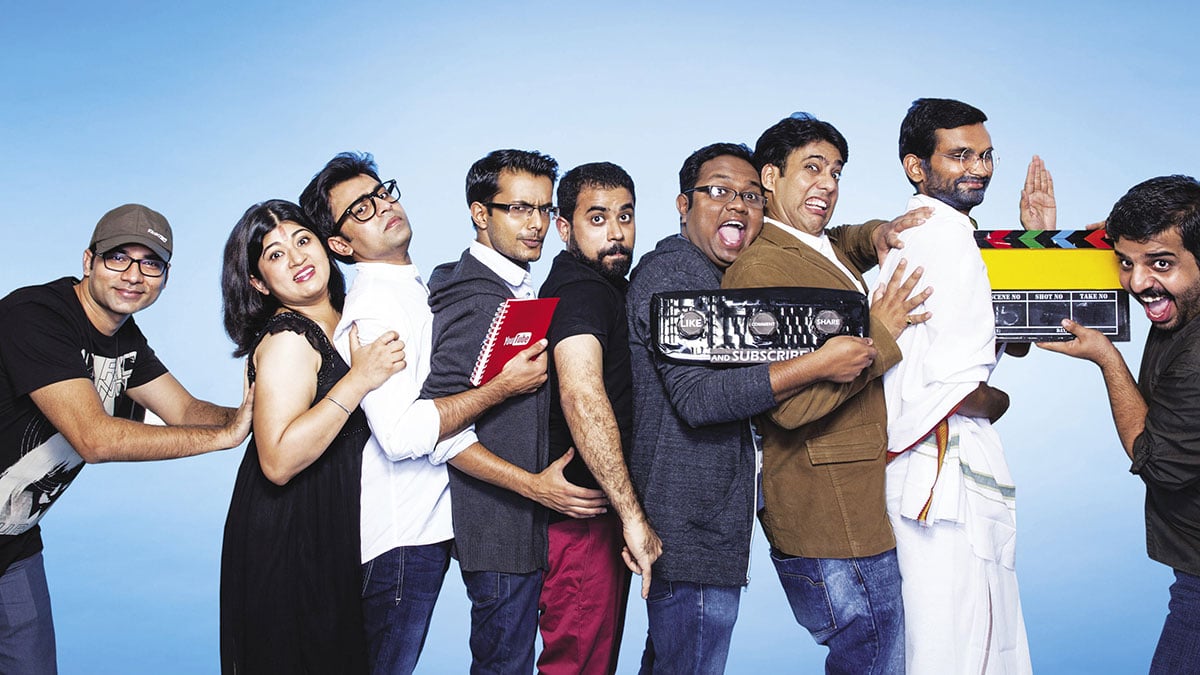 The introduction of web-series across the United States, Europe and now also in India as an alternate to what TV or cinema provides has growing appeal for the new generation.
For a growing number of youngsters living and sharing small apartment spaces from New York to New Delhi, the idea of a TV at home is beginning to become obsolete. That the once ubiquitous emblem of entertainment and enlightenment in households would be threatened by the arrival of the Internet was predictable. But what may not have been as obvious is the changing dynamics of what people prefer to watch on TV.
For the new Snap Chat loving generation that relies on quick, snappy entertainment, the idea of sitting in front of TV sets waiting for the next "long" episode of a never-ending soap opera seems banal. Add to it the fact that Gen Y hardly relates to most TV content around the world.

The Trip
The introduction of web-series across the United States, Europe and now also in India as an alternate to what TV or cinema provides has growing appeal for the new generation. A host of short, light-hearted, web-series in colloquial languages and no-holds barred entertainment is hooking to youngsters unwinding after a long day at school or work, or, given the short duration of most series, even during lunch break.
For starters, a web-series is similar to a TV drama, but broken into many smaller episodes, often lasting just 5 minutes and available online. It not only gives viewers the freedom of choosing the content they prefer, most often, the focal point of a web series remains picking up an idea that may not be getting mainstream attention.
After the initial success of web series such as Baked, the story of three young men trying their hand at a food delivery service, which struck a chord with the Indian youngsters, many big production houses and established actors are exploring the medium.
The big draw is that the director can work independently without worrying about the censor and the ability to connect with audiences across the globe instantly. For many independent directors, it is another creative outlet, without the added hassle of looking for producers and financiers, and big production houses want to keep their toes in its waters, just in case the medium takes off.
The web series are piquing the interest of everyone from Hollywood to Bollywood lovers. According to film critics, what may work for web series is that they offer fresh, mood-of-the-moment themes, which make them highly relevant for the new generation.
Earlier last year, an American web series, titled Her Story, won critical acclaim for its sensitive portrayal of the LGBTQ community, built a massive fan following and was nominated for the Emmys in the drama category. In India, a new short series, titled The Trip, depicting four girls on a bachelorette road trip from India to Thailand is attracting attention. Part of the reason for its popularity can be the fact that the Lisa Haydon starrer is first portrayal of a girlie road trip in the Indian urban context, unlike formulaic Bollywood bromances, such as Zindagi Na Milegi Dobara and Dil Chahta Hai. While Bollywood may be reluctant to bet big money on a girlie flick and Indian television is busy brewing kitchen politics, the web series captured emotions that urban young could relate to. Series director Lakshya Raj Anand says the current generation connects to the series, because, "The story told from the perspective of four girls belonging to different spectrum makes it relatable."
Other web series are similarly drawing attention to this emerging new art of storytelling. Ladies Room by Ratnabali Bhattacharjee and Neha Kaul depicting conversations between two women across different washrooms opens up a dialogue on gender-neutral bathrooms. The upcoming DevDD by Ekta Kapoor that stars Sanjay Suri, promises to be a fresh take on the story of Devdas.
But in a country, which churns out 1,600 films across different languages every year, is there scope for short films? For now, the curiosity factor is at play. "As Indians we are always in a mood to explore more," says 24-year-old Mira Singh, who attends college in Noida. She says, "Earlier the only forms of entertainment may have been catching up on a movie, but today the college-goers go for a stand-up comedy night, a gig or even a night out with friends exploring short web series."
Another factor in favor of this form of storytelling is that it is outside the reach of the film censor board — so far. Some struggling actors also feel that web series cuts through the nepotism rampant in India's film industry and lets them showcase their talent as a producer may not want to put big bucks on an entrant and may be willing to test the waters in a shorter series. A Bollywood entrant, who has so far done a few commercials and served as a side-kick in a couple of Bollywood movies, says: "A web series made on a small scale and budget at least gives us an opportunity to show what we can deliver and can open the opportunity for bigger work ahead. Also, now with many established stars also starring in short films, the attention is somewhat enhanced towards this medium."

Salute Siachen
Viewers are also impressed by the trajectory of subjects the web series are covering. A new web series, titled Salute Siachen, tracks a celebrity expedition on the Siachen Glacier as a tribute to the Indian army. Arjun Rampal, Rannvijay Singh and Arunoday Singh form the cast of the series. Another one titled Pitchers traces the experiences of four Indians quitting their jobs to launch a start up — something many Indian professionals toy with ever so often. Little wonder that these subjects resonate with audiences.
Performers are also enamored by the medium's reach, as it is no longer confined to any demography or region. But on the crucial question whether web series can take on television and Bollywood, critics remain skeptical. For now though, the progressive storylines and impressive candor gives creative expression room for itself — big or small, only time will tell.