Bollywood
Buddhi Hogi Teri Maa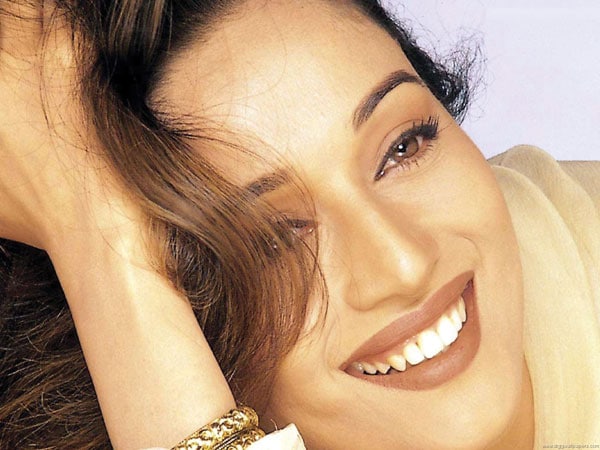 Bollywood is gripped by come-backs of the heroine kind.
Sridevi, Madhuri, Raveena, Karishma … don't these names (to all those wedded to the silver screen of the 1980s and 1990s) sound like music to the ears, evoke images of beauty, glamor, sex appeal and talent? Sridevi, the sensational South Indian, who transitioned from Jumpin' Jack Jeetu's "thunder thighs" leading lady to a stylish A-lister, entrancing one-n'-all with her star-turns in comedy, drama and romance. Madhuri Dixit, the dhak-dhak dhamaka with looks to wake the dead! Her ek-do-teen remains iconic, a Bollywood template of jhatka dance! Karishma Kapoor, legendary showman Raj Kapoor's blue-eyed grand daughter who, in her early years, displayed fine comic timing while pairing up in those popular Govinda starrers. With time, she graduated to more serious material and displayed fine maturity to connect with each role, heart 'n soul! Finally, there is the Mast-Mast babe, Raveena Tandon, whose number in Mohra with Akshay Kumar is still remembered with awe. Although most of her films had a very large glamour quotient, she was capable of meaningful stuff too.
Interestingly, all these heroines were essentially glam n' glitz stars, but when required, could wipe off the war-paint and deliver solid art-house performances. Sridevi in Sadma; Madhuri in Mrityudand; Karishma in Zubeida and Fiza; Raveena in Satta and Shool … are brilliant examples of their talents when called upon to display them.
However, fact is — that was then; this is now. Can they — in their bid to return — manage to stop the clock, revive their charisma of yester-years and reclaim, at least, a little of those magical days of wine 'n roses? Or is it being un-realistic, over-ambitious and totally ignoring the writing on the wall, screaming: Go Back!
Let's do a checkout ….
Sridevi ruled the eighties, romancing every big hero of the day, to the sound of thundering success. Her last release was Judaai in 1997, a good 14 years ago. Presently, the 47-year-old is said to have signed a film with a first-time female director Gauri Shinde entitled English Vinglish, where she plays the role of a simple woman married into an ultra-modern angrez family. She decides to learn English to fit in.
Madhuri attempted a comeback a couple of years ago with Yashraj's Aaja Nach Le, but it proved a dismal failure and she fled back home to the U.S., into the secure and non-judgmental bosom of the ever-loving Nene parivaar. She wasn't looking too good, either. Heaven knows what she's done (Botox?) but she's looking like a million bucks now and the huge response she got in every episode of the recent Reality Show Jhalak Dikhlaa Jaa, testifies that she can still be hot. She's been offered Hema's role in a re-make of Satte Pe Satta and a leading role in the sequel of Ishqiya, entitled Dedh Ishqiya. Will she actually do it?
The plot thickens, guys! National Award winner Karishma Kapoor's last release was a dud named Mera Jeevan Saathi in 2006. Marriage and two kids later, the blue-eyed Kapoor beti returns with a rather odd and unusual offering — a 3D erotic horror-thriller directed by Vikram Bhatt, which will see her reprise five different roles! Hot n' heavy into her martial arts training, Dangerous Ishq is all set to roll by September in Rajasthan. Raveena Tandon returns in the much-hyped Big B starrer, Bbuddha Hoga Tera Baap. Her last starrer was the eminently forgettable film called Sandwich (2006). Having featured as a judge in some reality shows, the yummy mommy of two is said to have unleashed a cool "item number" in her comeback venture. Will it work for the once mast mast phataka?
The jury is still out, but opinions fly thick and fast. London-based NRI Mala Tandon believes it's wonderful. The 35-year old housewife, who regularly makes the annual pilgrimage home to Mumbai to catch up on pao-bhaji, battata-wada, Bollywood and buddies, gushes: "It's such great news yaar! I grew up adoring Sri and Madhuri and copying their mannerisms and dances. None of the newbie's can touch them for talent or glamor. These new heroines are theek-thaak but kuchh khaas nahin. Woh baat nahin jo unme tha…. Really looking forward to their comeback movies."
Kolkata-based banker Dipak Sen agrees: "I am a great movie-junkie with democratic taste. I see Bollywood, Hollywood, World Cinema, the works! However, most of the recent, so-called B-town mega-hit films and heroines leave me cold. The media has gone to town about Sonakshi Sinha and Anushka Sharma, hailing them as the new flavors of the day. God, what's the world coming to? Give me the amazing Sri of a zillion expressions or the incandescence beauty of Madhuri, any day! Despite working in the crass, gross, hard-core mainstream commercial cinema, they constantly stood out with standout performances. Be it Chandni, Chaalbaaz, Mr. India, Judai, Dil, Dil To Pagal Hai, Hum Aapke Hain Kaun or Devdas … they delivered, big time. It will be exciting to see how these divas now take their gifts forward in their second innings."
Dubai-based marketing executive Vipul Desai is over the moon. He was always crazy about both Karishma and Raveena (Lolo and Ravs, to him) and lamented their screen demise. "Remember the deadly Mast-Mast and earth-shaking rain-dance of Rav's with Akshay, boss? And Lolo's dhamakedar Le-gaye-Le-gaye dance number in Dil To Pagal Hai? Even today, they are in great shape and are bound to give the new heroines a solid run for money, dekhna?"
But not everyone shares their excitement. Take 18-year-old Delhite Ankur Khanna: "Have these Aunties finally lost it! Sridevi is 47 for chrissake — 47, okay! — and she wants to come back? And the others are no spring chickens either, okay? All are married, have kids … problem kya hai inke yaar? They've done time, made a name, money, fan base and voluntarily split. Khatam. A new, now gang is rocking. Where the hell can these females fit in this frame? Haven't they heard of the term — quit gracefully? Don't they remember what happened to the once-gorgeous Mumtaz when she attempted a come-back movie, Aandhiyan? It was a shocking, embarrassing disaster sending her racing back to the pavilion, where she has mercifully stayed. Nearer the time Aunty Dixit's Aaja Nachle too had to be peeled off the ceiling. They are asking for trouble, man!"
Academic Malini Rangaswamy, 32, agrees, but tones down the temperature while attempting a perspective: "There is no denying the aura, name, fame and star-appeal these heroines once enjoyed, but it's important to context it. In a here today-gone today world, where nano seconds make a difference, can these have-beens hope to revive the magic that they once created? The world has changed. It's more shiny, fast-paced, in-your-face, irreverent. No one makes the kind of films that showcased their respective talents … and I wonder, frankly, how many in today's audiences are dying to see them back. Its not about their talents disappearing, but about whether they fit the demand-supply quotient of a movie audience that is young, impatient, constantly looking for instant gratification, promiscuous entertainment and novelty-hungry hooked to a Munni, Sheila and Jalebi universe … scary, right? Sure, miracles can — and do — happen. Let's wait and see."
So, what gives? Like in life, reasons, arguments, rationale are frequently flung out of the window at the moment of truth. The future is not ours to see. The fact that these ladies have been courted, wooed and coaxed to come out of their self-imposed banvaas and attempt a U-turn, speaks of both their talent and the film-maker's confidence in leveraging them successfully to the new-age audience. Sure, in this new yummy-mommy avatar, it can't be the same item-bomb stuff, but by the looks, enthusiasm and energy that these four are exuding, anyone daring to call them buddhi could well be slammed with "oye, buddhi hogi teri Maa!"