Arts
Bringing the 'Exiled' King of Punjab back to India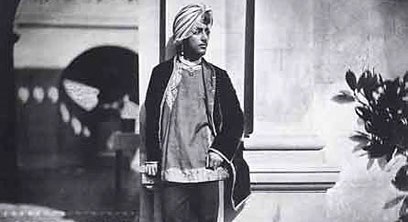 With the rising demands of returning his remains to India, the extraordinary life of Maharaja Duleep Singh sparks global interest.
By
First turbaned UK MP Tanmanjit Singh Dhesi backs the demand of bringing back the remains of Maharaja Duleep Singh from England to India. More than 120 years after the death of the king of Punjab who was dethroned and separated from his family by the British, Sikhs ask to perform his cremation in Punjab.\
'The Black Prince' 
The story of the last ruler of the Sikh empire recently resurfaced with the release of The Black Prince starring singer-poet Satinder Sartaaj and veteran actress Shabana Azmi. Directed by Kavi Raz, this is the first film that brings alive the fascinating story of Maharaja Duleep Singh who was torn between two countries: his homeland and the empire that colonised it.
Maharaja Duleep Singh was born in 1838 to Maharaja Ranjit Singh and his wife Jinda Kaur. His father was one for the most powerful rulers India had seen. When Ranjit Singh was ruling the Sikh empire, Afghans and the British had taken over most of India, but they couldn't dare to attack Punjab, according to India Times. Until his death in 1839, Ranjit Singh kept the British colonisers and other invaders at bay.
After her husband's death, Jinda Kaur moved to Jammu along with her son, Duleep Singh but not for long. After his four predecessors were killed, five-year old Duleep Singh was called back to Lahore, the capital of the Sikh empire and he was crowned as the Maharaja of Punjab. His mother and uncle took care of the state affairs.
Separated From his Mother
In 1845, the first Anglo-Sikh war broke out which the Sikhs lost and lost some of their major regions. In 1849, the second Anglo-Sikh war started and ended with the collapse of the Sikh empire.  Punjab was made a part of British India and Maharaja Duleep Singh was removed from the throne. The British forcibly separated the young ruler from his mother and sent him to Fatehgarh in the then North-West Province.
Placed under the guardianship of army surgeon Spencer Logan and his wife Lady Logan, he was educated in the English way.
"He was taught a very English way of life – his language, culture, religion were cut off from him and he became a ward of the British. And here he could be moulded to how the British wanted him to be," says historian Peter Bance Speaking to the BBC.
Converted to Christianity
He was handed a bible at a very young age and eventually the Sikh ruler converted to Christianity. He was sent to England in May 1854 where Queen Victoria developed an immediate liking towards him.
Talking about the initial bonding between the Queen and the young Sikh ruler, Bance said, "He was that exotic prince and she treated him like a favourite son and he would be invited to every royal gathering. He even holidayed with Prince Albert and Queen Victoria. He became the ideal party piece that every lord and lady wanted at their event."
In the land of the colonisers, the young prince grew up like a white royal, as per The Express. In his twenties, he lived in Perthshire, Scotland where he came to be known as "The Black Prince of Perthshire'.
Sikh Identity and Indian Roots
After 13 years of separation his mother was brought to England and the duo were united. His mother started to remind him of the home he was separated from, his Sikh identity and the Indian roots. Just two years after their reconciliation his mother passed away.
He then married Bamba Muller a girl from Cairo and shifted to Elveden Hall which was converted into an Indian-style palace. He fathered six children with Muller. But gradually he realized that the British pension he got was insufficient for his lavish parties. In 1870s when financial troubles increased he reached out to the government in India, asking for his lost land. He received no response to his repeated requests.
Put Under House Arrest
Historians believe that the Maharaja felt extreme resent when he witnessed the Kohinoor diamond from India being gifted to Queen Victoria. This to him was a theft. As Duleep Singh was attached to Queen Victoria who was the godmother to his children, he felt torn between his loyalties to a country he grew up in and his homeland he had left behind. But in 1886 he decided to go back to India, revert to Sikhism and reclaim his land. He set sail to India but he was detained and put under house arrest in Aden by the British who saw him as threat.
His family who had accompanied him were sent back to England. After the years of internal conflict about identity, Maharaja did convert to Sikhism during the house arrest, but he died a lonely death in 1893 in the city of Paris.
Bronze Statue of the Maharaja
In 1999, Prince Charles unveiled a bronze statue of the last Maharaja of Punjab on Butten Island, near the Elveden Estate where he spent most of his time during his exile.
Artist Amrit Singh who along with Rabindra Singh created the famous- Casualty of War: A Portrait of Maharaja Duleep Singh told The Guardian, "He always had people telling him what to do, who to be. He was moulded into a Christian gentleman, then would be asked to wear full Indian dress when paraded at Victoria and Albert's parties. There was that sense that he would never truly be one of them, which British Asians can still identify with. But he also had a great affection for Britain, the Logins and Victoria."