Life
Braving Harvey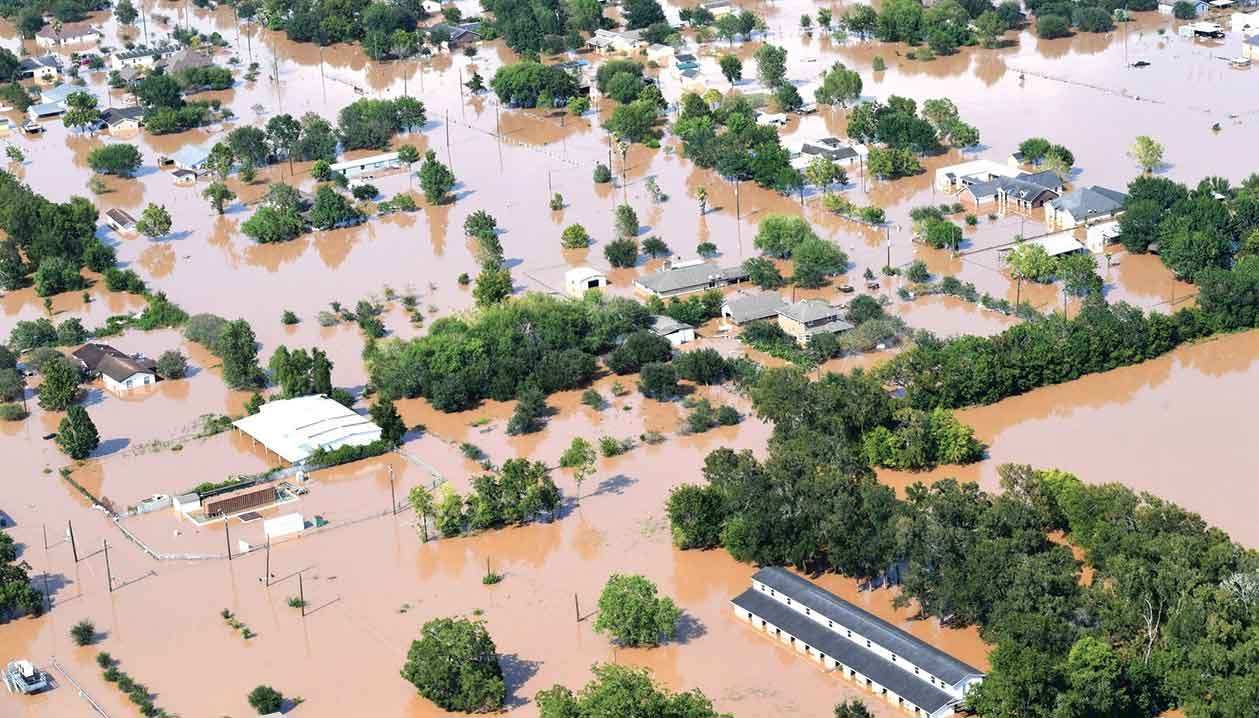 The historic devastation caused by Hurricane Harvey in Houston brought out the worst of nature and the best of mankind. The alacrity with which Indian Americans responded to rescue people across race and religion demonstrated their integration in the American mainstream.
As Hurricane Harvey made landfall on the last weekend of August in Houston, Texas, habitants were left scampering for help and resources. Dinesh Ramachandran, a resident of Katy, a suburb just west of Houston, spent the next two days ferrying people in his car, rescuing them from their flooded homes.
He recalls: "Half of my neighborhood was submerged in water. My neighbors would pull out their kayaks and go every day to help people trapped in their houses. Since we didn't have boats, we drove to the areas we could to ferry people in our car to the nearest shelters."
Ramachandran transported dozens of people across different ages, races and ethnicities to safer places. He maintains that in a time of crisis none of the differences mattered. Many Indians, he says, were eager to open their homes and hearts to anyone who needed help.
Nearly 200 Indian students at the University of Houston marooned in neck deep water sent a distress message to the Indian Consulate in Houston. Consul General Anupam Ray rushed a team to aid in their rescue, as local authorities were too swamped with other distress calls to react speedily.
Raj Vadhi, president of Indian Student Association at the University of Houston in Clear Lake, says: "Many of us spent the initial couple of days rescuing people and volunteering in local temples. Once the storm subsided we were back to business and cleaning people's homes. It did not matter whose house it was as long as the students knew that it needed help."
Sunita Manne, of Plano, became so restless listening to the plight of people caught up in floods that she contacted a local non-profit Vibha to inquire how her children could help. The fact that she had no relatives or friends in the affected area did not matter. She started a chain, motivating students from Montessori, elementary to middle and high schools to volunteer help.
Indian Americans demonstrated commendable community spirit during the hurricane, Indian Consul General in Houston Anupam Ray wrote on Facebook:
"I am proud of the Indian community in Houston. One of the incredible things I saw during #HurricaneHarvey is how Indians stepped up to join relief efforts. This was in the best traditions of America and of India. They were all about helping all Americans,"
Ray told Little India: "I was amazed at the manner with which Indians did not just help each other, but were there for everybody in the area regardless of any ethnicity or background. It was the first time we saw a calamity this big befall in America at a place with such a high concentration of Indians. But they managed to show their total commitment to their adopted soil through this important gesture in the moment of adversity."
The category 4 storm that dumped 40-52 inches of rain in southeast Texas and southwest Louisiana, breaking many U.S. tropical cyclone rain records, caused historic devastation. AccuWeather president Joel Myers estimated damage caused by Harvey to top $190 billion. The storm has claimed atleast 81 lives, displaced more than a million people and damaged 200,000 homes.
Indian Americans played a very active role in rescuing and rehabilitating people, as well as providing food, shelter and medical help to stranded people. Several Indian American non-profits and organizations stepped up to fund-raise and contribute to disaster relief programs to help victims. The Indian community has also pledged to raise $1 million for relief work.
Consul General Ray said: "Nowhere did we feel that they were less involved than the locals. Individuals, organizations, religious places all came together to offer help and support not just to fellow Indians, but to everyone in need at that time."
On the estimate of loss incurred by Indian Americans in the area, Ray says: "We are assessing that about 2 percent of Indians in Houston are displaced. The numbers run into many hundreds. But we are seeing a great solidarity amongst the community. They are supporting the mayor's fund for Hurricane Harvey Relief and also Governor of Houston Greg Abbott's Rebuild Texas Fund. The major Indian oil companies that have offices in Houston — GAIL, Oil India and ONGC — too have pledged $10,000 each."
Indian Consul General Anupam Ray with some of the 200 Indian students at the University of Houston who were rescued from neck level water during Hurricane Harvey.
Gitesh Desai, president of the Houston chapter of Seva International, a non-profit service organization said: "Major Indian organizations such as, India House, India Cultural Center, Indo-American Charity Foundation, Hindus of Greater Houston and Indo-American Political Action Committee coordinated all the relief efforts of the Indian community through Sewa International."
American Association of Physicians of Indian Origin (AAPI), the largest ethnic medical association in the United States has, also floated a Hurricane Harvey Relief Fund. AAPI physicians in Texas also volunteered to see patients at no charge. Another Indian American non-profit, Vibha, had volunteers in Houston, Dallas and Austin working at relief centers and mobilizing material donations.
The Indian government also was also very actively engaged with the Indian American community. Soon after Harvey struck, Indian External Affairs Minister Sushma Swaraj tweeted about the 200 Indian students trapped in the University of Houston campus.
Rising to the Occasion
Anushree Mukherjee, a resident of north Houston, recalls the horror: "Luckily for us the water did not rise further. The entire city was on a shut down mode. It was heart wrenching to see people without essential supplies such as diapers for kids.
"Many Americans did not have a lot of raw food material at home as most were in the habit of picking up ready-made meals. This is where the Indians stepped in as most of our households had atta, dry pulses, rice and lentils, etc. that can last much longer. So we were happy to offer our ingredients to households that needed it."
Houston is home to 150,000 Indians and an estimated 1 in 4 have suffered some loss. Dan Mayur, a chemical engineer based in the Sugarland suburb of the city for more than 40 years, is not surprised that Indians rose to the occasion: "Most Indians settled here are young professionals. There are professors, engineers, doctors, lawyers and are very ethnically integrated. This sort of demographic population ensured that these people rushed to be the first responders and did not think of themselves in any way an exception to the local population."
Many Indian American youth were on the front lines. Dozens of student groups formed on Facebook and Whatsapp, constantly updating each other on the crisis and people needing help. ISA President Vadhi says: "While I wouldn't compare whether the participation of Indian students was more than the Americans, but I can definitely say that Indian students were on par with the locals when it came to offering help."
He adds: "What really was worth noting was the participation from the newer batch of students who had just come in to the U.S. They plunged straight into rescue work even though they were still settling into their newer settings."
Did the politically charged atmosphere over immigrants play a role in the Indian American participation? Vadhi offers his observation: "Every year out of the batch of 500 international students that we receive every Fall, about 350-400 of them are inevitably Indians. However this year, the number of Indian students who sought admission was half of other years. So yes, sure every student who came in this year must have thought more than twice given the political rhetoric. But despite this these students just committed themselves totally to help everyone in need, which deserves mention."
He added that Indian student volunteers offered cleaning services, helped in churches, raised funds and looked after evacuees. "There was a synergy with which students from all communities worked together. For example, while the Indian students weren't as adept as American counterparts in dissembling furniture, they took up the cleaning and other kitchen duties," he said
Other organizations too noticed an uptick in youth participation. Neeta Dave, national youth team lead for the non-profit Vibha said,
"There were many other heartwarming stories as two 5th and 7th graders, Siri and Rikith, set up a lemonade stand to organize funds while another kid gave away a princely sum of $80 comprising his allowances for the cause."
Sheeba Rohini, a former management consultant based in Dallas, says: "The Indian youth has always been active in volunteer services. In fact the Muslim youth too do so much of community work, but it is never covered. It could have been the socio-political atmosphere that made people sit up and take note of how the immigrant generation stepped up in calamity.
Paromita Pain, a PhD candidate in the Department of Journalism at the
University of Texas in Austin, says: "Indians did what they always did. I am glad that the youth is still helping out, but again this is not anything out of the ordinary. The extensive coverage that we saw mostly in Indian news outlets is the way media works — by putting a country centric plug."
Nevertheless Pain concedes that the calamity definitely demonstrated that differences of race, country or culture mean nothing at all. She cited her own example: "I am based in Austin, and even though I have been here for seven years and I am very well aware of the climatic conditions, but still I did not feel that we needed special precautions and did not even stock up on essentials. I realized the magnitude only when my flat got completed buffeted by strong rains on Friday night. Since I was on the third floor, my flat wasn't flooded, but my neighbors' flats on the first and second floor were. So they all trooped into my space and brought along the essentials they had stocked. We were all very scared, but it was also a great bonding moment as we had neighbors from all ethnicities cooped up together in an Indian's flat knowing that no matter what happens we are there to help each other."
Taking Note
Many volunteers also feel that while Indians have always been a model minority in the U.S., contributing to society in many ways, they have also been the silent minority. Most seldom talk about their contributions. Sheeba Rohini says, "In our culture we have this tendency of silently doing charity and not letting others know about it. While it is does show humility, today it is equally important to highlight our efforts, especially during a time when immigrant contribution is put under scanner."
Volunteer Neeta Dave says, "In many ways the proactive participation by first generation showed how American they felt." She adds, "Tragically at the same time of Harvey there were major flooding issues arising out of Mumbai too. But it was enlightening for me to see that when we charted out our plan amongst our volunteers, 80 percent of who are Indians, there was no one who said what are we doing for Mumbai. It's not about getting alienated from your motherland, but about being there for our adopted country in spirit and soul." On whether it was also a subconscious attempt to prove our presence, Dave disagrees: "The instinct was natural. On my part I felt in that moment I do not care what my president says, but I want to do what I can for everyone."
Social media played a big role in not only bringing together these volunteer groups, but also in spreading the word, helping the movement gain momentum too. Raj Vadhi says, "We were always connected with each other through Facebook groups and on Whatsapp. Even before the catastrophe struck we had created enough awareness about stocking up on supplies and hence students were better prepared. We were constantly following the tweets of University of Houston President Renu Khator, who is an Indian and was deeply involved in all rehab processes."
It also helped that most Indians in the U.S. are financially stable and live in upscale localities and thus were able to come out with a lot less damage than what some of the other communities may have suffered. Paromita Pain offers an example: "We were also assured that in case we needed help it would reach us soon as we were in Lake Austin, which is a good area. We knew that if we dialed 911 the police car would be just two houses away."
She warns: "However that's not the case in all localities in U.S. And may be that explains why during Katrina in New Orleans there was a higher damage as many areas were highly populated by poor and black people where the help didn't reach that promptly."
But is there a sense of fear amongst Indians about biases in the compensation process duiring recovery. Pain says: "Indians and Chinese in America are not amongst the racially segregated population. That aside, most Indians work for big multinationals who have the resources to help their employees."
Another looming problem for people ahead would be insurance as estimates are that 85 percent of people who lost their homes did not have flood insurance.
There is a lot of ambiguity on the road ahead. Many houses in the city have been put up for sale on bargain prizes.
Dinesh Ramachandran feels that while the worst is behind, the controlled exercise of relocating and providing support to people will continue for months: "With the Indian festive season just round the corner, I would urge all the organizers of cultural events such as Navratri, Garba or Diwali to raise funds for Harvey relief.
Humanity Ruled
Ramachandran says of the disaster: "Harvey showed us the worst of nature and the best of humanity. I do feel that the contribution of first responders in America, many of them Indians, should have been talked about much more. During the time we were struggling here, there were also news about floods in Mumbai and one read stories about how slum dwellers came out to offer tea to people. There are so many stories of compassion here too, but we haven't heard most of them."
Pakistan-born geriatrics nurse Zohra Siddiqui, a Houstonian for 35 years, said: "At the time of crisis it did not matter who you are. My area was flooded very badly and I couldn't go to work. But the next day I decided to somehow find my way to work as being a nurse I realized that medical emergencies would need to be tackled.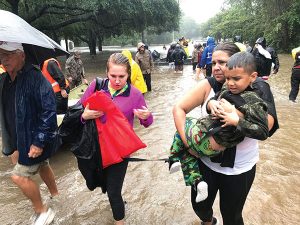 "However, I got stuck in water so bad that my pickup van was submerged till the windows. I couldn't open them as that would mean more water and mud coming in. But a gentleman offering to come back with help in 10 minutes, approached me. Even before those 10 minutes were over another guy brought a chain and pulled my car. None of us for a moment stopped to think who we were helping; it was just a human helping another human being and doing a pretty good job of it."
Nadia Gaddi, a physician practicing in the Sugarland area in Texas offered free consultation to patients recovering from Harvey. She says: "Most of the patients who came to me were of Indian, Pakistani or Hispanic descent and apart from immediate reactions, such as common cold and flu, there were many stress related cases too. Most Indians and Pakistanis had no flood insurance
and are anxious about what is ahead for them. But since most Indians and Pakistanis are not illegal they can be hopeful about compensations to come in time. But some of the Central and Mexican American population with no legal status will be even scared to ask for compensations and are likely to suffer more."
Siddiqui adds: "We are now dealing with contamination issues and a lot of medical attention is required for months to come…. The calamity just reinforced once more how inclusive all of us can be. The community opened all our mosques, shelters and convention halls for people to come take refuge in."
Even Americans took refuge in temples and mosques, Siddiqui says: "While it may be natural for people to look at places they may be comfortable in, but it was heartening to see that people were ready to take support from each other, never mind their cultures or practices."
Then There Was Irma
Even as Americans were coming to terms with the historic devastation caused by Harvey, another monstrous storm, Irma, devastated the islands of Barbuda, St. Marteen, St Barthelemy, U.S. Virgin Islands and Puerto Rico.
In Florida Governor Rick Scott urged more than 6.5 million residents of the state to evacuate their homes. Irma made landfall in Florida Keys as a Category 4 storm, with wind gusts of up to 130 mph.
As hundreds of thousands people sought refuge in shelters, Indians the rose to the occasion. Florida has a population of nearly 120,000 Indians, according to the 2010 census. New York Consul General Sandeep Chakravorty was stationed in Atlanta during the storm to oversee the needs of the community.
Chakravorty told Little India that the Indian community in Florida had prepared for the crisis well ahead and social organizations demonstrated that they are an integral part of the American social fabric.
Chakravorty said: "More than 400 Indians in Florida offered their homes for evacuees across ethnicities. We saw such heart-warming examples of up to 40 and more locals, immigrants and many more staying in an Indian household."
He added: "What was extremely important to note was that within 36-48 hours of the storm, many Indians who were in shelters were being escorted by friends, families, acquaintances and even strangers to be taken to their homes. Within a week after the storm there were no Indians remaining in any shelters. This spoke of the extraordinary bond within the community."
Several Indian American hotel and motel operators opened up their rooms for those affectedby the storms. Prominent Tampa Indian American physician Kiran Patel committed $1 million for rehabilitation efforts in the state and several organizations, such as SEWA, Hindu Temple of Atlanta and American Telugu Association, organized relief work.